Posts Categorised:

Breeding
Mary Roslin Williams of Mansergh Gundogs
She bred Labs, she hunted over Labs, she competed with Labs and she taught about Labs. She had 7 generations of champions, and 15 or so dogs who won field trial awards. In the early days, she lived in Mansergh Parish, just south of the Lake District, in England.
M R-W taught from practical experience and common sense. Although she's no longer with us, she left behind knowledge that she shared. Take a half hour to listen (although it's a video, the image doesn't change).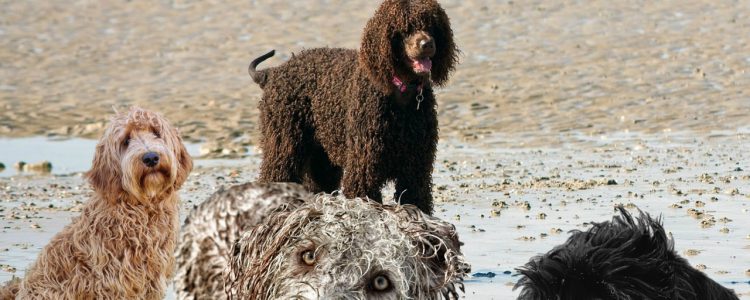 Despite what some people might say, a LabraDoodle is a mutt. They're not purebred. They're not special.
It's a marketing ploy. They slap a cute name on something (like "LabraDoodle", "Puggle" or "Poochon") and charge a high price to make you think it's special or a "designer" breed. What they are is a cross between a Poodle and some other breed, such as the Labrador Retriever.
Unfortunately when you cross two different breeds, you get a mish-mash of genes. They don't come out the same way each time. It's unpredictable – looks, coat, behavior and health. You might get a puppy that looks like a Lab, but acts like a Poodle. You might get a tall one or a short one. It could have a coat that's wiry or soft, or curly, wavy, or straight. Many doodles do shed and some need to be shaved every 6-8 weeks. Owners are often surprised to find they are allergic to their dogs.
You may also get a puppy that inherited the genetic problems or diseases from BOTH breeds.
Or you might get poor temperament despite the docile Lab temperament that is often advertised. Some LabraDoodles are high-strung (like Poodles can be) and may not be good with children. They can also be needy and crave attention which makes them a poor choice if there is no one home during the day.
After paying 2-4 times the cost of a purebred Lab or Poodle, owners sometimes dump them at shelters. Too often it's due to aggression towards children.
Because of the high price people are willing to pay, Doodles are the "breed" of choice for many puppy mills.
The man credited with creating them said he regrets introducing this mix-bred dog to the world. He was trying to breed a guide dog that was also hypoallergenic, but he failed over and over.
"I opened a Pandora's box, that's what I did. I released a Frankenstein. So many people are just breeding for the money. So many of these dogs have physical problems, and a lot of them are just crazy."
https://www.psychologytoday.com/us/blog/canine-corner/201404/designer-dog-maker-regrets-his-creation
If you still want a LabraDoodle, do your homework. Meet the breeder and the parents of the puppy you're considering buying. Check temperament and trainability. Check for health certifications. When your puppy is old enough, enroll him in a Puppy Kindergarten class. It's good for basic training and socialization.
We don't breed LabraDoodles or any mix-bred dog. Nor will we sell a puppy to someone who wants to breed Doodles or any other mix-bred dog.
Pretty litter of blacks and chocolates with lots of retrieving desire throughout their pedigree.
The father is Justamere Chocolate Chip and the mother is Justamere Liberty Bell.
I read an interesting article this morning. Are breeders blind? Or are we operating under a misconception? The article concludes that the majority of dogs are not normal.
WHAAAT?
"According to Padgett (1991), most breeders continue to believe that the dogs they own are genetically normal."
Well, gee, I thought they were.
Padgett also reported that "the average number of defects in most breeds may be fourteen." Some breeds could have as many as 58 defects.
Well, not MY breed.
When the Exercise Induced Collapse (EIC) test came out, I tested my Labs and was blindsided to learn that one was a carrier.
OMG! My dog is defective! I had no idea that one of my dogs harbored that dreaded disease.
My reaction seems to be typical of many breeders. Not only do we believe most dogs are genetically normal, but that having a dog with a defective gene was so out of the ordinary that it should be kept a secret. If we talk about having a defective gene some people might feel our dogs are "less than average or perhaps abnormal." So we bury our heads in the sand and hope that it will go away.
If we can change our way of thinking – that most dogs are not genetically normal – then it won't come as such a surprise to get results showing defective genes. If it's not such a surprise, then maybe we'll be more willing to share the results thus making it easier to eradicate that gene.
My dog carries one copy of the EIC gene. Dogs with two copies of the gene may collapse under some circumstances. She was fine, but I had to be careful to only breed her to a male who was clear of the gene.
Whew! That doesn't sound so bad.
So we test before deciding to breed and choose mates wisely.
To learn more, see:
Breed dilemmas and extinction by Dr. Carmen L. Battaglia in The Labrador Quarterly, Winter 2010-11, discussing Padgett, George, "Genetics I Introduction," 1991 Beagle Review, Darcroft Publishing, Wilmington, VT, Vol. 1, No. 1, Winter 1991, pg. 14-16.
I love my little puppy; she makes my house a home.
She is my very sweetest little friend; I never feel alone.
She makes me smile; she makes me laugh; she fills my heart with love.
Did someone breed her, or did she fall from above?
I've never been a breeder, never seen life through their eyes;
I hold my little puppy and just sit and criticize.
I've never known their anguish; I've never felt their pain,
The caring of their charges, through snow or wind or rain.
I've never waited the whole night through for babies to be born,
The stress and trepidation when they're still not there by morn.
The weight of responsibility for this body in my hands,
This darling little baby, who weighs but 60 grams.
Should you do that instead of this … or maybe that was wrong?
Alone you fight and hope, one day, he'll grow up proud and strong.
You pray he'll live to bring great joy to someone else's home.
You know it's all just up to you; you'll fight this fight alone.
Formula, bottles, heating pads, you've got to get this right,
Two-hour feedings for this tiny guy, throughout the day and night.
Within your heart you dread that you will surely lose this fight,
To save this little baby, but God willing … you just MIGHT.
Day one, he's in there fighting; you say a silent prayer.
Day two & three, he's doing well, with lots of love and care.
Day four & five … he's still alive; your hopes soar to the heavens.
Day six, he slips away again, dies in your hands, day seven.
You take this tiny angel, and bury him alone.
With aching heart and burning tears, and an exhausted groan,
You ask yourself, "Why do this? … Why suffer through this pain?"
Yet watch the joy your puppies bring, and everything's explained.
So, when you think of breeders and label them with "Greed,"
Think of all that they endure to fill another's need.
For when you buy your puppy, with your precious dollars part,
You only pay with money … while they pay with all their heart.
— Author Unknown
(Reprinted from The Labrador Retriever Quarterly News. Please let me know if you are the author or know who wrote it. We'd like to give credit, where credit is due.)
Cat and Axle (Justamere Catalyst RA CGC CC and CH Skyfire's Oughta Be Haulin' RN CGC WC) announce the birth of quadruplets!
Two boys and two girls – all blacks – joined the Justamere Ranch Labrador Retriever family. Bloodlines include:
GMHR Am/Mex/Int'l CH Cook's Midnight Bandit MH
FC-AFC-CFC-CAFC DB's Cracker of Clubmead
2x NAFC-FC-2xCNAFC Ebonstar Lean Mac
Am/Can CH Skyfire's Oughta Be A Law CD JH WC
BISS Am/Can CH Nipntuck Arncha Bold CD JH WC
CH Tabatha's Drifter at Dickendall JH
CH Naiken Indian Temple MH
CH Guidelines Master Card
Stay tuned for more information!