Posts Categorised:

Obedience
Not just a brag, not just a stepping stone to a higher title, not just an adjunct to competitive scores, a title is a tribute to the dog that bears it, a way to honor the dog, an ultimate memorial. It will remain in record and in memory for as long as anything in this world can remain. Few humans will do as well or better in that regard.
And though the dog itself doesn't know or care that its achievements have been noted, a title says many things in the world of humans, where such things count.
A title says your dog was intelligent and adaptable, and good-natured. It says that your dog loved you enough to do the things that please you, however crazy they may have sometimes seemed.
And a title says that you loved your dog, that you loved to spend time with it because it was a good dog, that you believed in it enough to give it yet another chance when it failed, and that, in the end, your faith was justified.
A title proves that your dog inspired you to that special relationship enjoyed by so few; that in a world of disposable creatures, this dog with a title was greatly loved, and loved greatly in return.
And when that dear short life is over, the title remains as a memorial of the finest kind, the best you can give to a deserving friend, volumes of pride in one small set of initials after the name.
A title earned is nothing less than love and respect, given and received, and permanently recorded.
~ Sandra Mowery
In tribute to all the dogs who compete with us silly humans. Why do they do it when that bit of ribbon means nothing to them? Yes, it's for the scratch behind the ear and the happy praise, but more, it's for the look of love in their masters' eyes.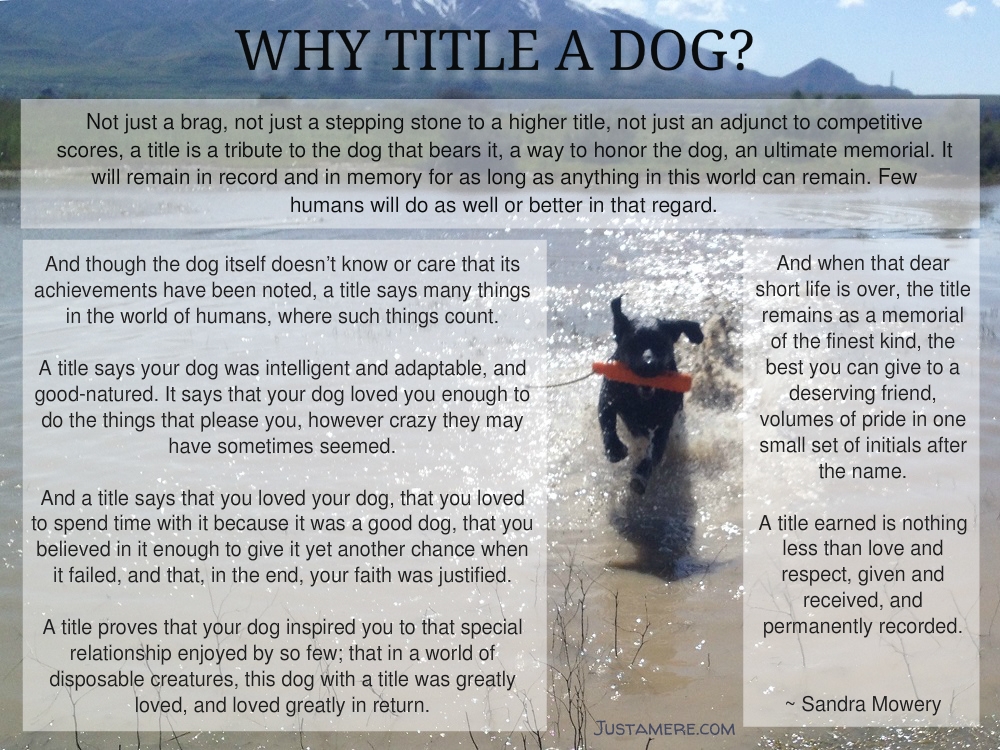 Share this Image On Your Site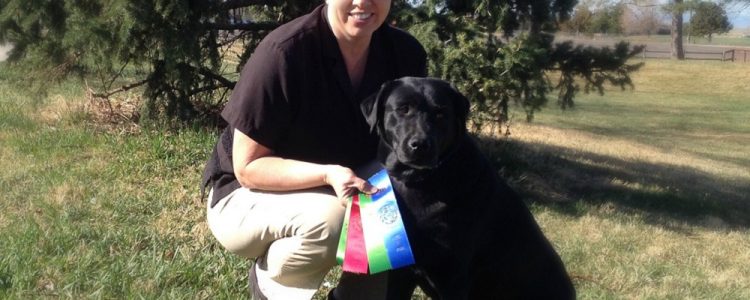 We had a great weekend! Jazzy finished her CD obedience title with a second place on Saturday and a first place on Sunday.
Jazzy had great scores and on Sunday it was even good enough to have us in the lead for High in Trial for a couple of hours – until a dog in Utility B turned in a blazing performance and knocked us out by a few points. Oh well! She did enjoy her special hamburger!
The CD, or 'Companion Dog', obedience title involves a lot of walking with the dog at heel, both on and off-leash. There is also a recall where the dog has to stay sitting as the handler walks across the ring and calls the dog and a stand for examination where the dog must stand still, off-leash, and not move while the judge touches the dog. And finally the long sit and long down exercises where all the dogs line up along one side of the ring and must stay put as the handler walks across the ring. This is done off-leash, first sitting for one minute and then staying down for three minutes.
According to AKC, "The Achiever Dog certificate program is designed to recognize those exhibitors and dogs who participate in multiple sports. A dog will receive an AKC Achiever Dog certificate when they have been awarded a placement or earned a qualifying score in three different sports."
Jazzy earned titles in obedience, Rally and hunt tests.
Although a little belated, I want to give Chip a pat on the head via the Internet for completing 12 titles – obedience, rally, tracking and field.
He's also working on some basic agility – I just need to work on keeping up with him.
Way to go Chip!
HRCH Justamere Chocolate Chip CD TDX SH RAE CGC