We're so proud of our "O" litter! So far they're everything we've been breeding toward - beautiful heads, sweet expressions, balanced angles, strong toplines AND retrieving desire!
Ouija - pronounced WeeGee - was named for that supernatural board game from long ago where the players placed their fingers on a pointer and asked a question, hoping for an answer from beyond.
Here she is at 7 weeks with fellow breeder Linda Ciancio of Brooks Labradors. Linda's comments were "thick coat, pretty face, dark eyes, nice lips and skull width, good bite, good angles and upper arm, good turn of stifle and thigh width, good depth thru chest and loin."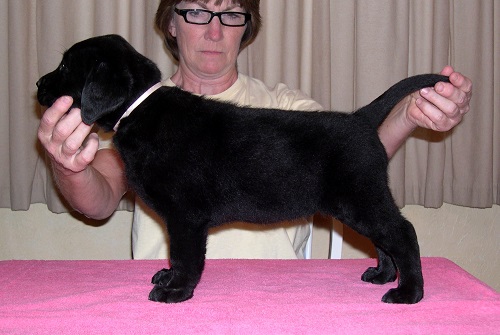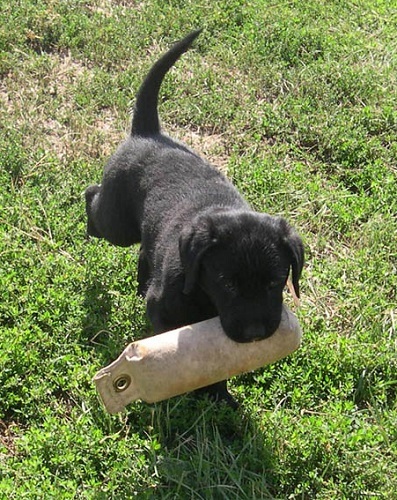 But Ouija is more than a pretty face! Here she is practicing her retrieving.
We also kept Boomer - short for Justamere Ordnance.
Linda's comments about him were "good bite, good head, balanced and really nice, has more leg, short back, dense coat." She also said that he reminds her of his grandfather, CH Tabatha's Drifter at Dickendall JH.
Here's Boomer at 7 weeks: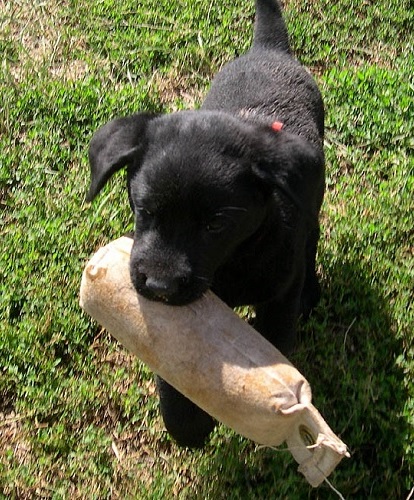 Watch for these youngsters in all sorts of venues!
CH Tabatha's Icon

CH Tabatha's Drifter at Dickendall JH

CH Dickendall Arnold

CH Tabatha's Valleywood Decoy WC

Tabatha's Token Talent

Tabatha's Genuine Risk (Arnold grdtr)

Tabatha's Token

U-CH Justamere
Fleur-de-Lis CD RE CGC
GMHR CH Cook's Midnight
Bandit MH

Int Am Mex CH JanWood's Secret Agent CD

CH Alvgardens Mischief Maker of JanRod JH

HR Justamere Arwen CD SH RE CGC CC

HRCH Justamere Chocolate Chip CD TDX SH RAE CGC

Knight's Tail Dehlia JH