BPISS CH UCH SHR Big Skys Justamere Lido Shuffle JH WC
Black Labrador Retriever male (Bc)
Health certifications:
OFA Good (hips)
CERF (eyes)
ECHO normal (heart)
prcd-PRA Clear (blindness)
CNM Clear (muscle myopathy)
EIC carrier (exercise induced collapse)
Notable achievements:
NEW CHAMPION – Best of Winners (major) – Intermountain KC, May 2015 – Charles Olvis
Winners Dog – Scottsbluff KC, Mar 2015 – Gloria Geringer
Best of Winners – Hobbs KC, Jan 2015 – Judy Webb
Winners Dog – Colorado Springs KC, Oct 2014 – Charlotte Clem McGowan
Reserve Winners Dog – Buckhorn KC, Oct 2014 – Greg Lynch (Kellyn)
3rd – LRCGD, Sep 2014 – Maryann Czerwinski (Broadway) 
1st – LRCGD, Sep 2014 – Jo Fleming (Blackwater)
Best of Winners (major) – Flatirons KC, June 2014 – Dr Clyde Shaw
Reserve to the BOB winner – Colorado KC, Feb 2014 – Linda More
Qualified for the 2013 Eukanuba National Owner-Handled Finals in Orlando, FL
Back-to-back Best of Winners – Arapahoe KC, Sep 2013 – Dr Spritzer and Dr Keating
4th – LRCGD, Sep 2012 – Mike Silva (Shadowbrook)
3rd – LRCGD, Sep 2012 – Barb Gilchrist (Blackthorn)
4th – LRCA, May 2012 – Linda Vaughn (Simerdown)
Best of Winners (major)/Best Owner-Handled Lab – Colorado KC, Feb 2012 – Gloria Geringer
Best of Breed / Group 2 – High Plains KC (UKC), Dec 2011 – Timothy Catterson (UKC Champion)
Reserve Winners Dog – Southern Colorado KC, Nov 2011 – Dyane Baldwin
Best of Breed – Sagebrush DC (UKC), Oct 2011 – Ronald Horn
2nd Sweeps – LRCGD, Oct 2011 – Karen Helmers (Paradocs)
3rd – LRCGD, Oct 2011 – Janis Grannemann (JanRod)
1st – Flatirons KC, June 2011 – Pluis Davern (Sundowner)
Best Puppy – LRCA, May 2011 – Nancy Talbott (Belgold)
2nd Sweeps – LRCA, May 2011 – Lynn Peterson
Best of Breed / Group 3 – High Plains KC (UKC), Mar 2011 – Jennifer Landers
Junior Hunter title – May 2022 (2 months shy of 12 years old!)
Working Certificate – LRCGD, Oct 2013
Started Hunting Retriever title – Laramie Peak HRC, July 2012
CH MoonLit's Drum Roll
"Ringo"
CH Nipntuck HySpire Unforgettable
"Nat"
CH Sureshot HySpire Impressive WC
CH Blackwater Nipntuck Cheerleader
Bournhall's Coco Chanel at MoonLit "Chanel"
Dickendall Davaron Anslo JH
Bournhall's Nutmeg Consellation
Big Sky's Olivia
"Olivia"
Tabatha's Blast at Belquest
"Blast"
CH Tabatha's Rollick at Carowby JH
Tabatha's Intensify
Big Sky's Sable
"Sable"
CH Empress Big Sky's Blood & Guts
Tabatha's Token Talent
Boz is a wonderful show dog. He finished both AKC and UKC championships, but he really enjoyed field work
He also brought his awesome bloodlines and passed on his perfect topline and tailset, plus his personality to his puppies.
Boz and his buddies Chip and little Ricki enjoying the water on a warm day
No question, he loves to retrieve!
Boz retrieving his first pigeon.
Free baiting at 4 months – almost time to hit the show ring.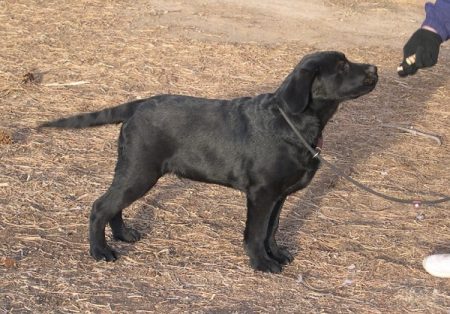 Trip to Albuquerque and Boz brought back some booty!  He won Best Puppy and made the cut for Winners Dog under judge Nancy Talbott. He also picked up some cash in the Sweepstakes ring. Thanks Linda for taking him with you!
First big win – Best of Breed and Group 3 from the puppy class – and he wasn't even 7 months old yet! Judge Jennifer Landers.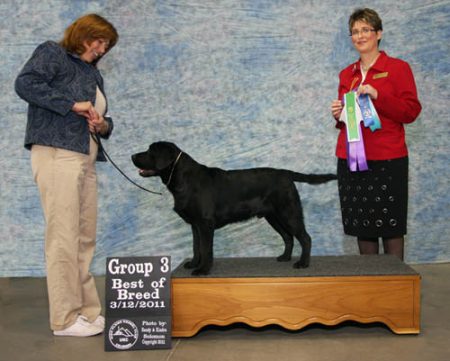 Boz finished his UKC championship in style by going Best of Breed and Group 2 under judge Timothy Catterson!
Best of Winners and Best Owner-Handled Lab for a major win at the Colorado KC show under judge Gloria Geringer.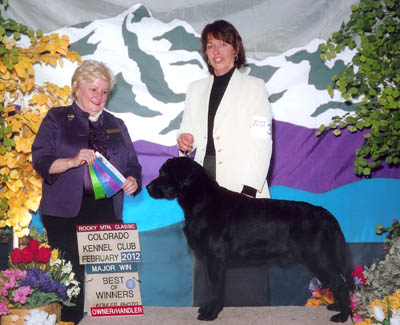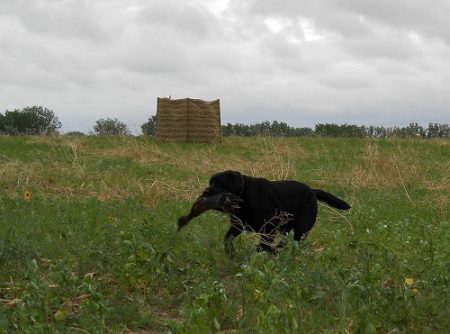 Boz' first hunt test was quite an adventure. Ears up, quivering with excitement while we waited in the holding blind. First land mark – out and back in what seemed like seconds. Who says show dogs don't have drive? Second bird landed a little deeper, but he judged the depth well. Small search in the thicker cover to find the bird and came running back like a runaway freight train.
Boz won Best of Winners – back to back – at the Arapahoe KC shows. Thank you to both judges – Dr Ronald Spitzer and Dr Steve Keating (pictured). Unfortunately the photographer lost our win photo from Saturday.
Boz goes Best of Winners again – this time for a 4-point major – at the Flatirons KC show under judge Dr Clyde Shaw. Thank you to Susan Rose who handled him for me after I broke my kneecap.
Just a few single points to go!
Finishing his championship with another Best of Winners (major) under judge Charles Olvis!
Thank you Tiffany Marzluf for ALL that you do!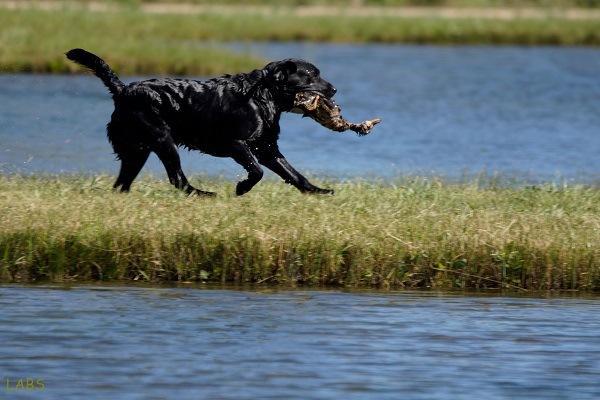 Boz loves retrieving and swimming! Here he is retrieving the final duck to earn his Working Certificate (WC). Thanks to Linda Alexander for the great photo!
Thanks Robin and Scott for welcoming Boz into your home, and the strawberry patch, and your bed…