Below is some general information about how we raise our puppies. Please take a few minutes to read through it and contact us if you have any questions.
How do we raise puppies?
We evaluate each potential sire and dam for temperament, structure, type, health, genetic issues and retrieving desire.
Puppies are checked and weighed daily for first few weeks.
Puppies are handled daily and experience Early Neurological Stimulation and other socialization to give them a superior advantage.
Because they are retrievers they are also introduced to birds.
At 7 weeks, puppies are evaluated for personality, retrieving desire and structure to help match puppies with families – the right pup for the right home.
Puppies are wormed multiple times, vet checked, given their first vaccines and a microchip.
We raise our pups with love, a bit of science and lots of experience. We want to provide our forever families with the best puppies possible.
Our goal? Hunting Labs with classic looks
We strive for the dual-purpose Labrador Retriever who will become a cherished family member, but could also be trained to excel as a hunting companion or in competitive events. Trainability and temperament are traits that are important to us, as is the Lab's desire to please.
When planning a litter, we do so with the intention of keeping a puppy for ourselves. We spend time reviewing many factors, including health, soundness, retrieving desire and conformation.
We evaluate each potential sire and dam based on the following criteria:
How is the dog's retrieving desire? A retriever that isn't interested in retrieving just won't cut it with us.
How is the dog's temperament and disposition? It's possible to have a dog with excellent retrieving drive AND be a wonderful house pet and companion.
How is the dog's structure and type? Although the dog doesn't have to be a show champion, he or she should look like a Lab and should have proper structure to enable him or her to spend a day retrieving in the field.
Most of our puppies will be family dogs. Many will hunt or run hunt tests. Some become therapy dogs or will compete in one venue or another. But their most important job is being a part of their family.
How we raise puppies
Puppies are born and raised in our home. They experience the noises, sights and smells of everyday life (at least once their eyes and ears open). When the weather is good, they get to play outside and, if it's warm enough, splash in water.
As each puppy is born, it is checked, weighed and given a colored ribbon collar. We check their weight every day for the first few weeks to make sure they are getting enough to eat and seem happy and healthy.
During their time with us we work to give them a solid foundation that will help them later in life.
From birth, they are handled daily and exposed to various stimuli. We use Early Neurological Stimulation which results in greater stress tolerance and resistance to disease throughout their lives. For more information about these early experiences click below to watch a short video.
After their eyes and ears open and they've thoroughly explored the whelping box, they're ready for expanded horizons. They get to climb on, chew or play with a wide variety of toys. They also experience a variety of flooring textures, such as newspaper, carpet, tile. And they hear an assortment of sounds, such as a radio, TV, vacuum and clanking pots and pans.
About week five they're introduced to birds! We usually start with a duck wing. They also get to see a variety of other birds, depending on what is available.
The more our puppies experience as babies, the better they can react to unfamiliar objects and places later in their lives.
Puppy Evaluations
We don't take reservations for a particular puppy nor do we do 'first pick, second pick.' Instead we spend countless hours evaluating puppies in order to place them in the right home. We also host an evaluation day at about 7 weeks when we have other breeders come over and we look at personality, retrieving desire and structure.
Evaluations start with the Volhard Puppy Aptitude test which helps to predict what a puppy will be like as an adult dog. The tests look for how well the puppy connects to people, confidence, retrieving drive and if it is a bit more dominant or submissive.
It's a wonderful resource because the test results can be applied to many different breeds depending on which attributes are most important. In the video you can see the varied reactions by Beagle puppies and how the testers interpret those reactions.
The evaluations are best done between week 7 and week 8, which means we cannot tell puppy buyers which puppies will be available before that time.
Using the evaluations, plus our daily interaction with the puppies, gives us a good idea of which puppy is best suited for each home. Sometimes a few of the puppies are very similar and each would be a good choice for a family. When that happens we also factor in things like whether one caught your eye or seemed to untie your shoelaces each time you visited!
We've been using this method for over 10 years and have had lots of positive feedback.
Guarantee
We take great care in evaluating the health and soundness of our Labradors and the parents we choose for our litters. However even health-tested parents can produce a health problem from time to time, but screening does reduce the chance of problems.
Another factor in dog health is the way in which they are raised. A breeder can only provide a solid foundation, but it is up to the owner to provide proper care.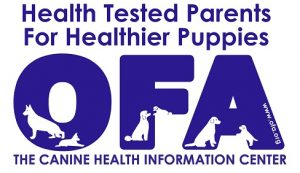 Our puppies are guaranteed to be in good health when they leave us, but it is a good idea to introduce your new puppy to your vet soon after going home. We also guarantee our puppies for 26 months against severe/non-functional hip dysplasia and that they are not affected by the genetic disorders PRA, EIC and CNM.
Bringing your puppy home
Pups will be ready to go home after 8 weeks of age. They will be up to date on vaccinations and wormings, will be microchipped and will come with their health record. We also provide a puppy packet with information on the puppy's parents and suggestions for feeding, vaccinating and training.
We register all puppies with AKC. This means we'll need to know your choice for a registered name by the time you pick up your puppy. Each litter has a theme and we can provide lots of suggestions for the registered name. By the way, you don't need to know what you'll call your puppy that soon.
We do this because some puppy buyers forget to send in the registration and lose out on all the benefits, including the lifetime registration of the microchip and help if your dog ever gets lost. Being a responsible owner is one way to help keep your dog safe.
We don't ship puppies. However we've had several people fly in to the airport in Denver, Colorado (DIA). If this works for you, please coordinate with us well in advance.
As it gets closer to go-home day, we'll start making appointments. Plan to spend 60-90 minutes going through paperwork and going over feeding and care instructions.
We'll send home a few days worth of the food your puppy has been eating so you have time to switch him over to your choice of food.
All puppies are sold with AKC limited registration. Basically the puppy IS registered and can compete in everything except the show ring. The biggest difference is that if a dog with limited registration is ever bred, the puppies cannot be registered. The vast majority of our puppy buyers have no interest in breeding. For the few who may be interested, we can discuss changing from limited to full registration after the dog has passed health clearances and has proven itself in competition.
After pickup
Please take your puppy to your vet within a couple days of taking him home. It's great to get them introduced early! We'll send along a letter for your vet that details what vaccinations your puppy has had and when he's been wormed.
We recommend waiting to spay or neuter until at least 18 months. Studies show early spay or neuter increases the risks of certain cancers, orthopedic problems and sometimes even aggression.
And we will always welcome back a dog we have bred if the owner can no longer keep it. We will either work to find another suitable home or keep him or her with us. We understand life sometimes involves unexpected twists and turns.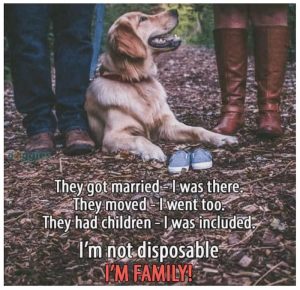 Ready to get started?
If you're interested in purchasing one of our puppies, please complete the Puppy Questionnaire and return it to us for consideration. Be sure to include a description of your ideal dog as well as what you will be using the pup for: hunting,  competitive dog sports, search and rescue, family companion, etc. We want to make sure that your puppy is great fit for your family. Once we've had a chance to look over your questionnaire and talk with you, we can put you on our waiting list.
Reservation fees are non-refundable unless we don't have enough puppies of the requested sex and/or color. In that case, it can be applied to a puppy of a different sex and/or color in the litter or it can be applied to a future litter or it can be refunded. But please don't expect a refund because you changed your mind. If at any time, including go-home day, we find someone has made false or misleading statements or if there is any question about their ability to properly care for the puppy, we reserve the right to refuse the sale.
If you have any questions, feel free to contact us.