We breed black, and occasionally chocolate, Lab puppies in Colorado. Our dogs are AKC registered and many are also UKC registered.
Our Labs are great family dogs and, true to the breed, they are also great hunting dogs. We compete in hunt tests, obedience, rally and dog shows.
If you are interested in buying a puppy, please fill out the Puppy Buyer Questionnaire and return it to us to be placed on our list.
We are honored to be recognized by the AKC as a Breeder of Merit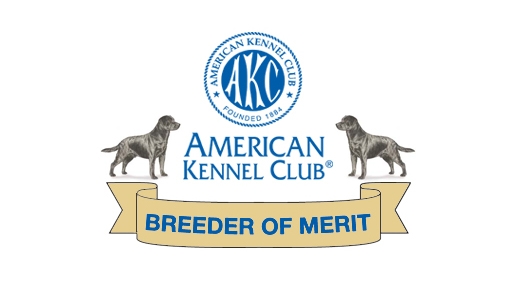 The American Kennel Club honors "responsible breeders who have gone above and beyond on health issues, temperament, and genetic screening, as well as to the individual care and placement of puppies in responsible homes."
Some of the puppies we've raised
These puppies are all in their forever homes and are not for sale, but check out our upcoming litters or contact us if you'd like more information.
Or read more from some of the owners of Justamere Ranch Labrador Retriever puppies.