HRCH Justamere Chocolate Chip CD TDX SH RAE CGC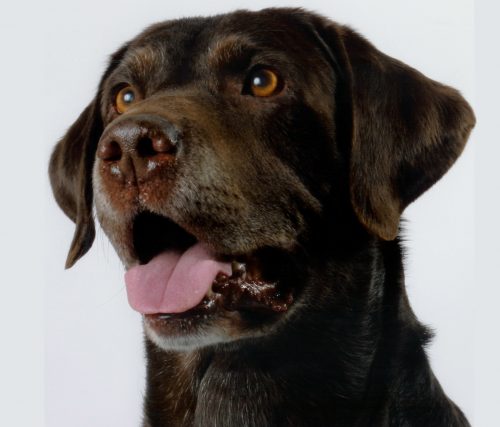 Chocolate Labrador Retriever male (Cy)
Health certifications:
OFA Good (hips)
OFA Normal (elbows)
CERF (eyes)
prcd-PRA Clear (blindness)
CNM Clear (muscle myopathy)
EIC Clear (exercise induced collapse)
Notable achievements:
SIX time recipient of the LRCGD's RETRIEVER ACHIEVER award!
Earned his TD on his first try. While other dogs that day were taking upwards of a half-hour to complete their tracks (at least the ones who passed), Chip finished in less than 4 minutes. He exuded confidence and poise for the entire track.
Earned his JH in 4 straight passes! Then went on to finish his SH too!
Earned his TDX on his second try – tracking over 800 yards in 14 minutes including negotiating two obstacles, passing two sets of cross-tracks, and finding four articles left by the tracklayer, all while pulling his slow-poke handler.
Earned his HR in fine style – I swear he has eyes in the back of his head to be able to see some of the doubles that are nearly 180 degrees apart!
Enjoys Rally so much, he earned his RN, RA and RE titles in 3 straight shows each then went on to finish his RAE title by qualifying in both Rally Advanced and Excellent on the same day TEN times!
As his twelfth title, Chip earned his Hunting Retriever Championship!
Pedigree:
Chip's pedigree is a blend of field and show lines and includes such greats as:
NFC-CFC-Dual CH Shed of Arden
NFC-Am Can Dual CH Bracken's Sweep
Dual CH Shamrock Acres Super Drive
Dual CH Grangemead Precocious
Dual CH Cherokee Buck
Dual CH CFC Ridgewood Playboy
Dual CH AFC Calypso Clipper
Dual CH NAFC Boley's Tar Baby
Dual CH Trumarc's Triple Threat
Dual CH AFC Alpine Cherokee Rocket
Am Can Dual CH Little Pierre of Deer Creek
Can Dual CH Coastal Charger of Deer Creek
FC-Can Dual CH Ginger's Choc August
Can Dual CH Dart of Netley Creek
NAFC-NFC Super Chief
NAFC-CNFC-FC River Oaks Corky
NAFC-FC Ray's Rascal
NFC-AFC-CFC Cork of Oakwood Lane
NFC-AFC-CNFC Del Tone Colvin
Am Can CH Shamrock Acres Light Brigade
Am Can Mex World CH Franklin's Golden Mandigo CD AWC
Am Mex CH Gunfields Super Charger CD
Am Swed CH Puhs Superman WC
Ch Lockerbie Brian Boru WC
CH Lockerbie Sandylands Tarquin WC
CH Earlsmoor Moor of Arden
Eng CH Sandylands Mark
Eng CH Follytower Merrybrook Black Stormer
I was pleased to celebrate his 13th birthday. Tickled at his 14th birthday. Amazed when he turned 15. So, at 16 years old, I figured why not let him drive the car? Chip can do anything!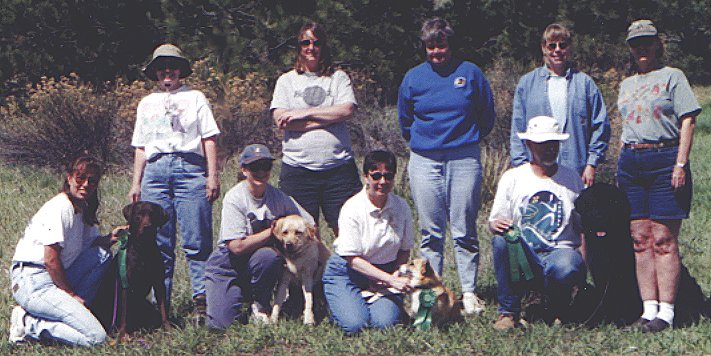 Of the 10 dogs entered in the Mountain States Dog Training Club tracking test, only 4 qualified. Posing with Chip are the other qualifiers (left to right) Emma (yellow Lab), Breeze (Corgi), and Lucy (Newf).
We'd like to give a big thank you to the judges, tracklayers, and other workers who made the day possible.
Chip finished his CD in 3 straight obedience trials, winning a 2nd and a 4th along the way.
Shown finishing his title under judge Dan Butcher.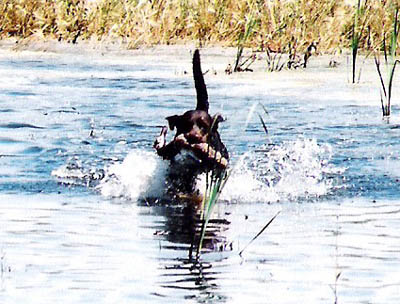 Chip bringing back a duck while earning his first Junior Hunter (JH) pass. Thanks to Jeff Britt for the great photo.
Although Chip likes to do things his own way, sometimes he does play by the rules! He won FIRST PLACE in Open A obedience and HIGH IN TRIAL at the 2005 LRCGD B/OB match.
Yes, there were times, I'm sure you knew
When I bit off more than I could chew
And through it all, when there was doubt
I ate it up and spit it out
I faced it all and I stood tall and did it my way.
I've loved, I've laughed and cried
I had my fill, my share of losing
And now, as tears subside, I find it all, so amusing
To think, I did all that
And may I say, not in a shy way,
Oh no, oh no not me, I did it my way!
Chip earning his TDX title! He was the only dog of six to pass that day. Thanks to judges AJ Knoll and Ginny Conway and to Kathy Marshburn, the tracklayer.
Chip started his TDX track on a cold Halloween morning after waiting 3 hours for the track to properly age. He tracked the first leg and the first turn like his nose was on a rail. When he's confident he also moves fast! I had a hard time keeping up with him.
About 60 yards or so into the second leg, he stopped and sniffed around like he'd found an article. I asked him what he found and he usually responds by laying down if it's his article, but instead he restarted tracking. As I passed the spot I looked around to be sure we didn't miss an article, then realized that must have been a cross track.
Further along that leg we came to some downed timber. Chip checked along the edges and followed the scent downwind. He wound up skirting the timber and worked his way back along on the far side. Shortly after that he found the first of the intermediate articles, and I thought "woo hoo" we might just pass this time! Then I chastised myself and said "just watch the dog and work the track; celebrate later."
Because all of the previous tracks I'd seen in that field had crossed the upper road as an obstacle, I felt certain we would cross it too, but when we got close, Chip said "nope, the track goes left." I doubted for a split second, then told him "okay, if you're sure." He was and away we went up over a hill and back down the other side where he found the next article. Boy, I could taste the title then, but again told myself "just work the track."
He did two more turns very nicely and now we were getting close to the main park road. I realized we had gotten through the required turns, obstacles, cross tracks and all but the final article. It didn't feel like we'd gone far enough, but our first attempt didn't feel long enough either. About that time Chip stopped and I asked him what he found. He laid down and gave me a look like, "see, I told you!" He'd found the final article! I had tears streaming down my face as I waved the article for the judges to see and heard all the spectators honking and hollering.
What a day! I am SO proud of my boy!
Chip watching the memory bird of a water double on his way to earning his first Senior Hunter (SH) pass.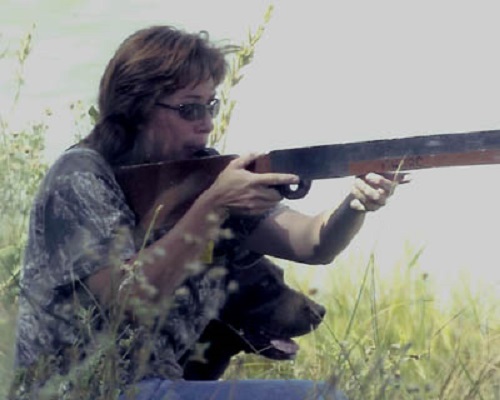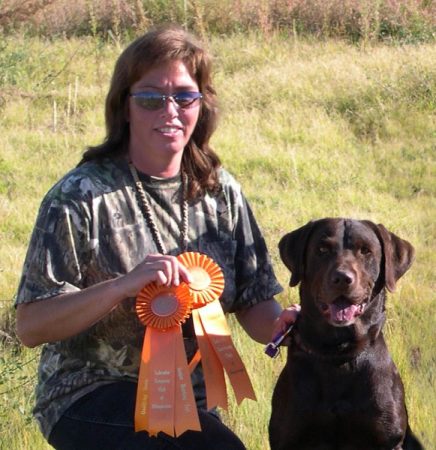 Double-header in New Mexico! Chip earned two Senior Hunter passes at Conchas Lake.
How did 10 years go by so quickly? Chip, with just a touch of gray on his muzzle, still thinks he's a puppy. Watch for him to continue competing for as long as he's happy and healthy.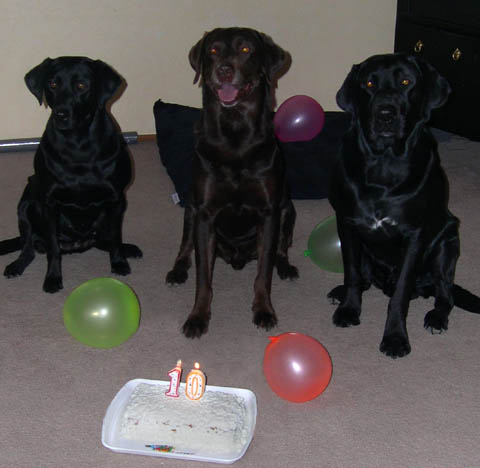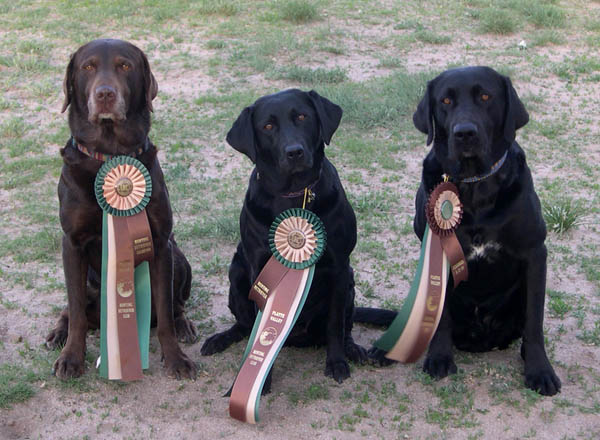 We had a great day at the Platte Valley HRC hunt test!
Chip finished his twelfth title – Hunting Retriever Champion. His daughter, Arwen, finished her Hunting Retriever title and his son, Tory, got another pass toward his Hunting Retriever title.
At 17 years old, my Energizer Bunny was slowing down. He still enjoyed a short retrieve or two, but a nap in the sun felt pretty good.
11/25/1998 – 12/18/2015
The tears in my eyes
I can wipe away.
The ache in my heart,
will always stay.
Until we meet again Chipper!