Jackson was oh so special. He seemed almost human in the things he did.
He loved to retrieve anything – a ball, a bumper, a Frisbee, even a stick if that was all that was handy. His favorite game was to drop a ball at your feet then run off a little way and face away while waiting for you to throw it. He also loved to swim and could often be found in the pond in our backyard.
Jackson was also helpful around the house. He could open the refrigerator door and often turned off the dryer when the buzzer sounded. And as a bed warmer, he excelled.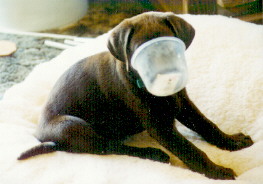 At 7 weeks old he already knew who was king of the castle and he wasn't about to be kept waiting for his dinner.
Training was easy for Jackson. Show him something once or twice and he seemed to understand. Balance a cookie, sit up, play dead, you name it, he did it.