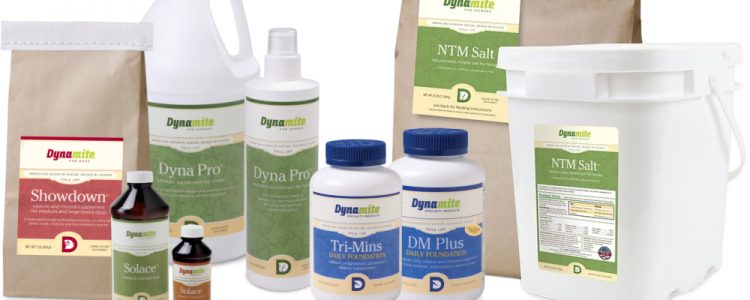 "Dynamite uses only natural ingredients, made in the United States for better quality control. Throughout its history of making natural dog food, it has always looked at alternatives to animal by-products, antibiotics, chemical preservatives, fumigants, artificial coloring and other additives that have later caused dog allergies and other health problems.
"Its manufacturing processes are so stringently controlled that Dynamite has a separate mill to produce feed for herbivores, such as horses and poultry that are especially sensitive to contamination from meat needed by other species such as dogs and cats."
I'm proud to be a Dynamite distributor for over 20 years!
I've had great results for both my animals and me. But because governmental regulations won't allow us to make therapeutic claims, we can only tell you how we've used the products and share some stories from other people.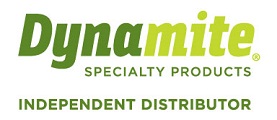 Covid-19 update:
According to the National Institutes of Health, "interest in dietary supplement ingredients that might enhance immune function and reduce inflammation to help prevent COVID-19 or manage its signs and symptoms remains high. Many of these ingredients have not been studied in people with COVID-19, but research suggests that they might improve immune function and help prevent or reduce symptoms of the common cold, influenza, and other respiratory tract infections."
Although "...dietary supplements are not allowed to be marketed as a treatment, prevention, or cure for any disease" some studies suggest supplements may lower the risk of severe cases of Covid-19. These include vitamins C and D, zinc and Quercetin. Other studies also suggest magnesium, zinc and probiotics.
Some Dynamite products you may want to consider include:
DM Plus contains "highly absorbable forms of vitamins and minerals" plus a "proprietary blend of phytonutrients, amino acids, and enzymes to improve digestion, absorption, and utilization of all these nutrients. (Caution: This product contains iron. Be aware that accidental overdose of iron-containing products is a leading cause of fatal poisoning in children under 6.)"
TriMins for calcium, magnesium and potassium (DM Plus and TriMins "together provide 750% of your recommended daily allowance (RDA) of vitamin D. It is important to keep in mind that US RDA is based on the amount needed to remain alive. Most studies have shown that increased amounts are needed for immune benefits.)"
SOD "contains the building blocks for the class of antioxidants called superoxide dismutase" including zinc, copper, selenium and manganese.
Hiscorbadyne "provides a healthy dose of buffered vitamin C and a proprietary blend of herbs and antioxidants that specifically target immune system health."
Solace - "Research indicates silver may boost antibiotic effectiveness. Dynamite Solace is made of pure colloidal silver."
Here are some of the products I've used  and swear by:
Solace
If I could only have one of the Dynamite products it would be a toss up between Solace and DynaPro. We've used Solace (200 ppm colloidal silver) topically and internally, usually diluted with distilled water, but occasionally full strength. As an example, we used it combined with a homeopathic for cough when our dogs came in contact with kennel cough. They finished coughing within 24 hours, but a neighbor's dogs continued coughing for two weeks.
DynaPro
I wouldn't be without it! Anytime the dogs get stressed they get a couple of drops in their mouths or on their food. Weather changes, competition, breeding can all cause stress. By the way, we get the DynaPro for horses - same formula, bigger bottle, better price.
Miracle Clay
We've used Miracle Clay on all sorts of minor problems from bee stings, to bug bites, to rashes, to other swellings. We have wasps who give a nasty sting, but using a dab of activated Miracle Clay has stopped the stinging within seconds. It's been called a "Healing Gift from Mother Earth."
Release
We've used it on sore muscles, blisters, and wounds. I even spray some on my face when I've been staring at the computer screen for too long.
Relax
We don't use this product too often anymore, but it's been helpful for stressful situations such as the first trailer ride or a farrier visit. My Labs are conditioned to gun fire from puppyhood so July 4th fireworks don't bother them at all, but not so for some dogs. Relax has helped other dogs get through that stressful day and adding Tranquil can provide additional help. If your dog is stressed by fireworks, here's a video that talks more about Dynamite's Relax and Tranquil.
Tea Tree Oil
Cuts, scrapes and other booboos get topped with TTO. We've used it on us and the horses, but only when VERY diluted on the dogs.
Trace Minerals Concentrate
Whenever we need to stop minor bleeding, we use Trace Minerals Concentrate.
Wound Salve
We use Wound Salve on open wounds, usually with Solace and/or Tea Tree Oil.
Balm
We've had great results using Balm on bruises, old scar tissue and even dry heels (to get ready for sandal season). By the way, Balm is used on closed wounds, while Wound Salve can be used on open wounds.
Showdown for Dogs / Showdown Pro
We started our Dynamite journey using Showdown and noticed quite an improvement in our dogs' health. Coats became thicker and, in the case of chocolate Labs, a darker color. We supplement breeding females with Showdown Pro, starting before breeding and continuing through weaning the puppies. The girls have maintained better condition and puppies get off to a great start.
Free & Easy for Dogs
Our older dogs get Free & Easy six days a week. One of our dogs was diagnosed with a partially torn ACL and the vet recommended immediate surgery. We chose instead to try conservative management (straight to rehab, skipping the surgery). It took awhile, but he went back to competing in hunt tests, obedience and rally trials thanks in part to Free & Easy and Izmine.
Izmine
"Izmine™ is an unusually effective mineral food containing more than 70 naturally-occurring minerals, enzymes, electrolytes and bio-nutrients in a readily-assimilated form. Its natural acidity contributes to its high degree of assimilation." It has helped my dog recover after an ACL tear and my mom's arthritis in her hands and back - they both also took Free & Easy. Here's a story about how Izmine was used to help dolphins who lived in chlorinated water and used to help a penguin that developed a large goiter.
Herbal Tonic
Twice a year we give our dogs Herbal Tonic to avoid having to use harsh chemical wormers. To be safe, we also test for heartworm. For tips on how to use Herbal Tonic (and some supporting products), check out Parasite Control: Balance vs. Eradication by Judy Sinner.
Hiscorbadyne
We keep Hiscorbadyne on hand for times when the dogs get stressed or need an extra boost to their immune systems such as during a recent outbreak of kennel cough.
Dyna Shield
Love summer, but hate the bugs? Me too. Mosquitos, biting flies and those awful ticks when we're running the dogs in the fields. Ugh. I've tried all sorts of products to keep bugs at bay, not only because they're annoying, but also because they transmit diseases. Can't say I've ever liked the stickiness and horrible smell - especially so for my dogs when they need a good sense of smell to find some of their birds. Then I tried Dyna Shield - "a natural horse spray containing a blend of natural, proven, botanical oils that can be applied directly to your horse with peace of mind." It's a concentrate that can be diluted at various levels to be used on horses, dogs and people. It does have a smell, but more herbal than chemical. And it works well for my animals and me. Learn more about the harmful effects of chemical sprays.
DynaCoat
For show dogs, we've found DynaCoat has helped put on that extra bit of coat. We also gave it to a dog that generally had a rather sparse coat and within a few weeks she developed a nice plush coat and even grew hair along her belly and inner thighs where she never had hair before.
Super Premium Dog Food
I've tried several premium brands of dog food and this one has given us great results. It's made with fresh, hand-trimmed USDA chicken, plus fish meal and salmon oil with only minimal processing to help preserve the natural goodness of the ingredients. NO corn or wheat. 24% protein, 16% fat. It comes in 8-pound and 40-pound bags.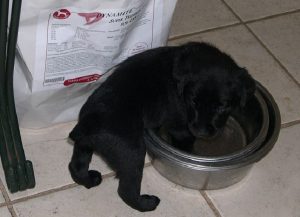 DM Plus
Yep, I take my vitamins too! Why take chances? I certainly don't have the time to eat as well as I should, and I know with Dynamite I'm doing something good for the only body I will ever have.
Tri-Mins
As part of the Dynamite basic program, we take Tri-Mins for the additional minerals. Some people have asked why Tri-Mins is separate from DM Plus. It's because we each have different needs for the minerals in Tri-Mins (calcium, potassium, magnesium) and this allows you to adjust the amounts as needed.
Elixir
I started the Dynamite program by taking Elixir mixed with water every day for 60 days. Now I take it whenever I feel a bout of heartburn coming on which, thankfully, isn't very often.
Free & Easy for Humans
I recently had to start taking Free & Easy for my joints. A hand injury left one finger rather stiff, particularly in the mornings. Now I'm much more limber.
Natural Trace Mineral Salt
Instead of using the dead iodized salt commonly sold in grocery stores, we use the Natural Trace Mineral Salt. The only downside is that you have to tap your salt shaker occasionally to make it flow freely.
PMS (Premium Magnesium Supplement)
I've been told emergency room doctors often give magnesium to heart attack victims. Another source told me that most women are deficient in magnesium and it's involved in enzyme and hormonal actions to help lower blood pressure. With all that in mind, I take a couple PMS every day.
180
Worried about packing on the pounds during the holidays?
I lost 30 pounds in two months on this protocol and overall found it to be pretty easy.
Horse products
Although my horses are leased out to a family with several children, they also get Dynamite products. I like the Dynamite Plus for the additional coenzymes and herbs to help calm and balance the gut pH. (Regular Dynamite would be a good choice for a horse in competition.) We also offer the Free Choice Minerals so each horse can eat as much or as little as they need. When we were breeding horses we also used Breeder Pac. And, of course, they also get DynaPro and occasionally Herbal Tonic.
Here are some results and stories from other people:
DM Plus, TriMins, Free & Easy and PMS
For years my mother would tell me every day that she needed to lay down because her back hurt. Her doctors had her taking calcium pills for osteoporosis plus 800 mg Tylenol whenever she had pain. But it wasn't until she came to live with me that I found out about the variety of medications she was taking. The years of taking inorganic calcium had given her bone spurs and the daily Tylenol was causing other problems. So we weaned her off the medications that were contraindicated, provided her with better food choices and started DM Plus, TriMins, Free & Easy and PMS and the difference was almost immediate. In the almost 4 years she lived with me, I can only remember one time she had to lay down because her back hurt.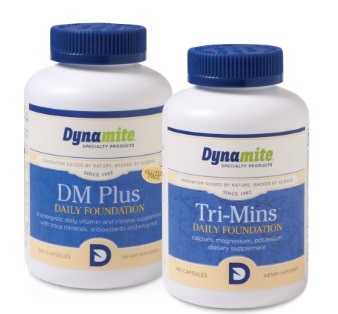 Free & Easy for People
As an aircraft mechanic, my husband misused his hands every day. That's on top of a bad habit of popping his knuckles. He tried soaking his hands in warm water every morning to make it easier to open and close his hands. I gave him a bottle of Free & Easy, but didn't think he'd take them. When he did, I realized just how much he hurt. He never said anything though. That is, until a few days after he ran out and had to resort to bathing his hands in warm water again. He actually asked for more F&E!
Free & Easy for Dogs
Story in a nutshell: Have an Australian Cattle Dog who will be 11 years old this August. He injured himself, caught his rear paw when running onto the deck early on. He favored it on and off for quite some time. Got tired of meds from vet when he seemed to be favoring it from time to time. He actually got to a point, at one time, that he couldn't go up the stairs. So, looked for a more holistic approach. Researched the internet and found a site with testimonials on Free and Easy. Then researched the best price to buy which was from you. At the time I began using Free and Easy also switched him to an organic, high quality dog food to which I add a spoon of pureed celery to each meal, as celery contains alot of water content which aids the joints in arthritic situations. The vet not convinced about this, but I find the results to be good. And the rest is history. Don't know if it is one item or combination of all, but he has not been on meds for this condition for years now.
R Witalec
DynaCoat
Well it worked, back to back Winners Bitch (had not earned any points for the previous two years).
Sandy Nixon
Showdown
The dog's coats are what people comment on the most. They look like they have just been bathed they are so shiny. Their gums have a nice color as well.
Captain Tim Bradbeer
Beach and Bay Charters
Showdown
Bow is doing great. Still a ball of energy at 8 years and no signs of slowing down.
Robin Thorne