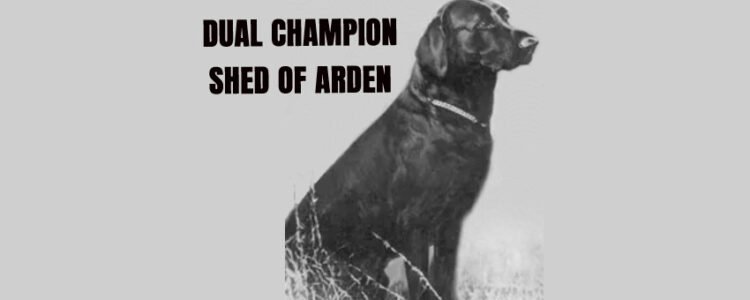 "Shed of Arden's qualities were of the highest: he epitomized an ideal. ...By those who are knowledgeable, he was considered to have embodied the greatest qualities a Retriever can possess in equal parts: looks, performance, and the priceless gift to transmit these from generation to generation."
~ Helen Warwick, Lockerbie Labradors
SHED OF ARDEN'S STORY
3xNFC CFC DUAL CH Shed of Arden is one of the best-known Labrador Retrievers in history, but what do we know about him and his family?
Shed was born March 26, 1939, and bred by William Averell Harriman who owned Arden kennels. Paul Bakewell III of Deer Creek Kennels bought Shed as a young dog.
There's a story that his siblings were all named for fish and that he was supposed to be Shad of Arden. Due to a clerical error he became Shed instead.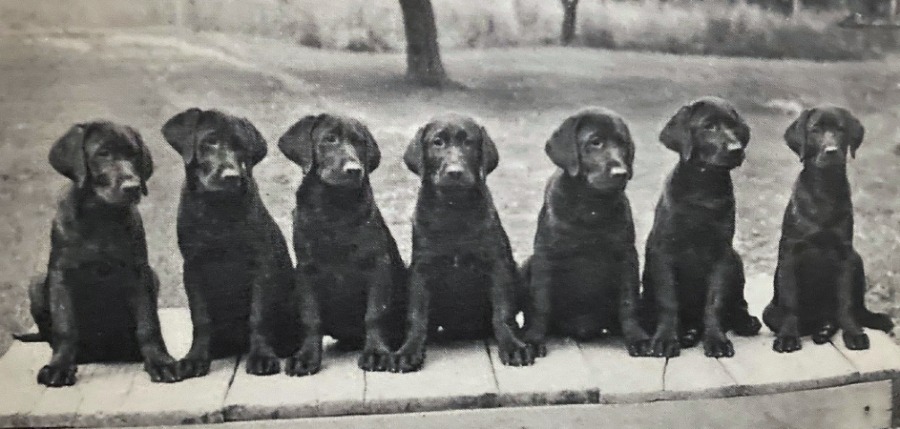 The Arden 'fish' litter, including Shed, Bass, Marlin, Trout.
Show competition
Although Shed often competed in the show ring and field at the same time, he started his career in the show ring. At 14 months old he won Winners Dog and Best of Winners for a 5-point major at the Labrador Retriever Club's specialty show in 1940. His older brother, CH Earlsmoor Moor of Arden, won Best in Specialty at that show. A week later the brothers repeated their wins at another show with another major for Shed.
He finished his show championship 15 months later with two Best of Breed wins and a Group 4th.
Field Competition
Retriever field trials in America were still in their infancy when Shed was born. It was only nine years since his uncle, NFC Blind of Arden, won the first field trial.
Shed started his field career with a Derby second at 20 months, still owned by his breeder.
The next year he started earning points in field competition. By the fall of 1942, he had finished his field championship to become a dual champion. He also qualified for the National Retriever Championship.
First National Championship
As a 3-year-old, Shed won his first National Championship. He was handled by Lt. Bakewell who was on leave from the Navy Air Corps.
Madison, Wisconsin hosted the National on December 4-6, 1942. The weather was cold. "The Yahara River and adjoining marshes which ordinarily afforded everything desired for water tests were frozen solid.... This necessitated moving the water tests to the University of Wisconsin property along the shores of Lake Mendota. Heavy ice floes made it dangerous for dogs to get into the water. Several refused to enter, others only after repeated commands." 1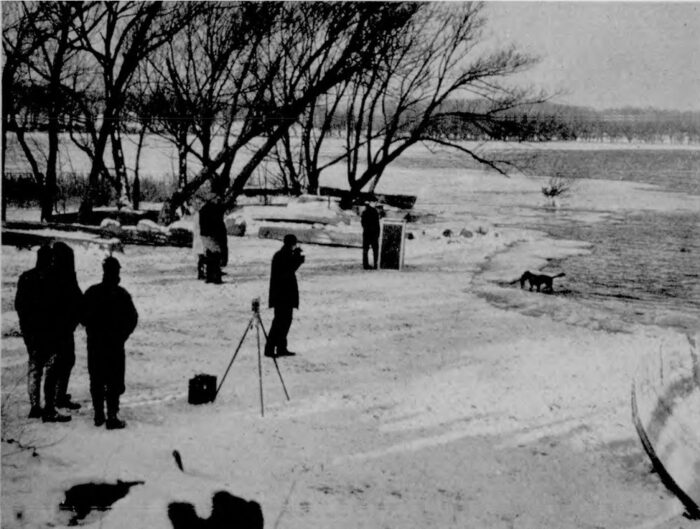 Icy conditions on Lake Mendota. Photo courtesy American Kennel Gazette.
"The weather was bitter and difficult on the great gallery, but it was weather to be expected in the final week of the Wisconsin duck hunting season and no dog who could not meet these conditions could rightfully aspire to the national title." 2
"To win, Shed had to show supreme ability to bound over frozen hummocks in quest of pheasants and to break sheets of ice in swimming after ducks. In fact, it is hard to imagine more trying conditions than those which the dogs, their handlers and the gallery faced during the three days of the stake. The thermometer was never far from zero, and frequently was below that mark...." 3
Eighteen dogs started, but only five finished, including two owned by Bakewell - Shed and FC Stilrovin Super Speed. The other finishers were FC Hiwood Mike, Patricia of Roedare, and Seaborne's Black Prince.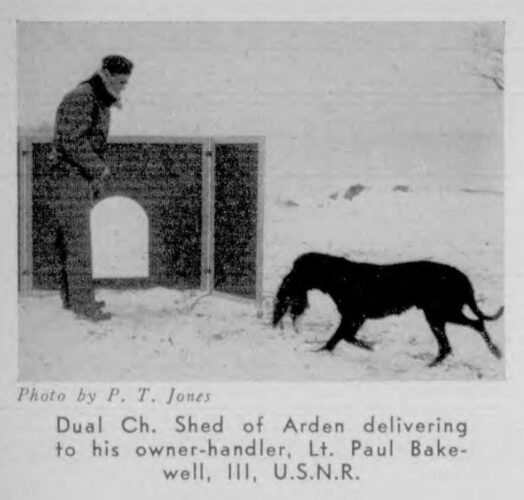 Shed of Arden delivering a bird. Photo courtesy American Kennel Gazette.
"Throughout the meeting Shed did everything asked of him, and did it brilliantly. Probably the thing that most pleased the gallery was the way that willingness was demonstrated when, in the final water test, he never hesitated a minute in crashing his way out through brittle ice..."  4
Second National Championship
Shed won the National Championship again the next year. He was handled by Clifford H. Wallace because Lt. Bakewell was on active duty.
Bourbon, Missouri hosted the stake on December 3-5, 1943. Twenty dogs started, of those 15 were Labs and five were Goldens. It took two extra series to determine the winner between two dogs - Shed and a Golden Retriever named FC Stilrovin Super Speed. Both dogs were owned by Lt. Bakewell.
Cotton Pershall trained Shed until until it was time to join the Army. At that point, Clifford Wallace took over and guided Shed through the grueling tests in Missouri.
Mrs. Bakewell with Shed and handler C.H. Wallace. Presenting the trophy was M.B. Wallace Jr, trail chairman. Photo courtesy American Kennel Gazette.
Shed didn't compete in the 1944 National. However, he did travel to Vancouver, British Columbia in October where he finished his Canadian Field Championship.
Third National Championship
World War II ended in 1945 after Germany surrendered in May and Japan surrendered in September. That November Shed and Bakewell were back to compete in the National Championship. This time it was held at Shelter Island, Long Island, New York, which meant a daily ferry ride from Riverhead. The stake was held on November 30-December 2, 1945.
The first day brought blinding snow and sleet which limited the day to only one series. The second day was cold and windy with high tides and northerly winds. The judges ran land tests in the morning and water tests as the tide ebbed. Despite the conditions, only six dogs were dropped.
Although Shed was a finalist, the judges awarded the win to Black Magic of Audlon.
Fourth National Championship
Although Shed was now seven-years-old, he continued competing at trials around the country. At a trial in Oregon he had a 300-yard blind retrieve across the tip of a lake for a shackled duck planted several yards off the shore. He was one of only six dogs to complete the series.
In the fall of 1946, Shed reclaimed his crown and is the only three-time winner of the National Championship. It was held on December 6-8. The grounds were good at Crab Orchard Lake, Herrin, Illinois, as was the weather. This is a coal mining area, and the mines were on strike at the time of the National. "... the gallery was augmented by many hundred miners who came to see the event. Some estimated the gallery at 10,000. Traffic presented a bit of a problem." 5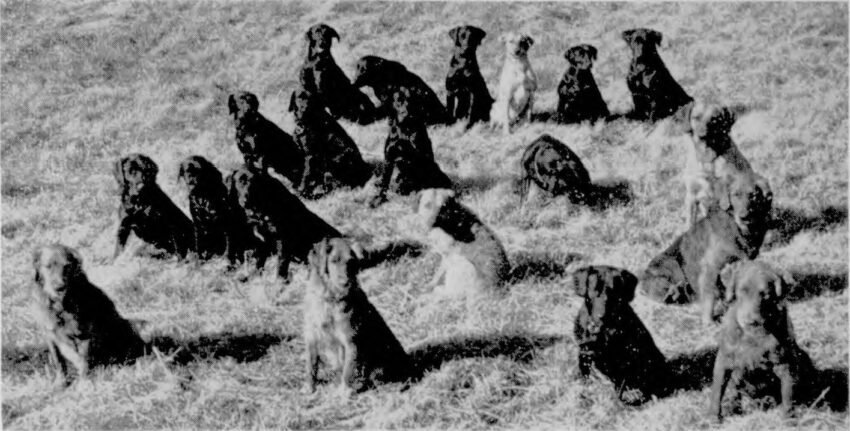 The 20 dogs entered in the 1946 National Championship Stake. Photo courtesy American Kennel Gazette.
Twenty dogs started the stake and eight finished.
In the final series, Shed faced off against three tough competitors. They were his kennel mate, Dual Champion Little Pierre of Deer Creek, plus FC Scoronine of Deer Creek, and a Golden retriever named Stilrovin Nitro Express.
"Scoronine led the field until the last day, then refused to plunge into the 45° water. Now it was Shed's turn.
"In the toughest test, he had to find two dead ducks which had been planted among the rushes across a 150-foot-wide bay. Shed waited calmly at the water's edge until he got the signal from Bakewell. Then he plunged bravely into chilly Crab Orchard Lake, but not with his old zip.
"... One-third of the way across, Shed's black head turned at a whistle from Bakewell to get directions. He entered the cattails just six feet from where the mallard was hidden, sniffed for a second, found his bird. A few minutes later, Shed did it again, and won his third U.S. championship." 6
Paul Bakewell received the championship trophy for Shed's third national championship.
Fifth National Championship
Shed ran the National Championship one more time. The 1947 National was again held at Crab Orchard Lake, Herrin, Illinois. The weather was good with only occasional light rain. Twenty one dogs started, but only four dogs finished. These dogs completed the tenth - and the eleventh - and the twelfth series in an effort to determine the winner. The final series was completed in near darkness.
These dogs were:
FC Black Panther, owned by CW Carlson
FC Black Roland of Koshkonong, owned by Wesley Jung
FC Bracken's Sweep, owned by DE Pomeroy
DUAL CH & 1942 , 1943, 1946 NATL CH Shed of Arden, owned by Paul Bakewell
Bracken's Sweep, handled by TW "Cotton" Pershall, was crowned the winner.
CH Raffles of Earlsmoor
Thatch of Whitmore CCW
Eng DUAL CH Titus of Whitmore
Tee of Whitmore
Task of Whitmore CCW
Toi of Whitmore FTW
Eng CH Teazle of Whitmore
FC Decoy of Arden
Odds On FTW
The Favorite FTW
Jest
Peggy of Shipton FTW
Ronald of Candahar
Gehta of Sigeforda
His parents
Shed's sire, Raffles, was Dr. Samuel Milbank's first Labrador although dogs were always part of his life. His father, Dr. Milbank, Sr., bred Chesapeake Bay Retrievers and terriers. A Scottish surgeon started the junior Dr. Milbank into Labradors when he found and shipped Raffles to him. According to Helen Warwick in The Complete Labrador Retriever, importing Raffles "started a collaboration of Dr. Milbank and W.A. Harriman that molded the fortunes of the Arden kennel, setting a precedent for quality that has never been equaled by any other Labrador Kennel in America."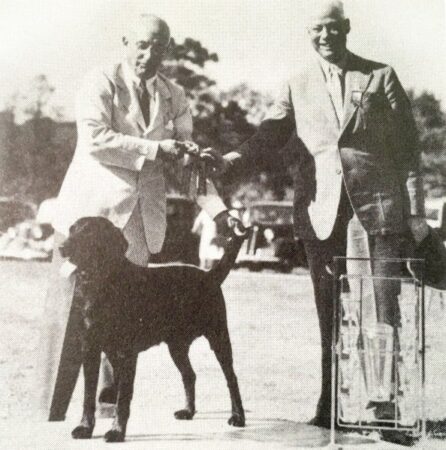 Show champion Raffles of Earlsmoor
Decoy, Shed's mother, was the second Lab to earn a field trial championship in America. Her full brother, Blind of Arden was the first to earn a field trial championship and also won the first US retriever field stake in 1938.
Field champion Decoy of Arden
His siblings
Some of Shed's full siblings included:
CH Earlsmoor Moor of Arden
CH Earlsmoor Marlin of Arden
DUAL CH Gorse of Arden
DUAL CH Braes of Arden
CH Bass of Arden
Half siblings included:
FC Gun of Arden
- Grandsire of 2xNFC Spirit Lake Duke and great-grandsire of DUAL CH CFC Ridgewood Playboy and CH Whygin Gentle Julia Of Avec
Marvadel Cinders
- Dam of Can DUAL CH Coastal Charger of Deer Creek and NFC AFC Marvadel Black Gum
His titled offspring include:
CNFC FC AFC Ardyn's Ace of Merwalfin
FC AFC Bigstone Bandit
CFC Chanbar Jigaboo ***
CH Chukker of Bonniehurst
NFC AFC Creole Sister
FC Dacity Bill
CH Dauntless of Deer Creek
CH Deer Creek Black Ace
FC Firelei's Hornet
FC CFC Jibodad Gypsy
CFC Nelson's Black Prince
FC Pickpocket for Deer Creek
CH Snikeb's Cookie
CH Trixie's Black Cargo ***
CH Wardwyn Jackpot
Shed's descendants at Justamere Ranch:
Chip descends multiple times from Shed. Those bloodlines include:
NFC Dual CH CFC Bracken's Sweep
Dual CH Grangemead Precocious
CFC Chuck of Bracken
FC Dacity Bill
FC Freehaven Muscles
FC Gilmore's Peggy
FC Shoremeadow Tidewater
FC AFC Tar Baby of Hilly Hill
Dee also descends multiple times from Shed. Those bloodlines include:
Dual CH AFC Alpine Cherokee Rocket
Dual CH Cherokee Buck
Dual CH Grangemead Precocious
Dual CH Ridgewood Playboy
Can Dual CH Coastal Charger of Deer Creek
Can Dual CH Dart of Netley Creek
FC AFC Air Express
FC Beautywood's Carbon Copy
CNFC FC AFC Belle of Zenith
FC AFC Bigstone Bandit
FC AFC Black Cougar
NAFC FC Bracken's High Flyer
FC AFC Canis Major's River Bear
CFC Chanbar Jigaboo QAA
CFC Chuck of Bracken
NFC AFC CFC Cork of Oakwood Lane
FC AFC Cougar's Rocket
CFC Craigend Rock
CFC Crevamoy Iron Duke
2xNAFC FC Dee's Dandy Dude
FC Deer Creek's Bewise
2xNFC CNFC AFC Del-Tone Colvin
NAFC FC Dude's Double or Nothin'
FC Firelei's Hornet
FC Freehaven Muscles
FC Gilmore's Peggy
FC AFC Ginger's Choc August
FC AFC CFC Grady's Shady Ladee
NAFC FC CFC Guy's Bitterroot Lucky
AFC Jilly Girl
FC AFC Les Coup De Grace TD
FC Luka of Casey's Rocket
FC AFC Meg O'Tar
FC Martens Little Bullet
FC Martens Mister Nifty
FC AFC Mon Tour De Force
FC Mueller's Stormy Canada
FC Nelgard's Counter Point
CFC Nelson's Black Prince
FC AFC Paha-Sapa Chief II
AFC Penny Girl
FC AFC Raider's Piper Cub
FC AFC Rip's Bingo
2xNAFC 3x CNFC FC River Oaks Corky
NAFC FC River Oaks Rascal
FC AFC River Oaks Way-Da-Go Rocky
FC Roy's Rowdy
FC AFC Serrana Sootana of Genesee
Shamrock Acres Windridge Samba CDX
FC AFC Shed's Prince of Garfield
NFC 2xNAFC Super Chief
FC AFC Tar Baby of Holly Hill
2xCNFC AFC Tar Baby's Little Sweet Stuff
FC AFC Toni's Tar
FC AFC CFC Trieven Thunderhead
FC AFC CFC Triple Echo
FC AFC Trumarc's Raider
AFC Westwinds Shadow of Hope
2x NFC Whygin Cork's Coot
CNFC FC AFC Yankee Clipper of Reo Raj
FC Zipper Dee Doo
and
CH Dauntless of Deer Creek
CH Rupert Dahomey
CH Whygin Poppitt
CH Woodcroft Daisy,
Conclusion
During his career, Shed earned both US and Canadian Field Championships and a US show championship which qualified him as a DUAL champion. He also ran in five national field championships - winning three times and finishing as a finalist the other two times. At one point his owner turned down an offer to buy him for $10,000 (equivalent of about $150,000 today).
Sometimes the descriptions of field trials from years ago sound more like hunt tests. Don't be fooled. The tests were real hunting scenarios. On the East Coast, birds were often thrown from a boat well out in the mouth of a bay. An outgoing tide could carry that bird out even farther. Trials were held even if the temperature was below zero, but jumping into frigid water and breaking ice was one of Shed's specialties. A trial he won as a seven-year-old, included "a 300-yard blind retrieve across the eastern tip of the lake for a shackled duck that was planted several yards from the opposite shore." 7
He was a good 'un.
3x National Field Champion, Canadian Field Champion, Dual Champion SHED OF ARDEN

Whelped: March 26, 1939
Owner:  Lt. Paul Bakewell III, Deer Creek Kennel
Breeder:  W. Averill Harriman, Arden Kennel
Registration:  A-330767
Abbreviations:
CH - Show champion
FC - Field trial champion
NFC - National field trial champion
CCW - English Conformation Certificate winner (not a title)
FTW - English Field trial winner (not a title)
CFC - Canadian field champion
Notes:
[1] The National Retriever Field Trial Club, 1941-1960, 62.
[2]  "Victory Well Earned", New York Times December 12, 1942
[3]  "Dual Ch. Shed of Arden Wins Retriever Championship", American Kennel Gazette, January 1943, 65.
[4]  Ibid
[5]  The National Retriever Field Club, 1941-1960, 79.
[6]  "Sport: An Old Dog's Day", Time magazine, December 23, 1946
[7] "Shed of Arden Wins Oregon Open All-Age", American Kennel Gazette, June 1946, 92.