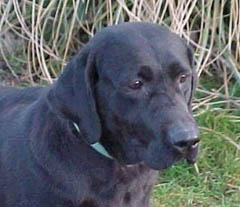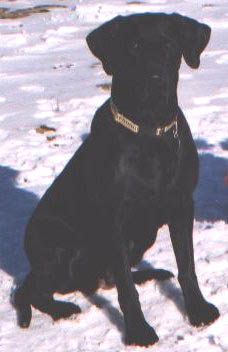 Black Labrador Retriever female (Bc)
Health certifications:
FC AFC River Oaks Way-Da-Go Rocky
FC AFC Canis Major's River Bear
NAFC FC River Oaks Rascal
Shamrock Acres Juego De Azar
Timberlane Samantha
FC AFC Raider's Piper Cub
Timberlane Cinnamon
Knight's Tail of Emily SH
AFC Westwind's Shadow of Hope
FC AFC CFC Trieven Thunderhead
Dale's Double Hope
Erin's Edge Hard Case
FC Mueller's Stormy Canada
Hard Driving Abigail
Although I bought Dee for her bloodlines, once I started throwing bumpers for her I realized I had to show her off at the hunt tests.
She never came back without her bird, although one time she gave me a bit of a scare. When I sent her for a duck she drove through the reeds and went right to the spot where the duck went down. I couldn't see her from the line, but someone at a higher vantage point told me what he saw. She searched the area, went up on the bank and came back in from a different angle and swam through the fall area several times over the course of about 5 minutes before the judges had me call her off.
They figured the duck had sunk and was unretrievable. Just to be sure they sent in another dog with more training and he swam through the area several times without coming up with the duck. So they had me wait a few dogs before running her again. This time she drove through the reeds and came back out within seconds with the drake proudly held. That's when I finally started breathing again.
Dee was pretty and sweet and loved to retrieve without being crazy. I wish we could find several more dogs like her.
… and she loved the water.
She earned her Junior Hunter (JH) title with four straight passes. She made it look easy!
Godspeed, Dee, until we meet again at the Rainbow Bridge.