The first championship stake was held in Southampton, Long Island on November 20-21, 1938. Twenty-two of the best retrievers in the US came to compete. They retrieved pheasants shot in the field and ducks shot over water. The dogs saw some birds shot while other birds were planted out of sight. Dogs had to be guided by their handlers to find these birds.
In the header image, you can see the judges, owners, handlers, spectators and dogs trudging across the field trial grounds.
THE WINNER
One dog, Field Champion (FC) Blind of Arden did the work without a mistake. He clinched the win with the final blind retrieve described as follows:
"...a dead duck, unseen by the dogs, was planted on an island. At a signal from his handler, Blind jumped into the water and swam to the island. There he scented the bird, looked back only twice to the handler, who with his arm waved him in the right direction. Quickly finding the duck, Blind picked it up with a firm mouth, started swimming back to his handler."
Blind retrieving a duck to his handler, Jasper Briggs.
Life Magazine featured Blind on the magazine's cover on December 12, 1938. This was the first time a dog had ever been on the cover. (Note: You can see a copy of the cover here.)
US FIELD TRIALS
The Labrador Retriever breed was just getting started in the United States and had only been officially recognized by the America Kennel Club five years earlier.
The first retriever field trial was held in 1931. In 1935, Field and Stream Magazine provided a perpetual trophy that would be awarded each year to the dog that earned the most points in Open All-Age stakes. Blind of Arden won it the first year and his half-sister, FC Tar of Arden, won it a few years later. It was 1941 before the National Retriever Field Trial Club was formed.
(left) A handler controls the dog using whistle and arm signals.
(center) Three retriever breeds - a Curly coated retriever, a Labrador and a Chesapeake Bay retriever.
(right) Judges inspect a retrieved bird. Dogs must hold them firmly, but gently so as not to break the skin or crush the bird. After the trial, the birds are sold.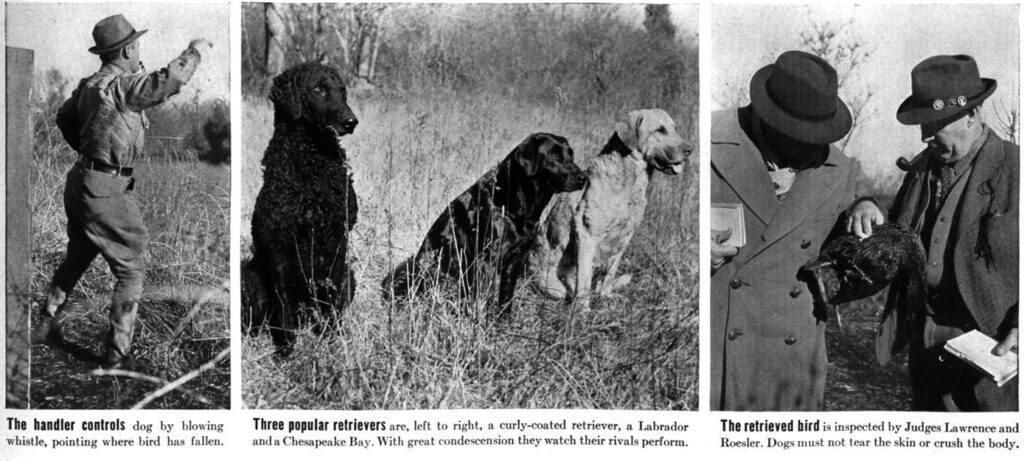 At that time, retriever trials were the realm of the very rich. Owners imported dogs from England, enticed dog trainers from Scotland and set up amazing hunting estates on the east coast. To have a chance of winning the Field and Stream trophy, dogs had to run in many trials throughout the East and Mid West.
Blind's owner was W. Averell Harriman of New York. He was the son of a railroad baron and, in his own career, he served as Secretary of Commerce under President Truman, served as a diplomat in relations with the Soviet Union during World War II and later served as governor of New York.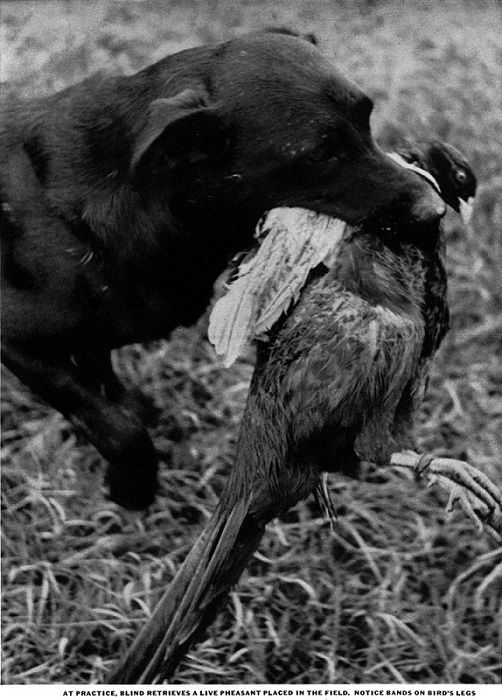 Blind of Arden training with a live pheasant.
BLIND'S BLOODLINES
Odds On FTW
The Favorite FTW
The Limit
Cache Of The Rhins FTW
Jest
Mansel's Timothy
Bess
Peggy of Shipton FTW
Ronald of Candahar
Eng FTCh Rag Tag
June
Gehta of Sigeforda
Eng FTCh Banchory Bluff
Eng CH Balbeardie FTW
Although Blind didn't seem to produce any titled dogs himself, he did pass on his genetics to future generations. Some dogs that descend from him include:
CNFC FC AFC Ardyn's Ace of Merwalfin
FTC AFTC Slo-Poke Smokey Of Dairy Hill
FC AFC Jet of Zenith
CNFC FC Rip of Holly Hill
Jet of Zenith's pedigree is interesting.
Starting at the bottom of the pedigree, Blind's daughter, Graysmarsh Middy, was bred to her cousin, 3xNFC CFC DUAL CH Shed of Arden, thus doubling up on Peggy of Shipton.
A female from that litter, Graysmarsh Christmas, was bred to CNFC FC Rip of Holly Hill. Rip was a great great grandson of Blind through Okanagan Molly, thus doubling up on Blind.
A female from the Rip x Christmas litter, Thornwood Rhea, was bred to NFC AFC Massie's Sassy Boots. Boot's mother, Penney of Wingan, had several lines back to Eng DUAL CH Banchory Bolo and other dogs owned or bred by Lorna, Countess Howe.
Then there's Blind's full sister - FC Decoy of Arden - who was an outstanding producer. She was the mother of:
DUAL CH Braes of Arden,
DUAL CH Gorse of Arden,
CH Earlsmoor Moor of Arden,
CH Earlsmoor Marlin of Arden (all by CH Raffles of Earlsmoor) and
FC Gun of Arden (by Toff of Hamyax FTW)
And Blind's half-sister - NFC Tar of Arden (by Hiwood Risk) - who was the mother of Dual CH CFC Little Pierre Of Deer Creek.
(Click for help understanding the various titles dogs have earned)