She's become the MOST awesome dog you could ever imagine….100% retriever, 100% athlete, and definitely 100% smart!!
Water is her passion and she would literally swim until she drowns if we'd let her!! Her drive and ability to focus supercede and eliminate ANY and all distractions! If she's retrieving….in water or on land….she is totally in the moment! She's also fun to teach because she's so dang smart, and really wants to please. We started skijoring this winter, and again…..if it is something to do outdoors, Izzy is gonna love it!! Couple all that with the sweetest, zaniest personality you could ask for and Isabella has rapidly become a VIP in the family.
"Izzy" (Drake x Arwen)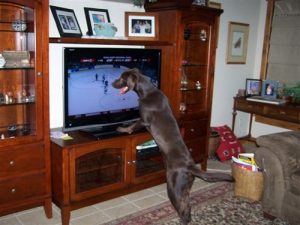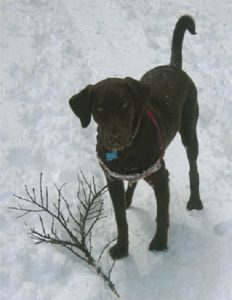 Kona is doing great! We are all looking forward to more Spring weather to spend more time outdoors…although snowshoeing is one of Kona's favorite activities in the world!
"Kona" (Chip x Angel)
I thought you would like to see another picture of Major. This was a late season pheasant hunt. He has done real well with upland hunting this year. I can't tell you how much we love Major and what an addition he is to our family.
"Major" (Bandit x Raven)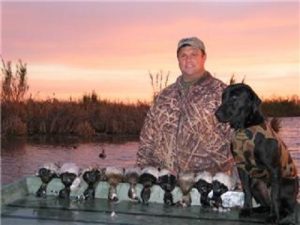 She is AWESOME!!!!!!!!!!!!!! She loves to hunt…period! Doves, quail, ducks, geese, she does it all and is such a joy to hunt with. We do a lot of hunting out of the blind in the late season and when I tell her to go to her "spot" she actually hides behind something. You should see her get behind cane or other brush and poke her head out, too funny! … I just want to thank you again for an awesome dog.
"Echo" (Lazer x Raven)
Tar is growing into such an awesome dog. In looking at your site's photos, he has the same lap-warming skills as his mama Arwen.
"Tar" (Drake x Arwen)
Isabella continues to bring joy to our lives…..adored by our kids, grandkids, and friends. Whether we're camping, hiking, snowshoeing, x-country skiing, sledding…..whatever……Izzy is the joie de vie in each and every day. She is growing into a wonderful companion and we thank you!
"Izzy" (Drake x Arwen)
This past weekend, [my dad] took her pheasant hunting for the first time ever. She was by all reports amazing!!! My dad's friends that were with him could not believe that she had never had any formal hunting training. They said that they had never seen such a great bird dog, especially one that is so young. She just turned one year old in August. He was so excited about her after the first day that he had to call home to brag!
"Cleo" (Ace x Cotti)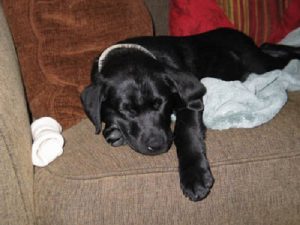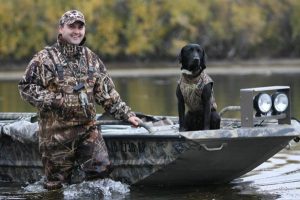 Major has been moving along quite well. We are working on multiple blinds right now. He is progressing really well with hand signals and whistle commands. Plus, every time we go hunting he gets more and more adapted to the situation. I am quite pleased with his progression. We love him dearly and he is fitting into the family like a champ. We couldn't have asked for a better dog. He has met all of our expectations and then some. We have several friends that can't believe how good of a dog he is and wish that he was there's. So thank you very much for our new addition.
"Major" (Bandit x Raven)
Harley is doing great! He just graduated from Puppy Kindergarten at Blue Springs 'n Katydid with a first place and second place ribbon! He is such a great dog, so smart and just beautiful!
"Harley" (Drake x Arwen)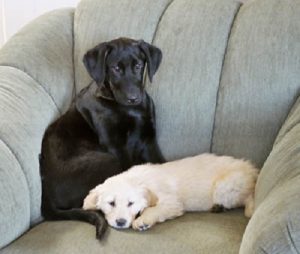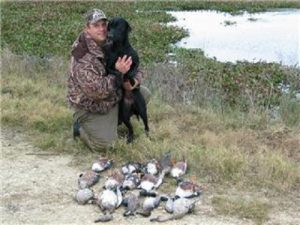 She is an amazing dog…period. What a joy to have around the house and so very easy to train. She is so smart that if she could talk she would have a Ph D. I swear she understands everything I say. We had a great end to duck season. I would say that a conservative estimate would be that she retrieved around 1000 birds this year, doves, ducks and geese.
"Echo" (Lazer x Raven)
Thanks again for letting us get him he is part of the family and we could not imagine life without him.
"Tarzan" (Ace x Cotti)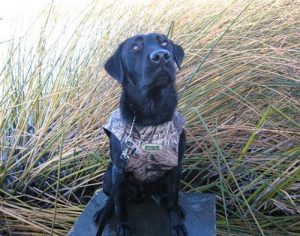 Thought you might like to see Meg's first effort at dock jumping. Her best jump was 8 feet 11 inches. It was one of  the better beginner jumps for the round. Considering she only had 5 practice jumps and wasn't yet ready for a running jump she did really well. She found it very exciting and kept trying to climb back into the pool.
"Meg" (Bandit x Arwen)
Forest has turned out to be what I have imagined my lab would be. He is 57 pounds, thick coat, broad head, and very trainable. I have been working on obedience with him and will start formalizing routines for a CD.
"Forest" (Bandit x Arwen)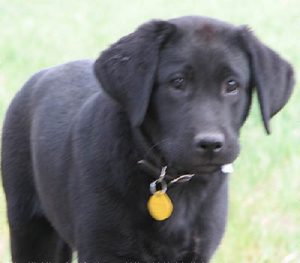 This was her first "real" hunt, I had taken her to Kiowa Creek and worked her on planted birds; Chucker and Quail a couple of times before this hunt. This was a totally different experience for her as there were 23 people and 3 other dogs hunting together, so the chaos at times was confusing for her and me. I got numerous compliments on her and was very proud of her.
"Shadow" (Bandit x Arwen)
We opened dove season two weeks ago and she did great. She heels very nicely and did not break once. She marks really well but does not like the small feathers on her lips, pretty funny!!! She got used to it though and is now dove crazy.
Teal season opened last weekend so we scouted on Friday. She got to ride in the boat and did really good, sitting next to me while I drove. Didn't take her long to figure out how to jump in the boat from the water. We hunted Sat and Sun and she sat just fine on the dog platform. She figured out pretty quickly to look over the decoys rather than look at me. She ran a blind on Sunday morning and nailed it first try.
"Echo" (Lazer x Raven)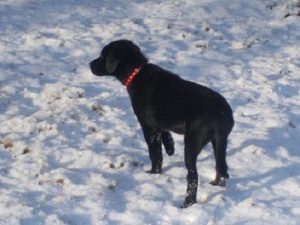 Ruby's doing great, growing and behaving pretty well for a little imp. She loves to have something in her mouth or carry around. No complaints here. We like her. We've had snow on the ground the past 2 weeks and she was surprised the first time she had to step in it. But she is an Alaskan girl now and won't see the green grass til May.
"Ruby" (Ace x Cotti)
Maizie has been doing great!! We took her hiking and swimming a lot this summer….she sure does love the water! …  Maizie is an absolutely wonderful dog and we love having her in our lives!
"Maizie" (Chip x Angel)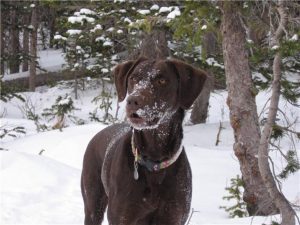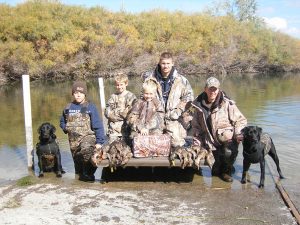 Attached is a picture of Tarzan back in September after our youth hunt. The dog on the left is my 11 year old daughter out of Jazztimes "Rascal" the one on the right is Tarzan. They sure look a lot alike.
"Tarzan" (Ace x Cotti)
Long time no hear! Were your ears burning on Sunday? Mandy and I were talking about you. She was admiring my boy, Ace! I will be running him for the first time in Started at Lamar this weekend.
"Ace" (Bandit x Arwen)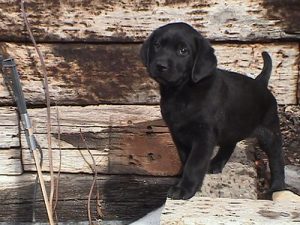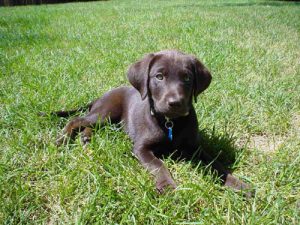 Enjoying the summer sun!
"Whirly "(Chip x Angel)
With his buddy, Bosco
"Danner" (Chip x Angel)
Shadow and I went to the training day on Saturday. It was a long day, waiting for our turn in the wind. Shadow did great; her first retrieve was a live pigeon, which she brought back to one of the ladies at the shooting station, which was fine. Her second retrieve was a dead pigeon which she brought back to me in perfect order. … I was very pleased and proud to watch her perform and everyone was impressed. [at 3 months old]
"Shadow" (Bandit x Arwen)
We bought Cocoa back in the spring of 2003 and she is the gem of our household! We would not hesitate to get another dog from you.
"Cocoa" (Chip x Dee)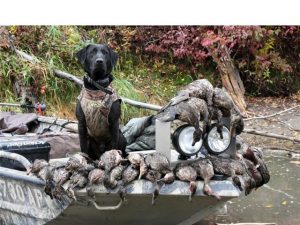 Thought you would like to see a picture of Major and his retrieving success from the 2008 Opener.
"Major" (Bandit x Raven)
Forest is one of the best-behaved and trainable dogs I have ever owned. … Good breeding speaks for itself! Friends adore him and are surprised by his behavior. … He is really handsome I think.
"Forest" (Bandit x Arwen)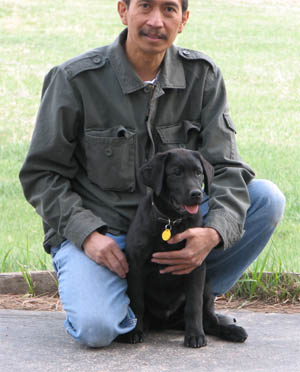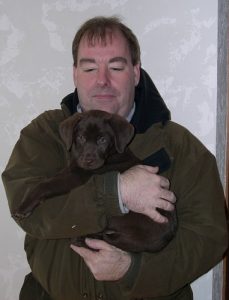 Fancy is growing bigger all the time and getting smarter everyday. We get a lot of compliments on her.
"Fancy" (Bandit x Arwen)
We just wanted to let you know how much we love Kona and how great she is doing! She has really adapted well.
"Kona" (Chip x Angel)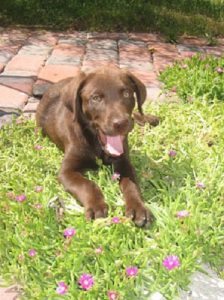 I just wanted to give you an update on Pali. He is doing great! … Thank you for all your help and for providing us with such a joy. He is an amazing addition to our family.
"Pali" (Bandit x Raven)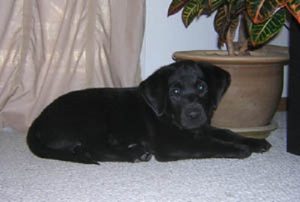 Thanks again for everything. He's doing wonderfully and goes in for his first vet visit on Thursday!
"Wilson" (Bandit x Raven)
She's just incredible…thought you'd like to see how she's settling in! She's SO SWEET and SO SMART!
"Annie" (Bandit x Raven)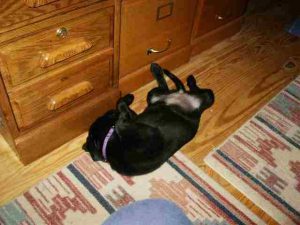 We just got back from a pheasant hunting trip to Kansas and have been to South Dakota twice for pheasant as well. And Beavis is doing an amazing job pheasant hunting; definitely exceeding what I was expecting for his first season. I mostly just wanted him to have fun, run with a couple more experienced dogs and build his enthusiasm for hunting this first season. He's got a ton of drive and is quartering, scenting, and tracking like he's been doing it for years. Some of the guys I have hunted with couldn't believe he is only nine months old. Plus he has the sweetest personality and is so smart – I couldn't possibly be happier with him. As I think I mentioned before, this is the first dog I've ever trained for hunting and he's been great.
"Beavis" (Rascal x Dee)
I thought I'd let you know that Rocky went on his first bird hunt last weekend. Jack shot 6 sharptail grouse over him, and he did his job like a champ. Jack said that he is a natural and is very happy with him.
"Rocky" (Rascal x Dee)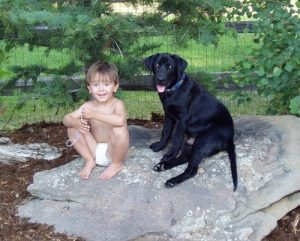 We want to update you on our Angus. He has already become a member of the family and we really enjoy his antics.
"Angus" (Bandit x Raven)
Well you probably want to know what kinda boy Murphy is becoming so I'll give you the thumbnail. He is still as advertised, really laid back and easy going. We have become quite the pals. He go most everywhere with me and always enjoys himself.
"Murphy" (Chip x Dee) (Murphy with his friends as they celebrate his first birthday!)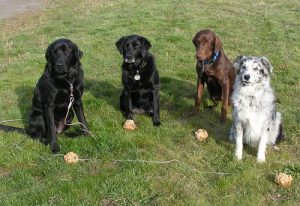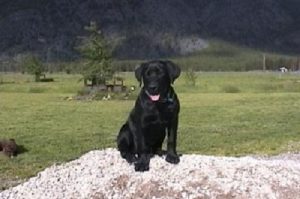 Just wanted to let you know how tickled we are with Rocky. He is a wonderful puppy. We will send some more photos soon. I can't believe how much he has grown!
"Rocky" (Rascal x Dee)
Snickers is doing wonderful!!! She has adapted extremely well to our busy environment. The kids have fallen head over heals on her. My littlest has fallen a sleep on her belly on several occasions. You were right, she loves to play fetch and the kids take her to the park everyday to show off her skills. You did a great job raising her…she is the perfect dog for us…thank you!
"Snickers"
If you'd like to add your Justamere Ranch puppy, please use the contact form and include your email address so we can contact you about sending some photos to share.