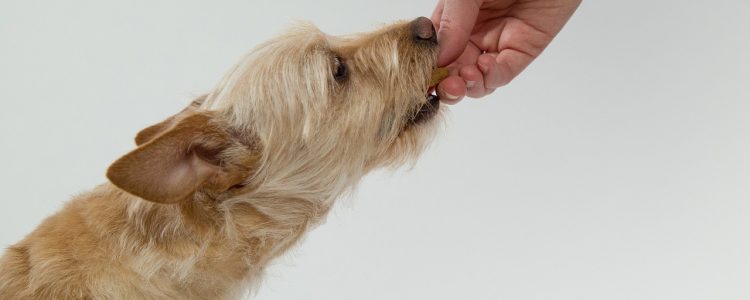 Who doesn't love to give treats to their dog? But with so many commercial treats, it can be hard to make a good choice. Start off by looking for quality ingredients.
Signs of better quality:
Natural preservatives (such as Vitamin C or E) or no preservatives at all
Made in the USA
Fresh, whole ingredients (human-grade, if possible)
Ingredients to avoid:
Corn and wheat
"Meal" and "by-products"
BHA (Butylated Hydroxyanisole)
BHT (Butylated Hydroxytoluene)
Ethoxyquin
Food Dyes (Blue 2, Red 40, Yellow 5 and 6, 4-MIE)
PG (Propylene Glycol)
Rendered fat
Consider where the treats are made
There have been on-going problems with pet food and ingredients coming from China. In 2007, there was a massive recall of Chinese-made pet food. Several thousand dogs became sick or died from food containing melamine - a type of plastic. The ingredient was traced back to a Chinese firm that was adding melamine to their food products to increase the protein percentage for bigger profits.
In 2014 there was another health issue that traced to Chinese pet treats. This time it involved imported jerky treats that were linked to over 1000 dog deaths.
Because of these problems, you should avoid pet food products imported from China. Unfortunately labeling laws don't cover ingredients that come from China. Some manufacturers have imported base ingredients because of the lower cost and mixed them with other ingredients to make pet food in the US. These products can be labeled as 'Made in USA' without mentioning the Chinese ingredients.
Check the manufacturer's reputation
You can search online for recalls, not just for the particular treat you're considering, but for the entire product line. A manufacturer with several recalls may indicate an overall problem with quality control.
Check the calorie count
Just like people, there are many overweight dogs. Obesity causes all sorts of health issues, from heart disease and high blood pressure, to diabetes and joint damage.
Regardless of which treats you choose, be sure to subtract the calories in the treats from your dog's daily calorie allowance. Many treats have lots of calories and feeding just a few every day will lead to weight gain.
If you're not a calorie counter, do the touch test every couple of weeks. Lay the palms of your hands on your dog's rib cage. If his ribs are sticking out, he's too thin. If you have to press in to feel the ribs, he's too fat.
What tastes best to your dog
For that you may have to try a few different treats, but I don't think he'll mind this kind of testing!
Here are some treats that score high in our consideration:
Heart-shaped, crunchy organic dog treats that come in a wide variety of flavors, including Chicken, Peanut Butter, Salmon and Sweet Potato, Turkey and Sweet Potato, and Cheese. They also come in small (1") and medium (1.5") sizes.
No artificial flavors, colors or preservatives
No wheat, soy or corn
Made in Canada
And the company gives 100% of profits to charity. Over $500 million so far!
"The dog loves them. They are scored to be easy to break in half for smaller dogs or for training nibbles. On 'subscribe and save,' the price is very good." ~ LaRaine
Bone-shaped treats that come in small and large size with a crunchy texture. They also come in a variety of flavors, including peanut butter and molasses, apple bone, sweet potato, and pumpkin and coconut bone.
100% human-grade, non GMO
No wheat, corn or soy
No artificial colors or preservatives
USDA certified organic
Made in the USA
"Fantastic product! Wish it was this easy to find healthy snacks for us human-kinds! My dogs, big and small, absolutely love these! Even my friend's uber picky eater dog goes crazy for these treats!" ~ Kelrick
Made from 100% natural, grass-fed, free-range beef. Oven baked without added hormones, preservatives or chemicals.
All natural, single ingredient
No added hormones, preservatives or color
Naturally high in protein and grain-free
Good for chewing exercise
"My dog loves these and I'm happy to be giving her something that's grassfed and natural. She's a fairly vigorous chewer and can finish one in a single sitting, but I can also take it away halfway through and give back later. It keeps her occupied." ~ Heidi
USDA certified organic and non-GMO treats that come in several flavors – hemp seed and banana, carob and mint, cranberry and flaxseed, apple pie, sweet potato pie, agave and pear, apples and carrots, grain-free berry, grain-free peas and carrots, peanut butter, and pumpkin.
No corn, wheat or soy
No artificial color, artificial flavors or preservatives,
Made in USA, but only ships to the lower 48 states
"My little dog has an extremely sensitive stomach. I have to get his food from the vet. He can't have beef, chicken, duck, lamb and grains. That leaves a lot out. My girlfriend has these treats and her dogs didn't like them so she asked if my dog would like them. He goes nuts for these and they don't seem to bother his stomach." ~ Jeep Girl
Thin strips of dehydrated, naturally preserved USDA Grade A chicken breasts. Thin and crispy. Sourced and produced in the US, in small batches.
No fillers, additives or preservatives
100% satisfaction guarantee
One-ingredient product
Made in the USA
"My dog LOVES these. I have tried so many treats and she wouldn't eat them. She would just push them around and over and over. Really she did. Until she received these Premium chicken Jerky Dog Treats. I believe this is my 4th order. They smell just like 'baked' chicken. You can break them into pieces easily." ~ TamG
A dry, crunchy treat that's available in a flavors like duck, salmon, turkey, potatoes and flaxseed. They also have some location-specific treats like Denali Biscuits with salmon, venison and halibut or Bayou Biscuits with alligator and catfish!
100% grain-free
No corn, wheat or soy
No artificial flavors or preservatives
"I love that I can give him a treat, and not worry about him braking out in a massive rash! He loves them, and we love these for him! Also since switching to this brand completely he has had so much more energy, is very playful again,and his coat has been simply amazing, and shiny." ~ Becky85
Freeze-dried raw nuggets that are 98% meat, organs and ground bone from grass-fed, cage-free or wild-caught animals, including beef, chicken, duck or turkey. Minimally processed.
No added hormones, antibiotics or fillers
No artifical preservatives or colors
Single source animal protein
Grain-free
Made in the USA, although the meat may be sourced from other countries, except China.
"...these treats/foods really do illicit an almost panicked, I'll do ANYTHING, gotta have it, response!" ~ NewShoes!
Avoid these popular, but unhealthy treats:
Greenies Dog Chews
Although recommended by veterinarians, these treats are not all-natural and there have been problems with white worm infestation, vomiting and intestinal obstructions. The main ingredient is wheat gluten.
Rawhide dog treats
Although dogs seem to love chewing on rawhide treats they are not digestible. It can swell up in the stomach or intestine which can lead to diarrhea, vomiting and pancreatitis. If a piece gets stuck somewhere in a dog's digestive tract, he will likely need surgery.
Milk Bones
Probably the most popular dog treat available, however the ingredients are very questionable:
Wheat Flour
Wheat Bran
Wheat Germ
Meat and Bone Meal
Salt
Beef Fat (Preserved with BHA)
Sodium Metabisulfite (Used as a Preservative)
Even if you can get past the grain-heavy ingredients, the National Toxicology Program has concluded that BHA "is reasonably anticipated to be a human carcinogen." Why feed something that may cause cancer?
Beggin Strips
Another product with very questionable ingredients:
lots of grain (barley, oat meal, brewers rice, soybean meal, ground whole wheat, corn gluten meal, wheat flour, wheat gluten, ground yellow corn)
glycerin and sugar
soy protein concentrate
salt, phosphoric acid, sorbic acid (a preservative)
BHA - likely carcinogenic
dyes (Red 40, Yellow 5, Blue 1, Yellow 6) - linked to cancer, allergies, hyperactivity, irritability and aggressiveness
Here's a website where you can check for product recalls: https://www.animalhealthfoundation.net/blog/?s=dog treats
I hope you found some treats your dog really likes! If you'd like try making some of your own treats, check out this post with recipes.
Affiliate Links: This blog contains affiliate links.