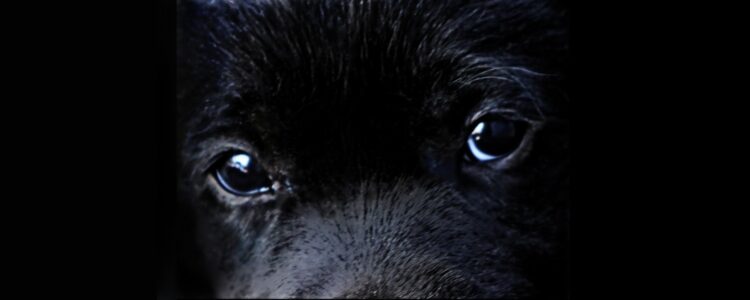 An annual eye exam can help identify problems early, but it also helps breeders make good decisions about which dogs are suitable for breeding.
Some eye problems are due to injury, some are due to age and other problems may be genetic.  An eye specialist can determine the cause of a problem and provide treatment options, if necessary.
For many years the exam was known as CERF based on the Canine Eye Registration Foundation. Recently it's changed to CAER (Companion Animal Eye Registry) which is affiliated with the Orthopedic Foundation for Animals ("OFA").
WHY IT'S IMPORTANT
An annual eye exam should be included in every breeder's health care plan because many eye problems are genetic and can affect puppies. Unfortunately many eye diseases have not been studied adequately due to time and funding shortages. In these cases the ophthalmologist relies on informed opinions and statistical information. Other disorders have a known genetic basis and testing can often be done by sending a cheek swab to a lab for analysis.
Puppies as young as 21 days can be examined. The exam should be repeated annually, at least through the dog's breeding career.
Eye exams are also a good idea for dogs that won't be used for breeding as problems are often easier to treat when they're caught early.
WHO CAN DO THE EXAMS
These exams can only be done by a board-certified ophthalmologist.
Although your regular veterinarian has had some training in eyes and vision, unless she has had several years additional training and passed the American Board of Veterinary Ophthalmology certifying exam, she is not qualified to do these exams.
There are several ophthalmologists in the greater Denver area, a few around Fort Collins/Loveland and a couple in Colorado Springs. In surrounding states, there are none in WY, four in UT, three in NM, one in NE, and five in KS. Use the search function to find an ophthalmologist near you.
Each one sets their own price and currently they range from $45 to over $100. Another option is contacting a local dog club, particularly one that hosts dog shows. Occasionally they will also host a health clinic during the show. Many only offer eye exams, but others might offer cardiac testing, vaccinations, blood draws for heartworm and/or genetic testing. Often the testing is done at a reduced price. Because they're popular, you need to sign up as soon as the testing is announced.
WHAT HAPPENS DURING THE EXAM?
The exams are screenings performed by board certified veterinary ophthalmologists to check for changes within the eye that indicate one or more eye diseases. The exams can be done at their office or sometimes at special clinics held at dog shows and other events.
You'll start off by filling out a form with your information and your dog's information including: registered name, registration number, date of birth, sex, breed/variety, permanent identification (via microchip or tattoo). An assistant will also use special eye drops to dilate the eyes. Expect dilation to last 6-8 hours. After about 15 minutes or so, you'll meet with the ophthalmologist in a darkened room.
Note: Some breeds need to be examined before and after eye drops. They include:
Australian Shepherd
Dalmatian
Louisiana Catahoula Leopard Dog
Miniature American Shepherd
Miniature/Toy Australian Shepherd
The exam often starts externally, looking for things such as injuries, eyelashes rubbing the cornea or growing where they shouldn't be growing. The vet will use other equipment to magnify the interior of the eye looking for tiny anomalies in the lens, cornea and middle chamber of each eye. Then all parts of the retina are checked. Sometimes there are mirrors in the equipment that allow you to see exactly what the vet sees.
The exam generally only takes a few minutes, depending on how well your dog cooperates. Afterward you'll get a copy of the exam form.
EYE DISEASES
Although there are many eye diseases that can affect dogs, very few have been adequately studied. Such studies require large numbers of related animals, sometimes several generations of dogs, and often the diseases don't manifest until the dogs are older.
Currently there are 10 diseases with evidence that they are inherited or cause a significant problem. Signs of these diseases require an automatic fail on the eye exam.
Other diseases are presumed to be genetic, but lack a peer-reviewed study showing the mode of inheritance. These will show on the form as a "breeder option."
SUBMITTING TO OFA
You can send the form with a small fee to OFA for certification. If your dog has passing results (including "breeder option") you'll get a certificate and the results will be posted on the OFA website. If the results weren't passing, you can send those to OFA as well. There is no charge and no certificate. You can also choose whether to make those results public or not.
Certification needs to be repeated annually.