SHR Justamere Jazz Singer CD JH RE CGC WC CC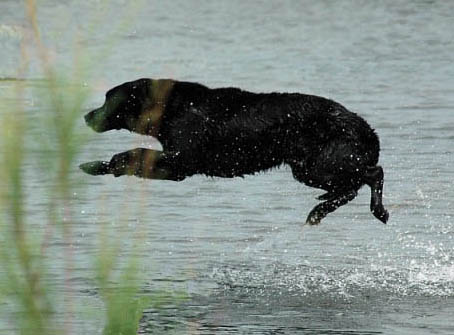 Black Labrador Retriever female
Health certifications:
OFA Excellent (hips)
OFA Normal (elbows)
CERF (eyes)
prcd-PRA Clear (blindness)
CNM Clear (muscle myopathy)
EIC Clear (exercise induced collapse)
Notable achievements:
Earned her CD obedience title – placing each time.
Finished three Rally titles by winning 5 FIRSTS, 3 SECONDS and a FOURTH.
Never out of the ribbons and even had a PERFECT SCORE of 100.
Earned her Started and Junior Hunter titles each with four straight passes.
Earned her Canine Good Citizen Award.
Earned her WC by leaping her way to the water marks.
Conformation Certificate award recipient
Jazzy comes from a field/show cross breeding. Her mom, Arwen, is our multi-talented girl. Her dad, Chuck, is a gorgeous show-bred boy who loves to retrieve.
She is also my Mexican jumping bean. When she's excited she rarely barks, but instead jumps straight up. Over and over! What excites her? Retrieving. Bumpers, ducks, chuckar, pheasant. Even a ball. She loves 'em all!
Jazzy at 7 weeks showing her nice structure.
Final retrieve for her new WC title! Thanks to Carolyn Tremer for the great photograph.
Giving the obligatory wet-the-handler shake after passing her first Junior Hunter test.
Finishing up her Started title – Jazzy loves birds and retrieving and swimming!
Getting ready to work the field and flush some chuckar at the training day with the Platte Valley Hunting Retriever Club.
Yes, it was cold!
Jazzy finished her JH title with back-to-back passes at the very warm Las Vegas Hunting Retriever Club test.
On the right, she's shown finishing her Rally Novice title under judge Gina Grissom with a 1st place. While Tisket earned her first Rally Novice pass with 3rd place. Jazzy finished all three Rally titles earning nine passes in 55 days and was never out of the ribbons.
Jazzy finished her CD obedience title at the Terry-All KC shows, winning a second and a first place.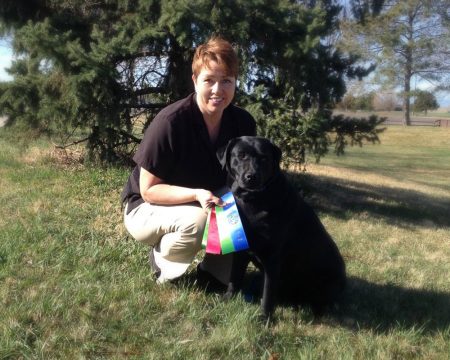 Jazzy says, "I'll hold it for you, but I can't put my ears up at the same time!"
She was Runner Up in a Memorial Day photo contest. (It was tough to beat a photo of a puppy with a baby decked out in red, white and blue.)