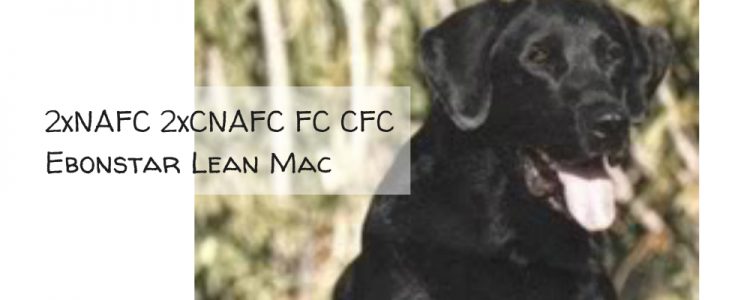 Out of curiosity, I looked into the pedigree of 2xNAFC 2xCNAFC FC CFC Ebonstar Lean Mac who was probably the most influential field Labrador Retriever in recent history.
Why was he so influential?
He earned a Field Championship (FC) and an Amateur Field Championship (AFC) in BOTH the US and Canada.
He also won the National Amateur Field Championship (NAFC) twice and he won the Canadian National Amateur Field Championship (CNAFC) twice. (Learn more about title abbreviations here.)
And he produced many dogs who earned hunt test titles, field championships and won more national championships.
But today we're going to look at some of his ancestors. So who does he descend from?
Here's his 3-generation pedigree:
CNFC CNAFC Waldorf's High Tech
CFC Rascal's Super Spud
NAFC FC Ray's Rascal
Sirion's Super Snooper
Itch's Flying Tiger
FC AFC Itchin' To Go
Thor's Tiger Lillie
Ebonaceae Princess WCX QAA
Trieven El Conquistador
FC AFC CFC Trieven Thunderhead
Trieven High Speed
Skookum's Sky Raider
CFC CAFC Virdon's Tuktoyaktuk
Wilkie's Cinderella Liberty
It's when you go back further that you find ancestors some people might find surprising -
3xNFC CFC DUAL CH Shed of Arden (19)
DUAL CH Matchmaker for Deer Creek (4) - and his sire and grandsire:
DUAL CH CFC Little Pierre of Deer Creek (15)
Am Eng CH Banchory Trump of Wingan (4)
DUAL CH Cherokee Buck (6) - and his sire:
DUAL CH Grangemead Precocious (12)
Can DUAL CH Coastal Charger of Deer Creek (16) (another son of Little Pierre)
NFC DUAL CH CFC Bracken Sweep (8)
CH Whygin Poppitt (3)
Can DUAL CH Dart of Netley Creek (3)
FTCH CAN DUAL CH Treveilyr Swift (1)
Eng Can CH Sandylands Jilly (1)
DUAL CH CFC Ridgewood Playboy (1)
DUAL CH AFC Hello Joe of Rocheltree (1)
CNFC CAN DUAL CH AFC Stormy Of Spirit Lake Gal (1)
ENG DUAL CH Staindrop Saighdear (1)
CAN DUAL CH CAFC Netley Creek's Black Drake (1)
(The numbers following the names are the number of times that dog shows up in his 10 generation pedigree.)
Maxx is very well known in the field trial and hunt test communities, but many people don't realize how many SHOW DOGS are in his pedigree.
To be fair, many of these dogs lived during a time when Labs competed in both field trials and dog shows and could earn championships in both. There hasn't been a DUAL CHAMPION Labrador since the 1980s though.
There are also numerous FC, AFC, NFC and NAFC dogs, such as NFC 2xNAFC Super Chief, NAFC FC CFC Guy's Bitterroot Lucky, NFC AFC Massie's Sassy Boots, Eng IGL CH FTCH Glenhead Zuider, NFC AFC CFC Cork of Oakwood Lane, NAFC FC Ray's Rascal, NFC AFC Marvadel Black Gum.
I had two of Maxx's granddaughters, including Clubmead's Dark Crystal,  and many of my current dogs descend from her. While her pedigree has several American and Canadian FC and AFCs, plus a healthy dose of National Field Champions, if you follow her maternal line you'll find some show dogs in her pedigree too. One top dog - AM CAN CH Shamrock Acres Light Brigade - shows up three times. By the way, CH Whygin Poppitt, who shows up in Maxx's pedigree, is also the grandsire of Light Brigade.
It wasn't that long ago Labradors came from one gene pool. There weren't "American" Labs or "English" Labs, they were all just Labrador Retrievers.
Does that make you stop and think about recent breeding choices?