Justamere Wynken Blynken WC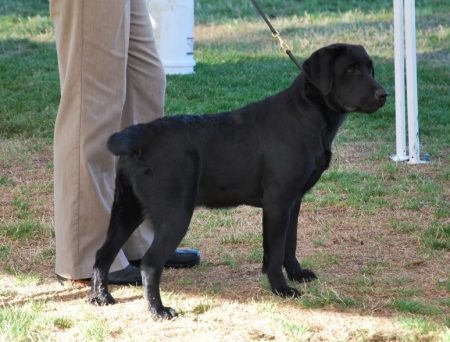 Black Labrador Retriever female (Bc)
Health certifications:
OFA Good (hips)
OFA Normal (elbows)
CERF (eyes)
prcd-PRA Clear by parentage  (blindness)
CNM Clear by parentage (muscle myopathy)
EIC Clear by parentage (exercise induced collapse)
Wynk is competing in both the show ring and the field and we'll see just how far she can go. In the meantime, we're having fun!
Watch for baby Wynks in black and, hopefully, chocolate.
Tisket showing Wynk how to retrieve in the water – even if it is just a stick!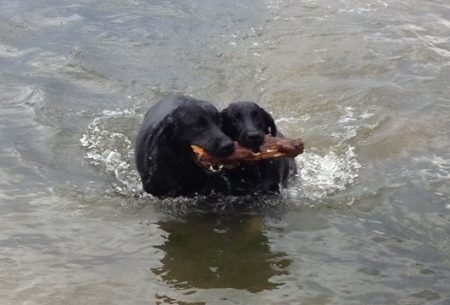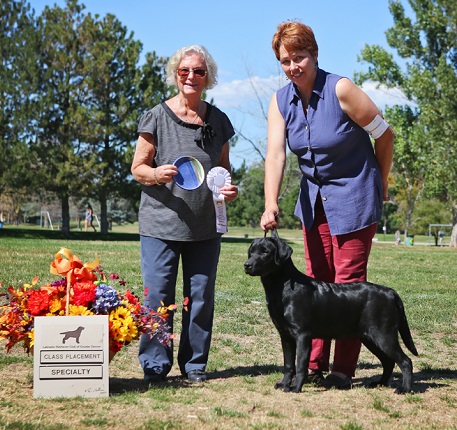 Wynk's first time in the show ring. She moved out well and showed like a trooper. Wynk placed 4th in a nice class of puppies under breeder-judge Gunella Ek.
Wynk doesn't just move out in the dog shows, she can also move while retrieving.
Now that she's grown up a bit, Wynk will be competing in dog shows too.
I'd only planned to run Tisket in the hunt test, but Wynk kept telling me, "Put me in coach. I'm ready to play." So I did and she smoked it! She got her first pass at the Platte Valley HRC hunt test in Snyder, CO the same day her mom finished her title.
Can you tell Wynk loves working?
Photos courtesy Chuck Wagner Photography
Earning her Working Certificate, Wynk started off with one mark on land – near the top of a little hill – no problem. But there was something new, something she'd never seen before. A blind (camo fabric) out in the field, hiding people. 'What's that?,' she asked. So she had to go take a peek before bringing her bird back to mom. Delivered to hand and land portion completed!
After a bit, we worked the water portion – back to back retrieves in a pond enclosed by tall reeds and other vegetation. Another new experience for her. Out and back, delivered to hand for each mark, with her signature squeal as she left the line. Quite proud of my little Lab! Photos courtesy Linda Alexander
"No, mom, I don't want to go out after all."
Blizzard of March 2019