Posts Categorised:

Obedience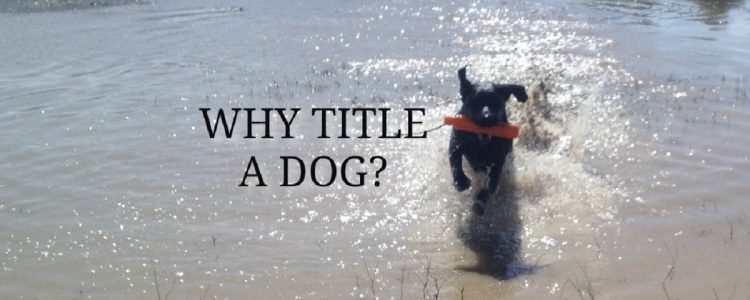 Not just a brag, not just a stepping stone to a higher title, not just an adjunct to competitive scores, a title is a tribute to the dog that bears it, a way to honor the dog, an ultimate memorial. It will remain in record and in memory for as long as anything in this world can remain. Few humans will do as well or better in that regard.
And though the dog itself doesn't know or care that its achievements have been noted, a title says many things in the world of humans, where such things count.
A title says your dog was intelligent and adaptable, and good-natured. It says that your dog loved you enough to do the things that please you, however crazy they may have sometimes seemed.
And a title says that you loved your dog, that you loved to spend time with it because it was a good dog, that you believed in it enough to give it yet another chance when it failed, and that, in the end, your faith was justified.
A title proves that your dog inspired you to that special relationship enjoyed by so few; that in a world of disposable creatures, this dog with a title was greatly loved, and loved greatly in return.
And when that dear short life is over, the title remains as a memorial of the finest kind, the best you can give to a deserving friend, volumes of pride in one small set of initials after the name.
A title earned is nothing less than love and respect, given and received, and permanently recorded.
~ Sandra Mowery
In tribute to all the dogs who compete with us silly humans. Why do they do it when that bit of ribbon means nothing to them? Yes, it's for the scratch behind the ear and the happy praise, but more, it's for the look of love in their masters' eyes.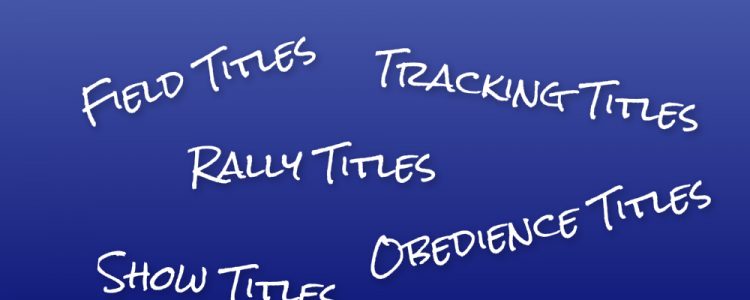 These are mostly American titles (AKC and UKC/HRC), but there are also some we see from Canada and England.
In the pedigrees I share I try to differentiate between titles earned in the US versus other countries.
For example, CH = AKC show champion, U-CH = UKC show champion, Can CH = Canadian show champion, Mex CH = Mexican show champion, Eng CH = English full show champion, and English Sh CH = English show champion.
Also included are some that are not technically titles because they're not bestowed by the country's governing body.
For example, WC and CC are certificates given by The Labrador Retriever Club rather than by AKC.
There are many organizations awarding titles, but these are the main titles we see for the retriever breeds.



FIELD TITLES

DC or DUAL CH
A Show Champion AND Field Champion – Note: We haven't had one of these in Labradors since the early 1980s
FC
Field Champion
AFC
Amateur Field Champion
"C" in front of FC or AFC
Canadian Field Champion – sometimes seen as FTCH
"N" in front of FC, AFC, CFC OR CAFC
National Field Champion titles
Eng FTW
English Field Trial Winner (part of the Eng FTCH, but not actually a title)
QAA
Qualified All-Age – means the dog has won enough in the Qualifying stake to compete in the Open or Amateur stakes at field trials, not actually a title (sometimes seen as *** following the name)
QA2
Qualified All-Age 2, recent AKC title for dogs that have twice met the requirements to compete in the Open or Amateur stakes at field trials
JH
Junior Hunter
SH
Senior Hunter
MH
Master Hunter
MNH
Master National Hunter – listed as MNH4 or MNH5, etc when the dog has passed the Master National more than 3 times
SHR
Started Hunting Retriever (HRC/UKC title)
HR
Hunting Retriever (HRC/UKC title)
HRCH
Hunting Retriever Champion (HRC/UKC title)
GRHRCH
Grand Hunting Retriever Champion (HRC/UKC title)
UH
Upland Hunter (HRC/UKC title)
CPR
Certified Pointing Retriever (APLA title)
APR
Advanced Pointing Retriever (APLA title)
MPR
Master Pointing Retriever (APLA title)
GMPR
Grand Master Pointing Retriever (APLA title)
WC
Working Certificate (LRC certificate)
WCX
Working Certificate Excellent (sometimes awarded by local breed clubs)



SHOW TITLES

DC or DUAL CH
A Show Champion AND Field Champion – Note: We haven't had one of these in Labradors since the early 1980s
CH
Conformation Show Champion
Pointed or Major pointed
The dog has won in the show ring, but is not yet a champion – not actually a title
GCH
Grand Champion – also GCHB Bronze, GCHS Silver, GCHG Gold, GCHP Platinum
U-CH
UKC Conformation Show Champion
U-GRCH
UKC Conformation Show Grand Champion
Eng CH
English Show Champion w/field qualification certificate or Eng Sh CH if the dog qualified in the show ring, but has not qualified in the field (approximately WC equivalent)
Eng CCW
English Challenge Certificate Winner (part of the Eng CH, but not actually a title)
BIS
Best in Show (achievement, not a title)
BISS
Best in Specialty Show (achievement, not a title)
BPIS
Best Puppy in Show (achievement, not a title)



OBEDIENCE TITLES

CGC
Canine Good Citizen
CGCA
Advanced Canine Good Citizen
BN
Beginner Novice
CD
Companion Dog
GN
Graduate Novice
CDX
Companion Dog Excellent
GO
Graduate Open
UD
Utility Dog
UDX
Utility Dog Excellent
OM
Obedience Master
OGM
Obedience Grand Master
OTCH
Obedience Trial Champion
NOC
National Obedience Champion



RALLY TITLES

RN
Rally Novice
RI
Rally Intermediate
RA
Rally Advanced
RE
Rally Excellent
RM
Rally Master
RAE
Rally Advanced Excellent
RACH
Rally Champion
RNC
Rally National Champion



TRACKING TITLES

TD
Tracking Dog
TDU
Tracking Dog Urban
TDX
Tracking Dog Excellent
VST
Variable Surface Tracking
CT
Champion Tracker



AGILITY TITLES

ACT1
Agility Course Test – Introduction to Agility
ACT2
Agility Course Test – in between Introduction and Novice levels
NA
Novice Agility
NAP
Novice Agility Preferred
NAJ
Novice Agility Jumper
NJP
Novice Agility Jumper Preferred
OA
Open Agility
OAP
Open Agility Preferred
OAJ
Open Agility Jumper
OJP
Open Agility Jumper Preferred
AX
Agility Excellent
AXP
Agility Excellent Preferred
AXJ
Excellent Agility Jumper
AJP
Excellent Agility Jumper Preferred
MX
Master Agility Excellent
MXP
Master Agility Excellent Preferred
MXJ
Master Excellent Jumper
MXP
Master Agility Jumper Preferred
MACH
Master Agility Champion
PACH
Preferred Agility Champion
AGCH
Agility Grand Champion
NAC
National Agility Champion
U-AGI
Agility I (UKC title)
U-AGII
Agility II (UKC title)
U-ACH
Agility Champion (UKC title)
U-ACHX
Agility Champion Excellent (UKC title)



VERSATILE COMPANION TITLES

VCD
Versatile Companion Dog
VCCH
Versatile Companion Dog Champion



TRICK DOG TITLES

TKN
Trick Dog Novice
TKI
Trick Dog Intermediate
TKA
Trick Dog Advanced
TNP
Trick Dog Performer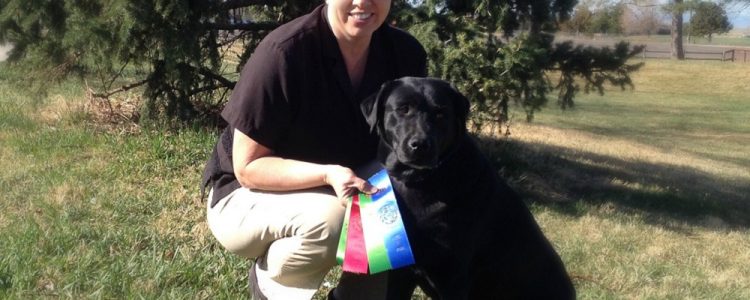 We had a great weekend! Jazzy finished her CD obedience title with a second place on Saturday and a first place on Sunday.
Jazzy had great scores and on Sunday it was even good enough to have us in the lead for High in Trial for a couple of hours – until a dog in Utility B turned in a blazing performance and knocked us out by a few points. Oh well! She did enjoy her special hamburger!
The CD, or 'Companion Dog', obedience title involves a lot of walking with the dog at heel, both on and off-leash. There is also a recall where the dog has to stay sitting as the handler walks across the ring and calls the dog and a stand for examination where the dog must stand still, off-leash, and not move while the judge touches the dog. And finally the long sit and long down exercises where all the dogs line up along one side of the ring and must stay put as the handler walks across the ring. This is done off-leash, first sitting for one minute and then staying down for three minutes.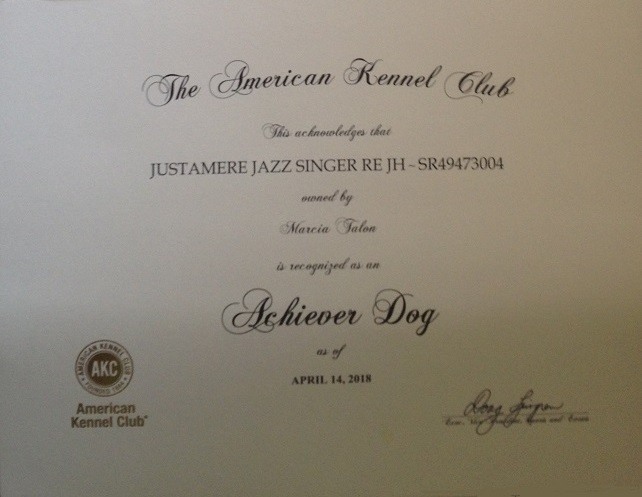 According to AKC, "The Achiever Dog certificate program is designed to recognize those exhibitors and dogs who participate in multiple sports. A dog will receive an AKC Achiever Dog certificate when they have been awarded a placement or earned a qualifying score in three different sports."
Jazzy earned titles in obedience, Rally and hunt tests.
Although a little belated, I want to give Chip a pat on the head via the Internet for completing 12 titles – obedience, rally, tracking and field.
He's also working on some basic agility – I just need to work on keeping up with him.
Way to go Chip!
HRCH Justamere Chocolate Chip CD TDX SH RAE CGC