Posts Categorised:

Dog show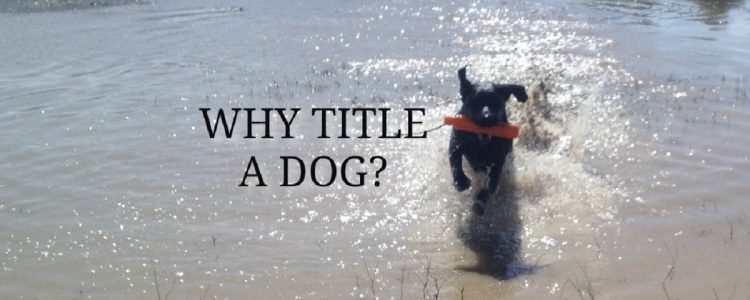 Not just a brag, not just a stepping stone to a higher title, not just an adjunct to competitive scores, a title is a tribute to the dog that bears it, a way to honor the dog, an ultimate memorial. It will remain in record and in memory for as long as anything in this world can remain. Few humans will do as well or better in that regard.
And though the dog itself doesn't know or care that its achievements have been noted, a title says many things in the world of humans, where such things count.
A title says your dog was intelligent and adaptable, and good-natured. It says that your dog loved you enough to do the things that please you, however crazy they may have sometimes seemed.
And a title says that you loved your dog, that you loved to spend time with it because it was a good dog, that you believed in it enough to give it yet another chance when it failed, and that, in the end, your faith was justified.
A title proves that your dog inspired you to that special relationship enjoyed by so few; that in a world of disposable creatures, this dog with a title was greatly loved, and loved greatly in return.
And when that dear short life is over, the title remains as a memorial of the finest kind, the best you can give to a deserving friend, volumes of pride in one small set of initials after the name.
A title earned is nothing less than love and respect, given and received, and permanently recorded.
~ Sandra Mowery
In tribute to all the dogs who compete with us silly humans. Why do they do it when that bit of ribbon means nothing to them? Yes, it's for the scratch behind the ear and the happy praise, but more, it's for the look of love in their masters' eyes.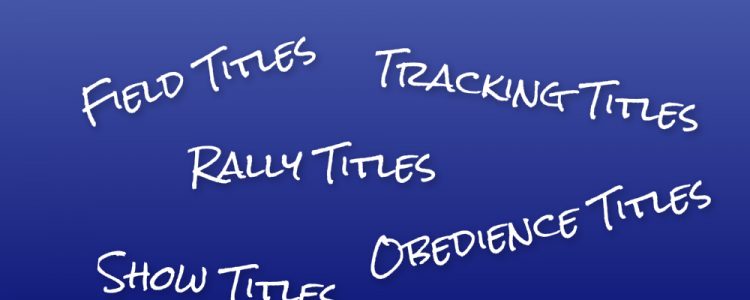 These are mostly American titles (AKC and UKC/HRC), but there are also some we see from Canada and England.
In the pedigrees I share I try to differentiate between titles earned in the US versus other countries.
For example, CH = AKC show champion, U-CH = UKC show champion, Can CH = Canadian show champion, Mex CH = Mexican show champion, Eng CH = English full show champion, and English Sh CH = English show champion.
Also included are some that are not technically titles because they're not bestowed by the country's governing body.
For example, WC and CC are certificates given by The Labrador Retriever Club rather than by AKC.
There are many organizations awarding titles, but these are the main titles we see for the retriever breeds.



FIELD TITLES

DC or DUAL CH
A Show Champion AND Field Champion – Note: We haven't had one of these in Labradors since the early 1980s
FC
Field Champion
AFC
Amateur Field Champion
"C" in front of FC or AFC
Canadian Field Champion – sometimes seen as FTCH
"N" in front of FC, AFC, CFC OR CAFC
National Field Champion titles
Eng FTW
English Field Trial Winner (part of the Eng FTCH, but not actually a title)
QAA
Qualified All-Age – means the dog has won enough in the Qualifying stake to compete in the Open or Amateur stakes at field trials, not actually a title (sometimes seen as *** following the name)
QA2
Qualified All-Age 2, recent AKC title for dogs that have twice met the requirements to compete in the Open or Amateur stakes at field trials
JH
Junior Hunter
SH
Senior Hunter
MH
Master Hunter
MNH
Master National Hunter – listed as MNH4 or MNH5, etc when the dog has passed the Master National more than 3 times
SHR
Started Hunting Retriever (HRC/UKC title)
HR
Hunting Retriever (HRC/UKC title)
HRCH
Hunting Retriever Champion (HRC/UKC title)
GRHRCH
Grand Hunting Retriever Champion (HRC/UKC title)
UH
Upland Hunter (HRC/UKC title)
CPR
Certified Pointing Retriever (APLA title)
APR
Advanced Pointing Retriever (APLA title)
MPR
Master Pointing Retriever (APLA title)
GMPR
Grand Master Pointing Retriever (APLA title)
WC
Working Certificate (LRC certificate)
WCX
Working Certificate Excellent (sometimes awarded by local breed clubs)



SHOW TITLES

DC or DUAL CH
A Show Champion AND Field Champion – Note: We haven't had one of these in Labradors since the early 1980s
CH
Conformation Show Champion
Pointed or Major pointed
The dog has won in the show ring, but is not yet a champion – not actually a title
GCH
Grand Champion – also GCHB Bronze, GCHS Silver, GCHG Gold, GCHP Platinum
U-CH
UKC Conformation Show Champion
U-GRCH
UKC Conformation Show Grand Champion
Eng CH
English Show Champion w/field qualification certificate or Eng Sh CH if the dog qualified in the show ring, but has not qualified in the field (approximately WC equivalent)
Eng CCW
English Challenge Certificate Winner (part of the Eng CH, but not actually a title)
BIS
Best in Show (achievement, not a title)
BISS
Best in Specialty Show (achievement, not a title)
BPIS
Best Puppy in Show (achievement, not a title)



OBEDIENCE TITLES

CGC
Canine Good Citizen
CGCA
Advanced Canine Good Citizen
BN
Beginner Novice
CD
Companion Dog
GN
Graduate Novice
CDX
Companion Dog Excellent
GO
Graduate Open
UD
Utility Dog
UDX
Utility Dog Excellent
OM
Obedience Master
OGM
Obedience Grand Master
OTCH
Obedience Trial Champion
NOC
National Obedience Champion



RALLY TITLES

RN
Rally Novice
RI
Rally Intermediate
RA
Rally Advanced
RE
Rally Excellent
RM
Rally Master
RAE
Rally Advanced Excellent
RACH
Rally Champion
RNC
Rally National Champion



TRACKING TITLES

TD
Tracking Dog
TDU
Tracking Dog Urban
TDX
Tracking Dog Excellent
VST
Variable Surface Tracking
CT
Champion Tracker



AGILITY TITLES

ACT1
Agility Course Test – Introduction to Agility
ACT2
Agility Course Test – in between Introduction and Novice levels
NA
Novice Agility
NAP
Novice Agility Preferred
NAJ
Novice Agility Jumper
NJP
Novice Agility Jumper Preferred
OA
Open Agility
OAP
Open Agility Preferred
OAJ
Open Agility Jumper
OJP
Open Agility Jumper Preferred
AX
Agility Excellent
AXP
Agility Excellent Preferred
AXJ
Excellent Agility Jumper
AJP
Excellent Agility Jumper Preferred
MX
Master Agility Excellent
MXP
Master Agility Excellent Preferred
MXJ
Master Excellent Jumper
MXP
Master Agility Jumper Preferred
MACH
Master Agility Champion
PACH
Preferred Agility Champion
AGCH
Agility Grand Champion
NAC
National Agility Champion
U-AGI
Agility I (UKC title)
U-AGII
Agility II (UKC title)
U-ACH
Agility Champion (UKC title)
U-ACHX
Agility Champion Excellent (UKC title)



VERSATILE COMPANION TITLES

VCD
Versatile Companion Dog
VCCH
Versatile Companion Dog Champion



TRICK DOG TITLES

TKN
Trick Dog Novice
TKI
Trick Dog Intermediate
TKA
Trick Dog Advanced
TNP
Trick Dog Performer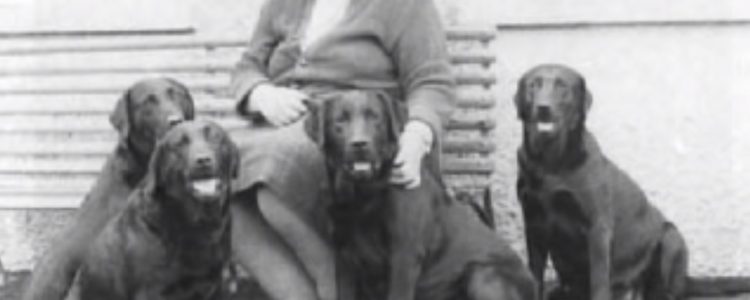 Mary Roslin Williams of Mansergh Gundogs
She bred Labs, she hunted over Labs, she competed with Labs and she taught about Labs. She had 7 generations of champions, and 15 or so dogs who won field trial awards.
In the early days, she lived in Mansergh Parish, just south of the Lake District, in England.
Mary Roslin Williams taught from practical experience and common sense.
Although she's no longer with us, she left behind knowledge that she shared. Take a half hour to listen.
"It was with great sadness to me, that when they named the Labrador they didn't call it the 'Labrador Water Retriever' … because we forget that the dog is a water dog. It's job was water work.
"It's job still is water work and we've adopted it and adapted it for different works… We ought to remember that, both when we breed and when we judge….
"Now here is a difficult thing because this is type and however much you have a standard, one thing it cannot describe is type. You've got to have type in your head. …
"My criteria for Labrador type is a very simple one. It must look like a Labrador. …
"… a Labrador's job is not to hunt in front of you, flushing rabbits, flushing pheasants, however good.
"It is not to be a guide dog for the blind.
"It is not to be a dog for finding drugs or any of these useful things [like] finding … a dead body… That's not it's job.
"It's very nice of it to do it… but it is not it's job.
"It's job is to sit or walk at heel until told to go. And it's only told to go either at the end of the drive or when the bird comes down if you're in … a duck blind and you want it to go.
"It shouldn't run in, you should say "Right, I see that goose is going to escape. Right, go."
"But it's very easy to sit here and say it and very difficult to do, but that is it's job.
"Then when the bird is down, the dog is supposed to go out and to get the scent – not 300 yards away like a Pointer, not groveling like a Spaniel with it's elbows out – it's supposed to get the best high scent from a reasonable distance and then be able to put it's head down, follow the scent without difficulty … and then it picks it's bird up. And it may have a very heavy thing to pick. And it's supposed to have the lift and the shoulders to take it.
"And for that you need a dog bred on exactly classical lines. And a classical line is a level back, not a rake. A level back. Any retrieving dog that has to also mark should have a level back. …
"It should have a longer back to its neck than to it's throatline. … It should have an 11″ back to its neck and a 4″ throatline, not an 11″ throatline and 4" back.
"If it was a horse it would be putting it's ear in your mouth…
"It's very dangerous for a Labrador to have that enormous exposed windpipe… And then when they pick their bird, it stands to reason that… the long line is on the top and the short line is underneath.
"Now the shoulders should be laid back and this is very important too.
"In a pointing setter, they have a laid back shoulder. Fair enough. But they don't have the classical right angle at the point of the shoulder. They are over angulated… We want the right angle or thereabouts give or take a few degrees.
"If you have a laid back shoulder, a right angle there and a level back … the foreleg comes back under the girth. It's not under their ear and neither is it straight under the point of the shoulder. It is back and the elbow is under the girth.
"So there you have the exact angulation that the dog can easily mark the bird when he's walking because it's easy for him to have his head up. He can get a scent within a reasonable distance… and then put his head down. And he can get his head down perfectly easily without having to put his elbow out like a Foxhound does. So therefore you have a perfect mechanism there.
"And he must have that long line on the top of his neck to pick his bird. He then picks his bird – which takes a lot of strength – and gets it back onto the layback of his shoulders easily carrying it on the layback of his shoulders.
"So if you have the classical front, that is exactly right for a Labrador, a Golden, a Flatcoat, a Curly, a Ches, but it isn't right for a Pointer and Setter. And it isn't right for a Foxhound. They have their own fronts, slightly open.
"Now we come to the Spaniels. The Spaniels job is to grovel about on the ground.
"He has to quest with his nose down and so therefore he is over angulated. His shoulder is slight constantined so that he has less than a right angle at the point of the shoulder and he has a more open angle at the elbow. And that is so he can grovel and get down and shovel about.
"And he has to pick up a thing that is very, very much heavier in proportion to his weight, particular a Cocker… and they do it because they can get their heads underneath.
"They don't pick them up like a show Cocker does and this is why the show Cocker is very useless for work. They are over their legs and they are not angulated properly for a working Cocker.
"They more or less got a Labrador's angulation. And when they try to put their heads down they're trying to lift a very heavy weight … and they can't do it. It's too heavy for them.
"And so with that working angulation … they come under their bird… and before you can say Jack Robinson, the hare is across their shoulders and they've got the weight back on their shoulder blade.
"So the angulation is the most important thing and if anybody says to you a shoulder is just one of those things, it isn't. It is absolutely important in a working dog… You must breed your shoulder to suit your work. …
"Being able to get down as easily as up and being able to up as easily as down, you need to have a level back.
"And if you have a level back, it very nearly stands to reason that your angulation will be right behind. And if your angulation isn't right behind, then you can be jolly sure the shoulder is wrong.
"… if you have an over angulated shoulder with open angles, like a Pointer – I'm citing one of my own dogs now.
"I had a lovely dog name Tarmac … and a very good worker. But I can cite him because he was wrongly made.
"He had a marvelously erect shoulder. He then had a raked back. And the consequence was that he was over angulated behind so that he had too much stifle and too much hock – too long a hock – and it was too far behind him. And that is what happens when you get a raked back.
"Now that was the most rightful inconvenience to him when he was swimming because he swam like a Pointer.
"He was all right once he got the bird in his mouth, but when he didn't have a bird in his mouth the fact that he didn't have a level back and that he had an over angulated hind legs because of the fact that the rake pressed them down, he had difficulty in the water work. So I know from experience that is not a good thing. …
"At one time because we had a craze for very, very short backs – which they were mistaken for short coupling because a short back is not short coupled, the word 'short-coupled' means the loin – and because they thought they must have very short backs, they were absolutely cramming dogs so close together that they had no where to put their feet when they ran because they were crabbing and they had a very short line … from the point of the hip to the point of the buttock, they had no rumps whatsoever.
"And I am quite certain for work – particularly swimming – you must have a decent balanced length from the point of the hip to the point of the buttock. …
"Now if you've got your backline right, then you're going to have your angulation just about right.
"And it's well to remember – again – that a Labrador is not meant to stand with it's legs out behind it like a Pointer or a Setter. They're meant to stand more or less under the point of the buttock.
"In other words the dog is standing slightly over his leg and he mustn't stand sickle-hocked with his feet too far forward.
"He mustn't stand like a Pointer or Setter with … a rakish backline which means he's over angulated.
"And a very important point, … for a perfectly balanced dog … from the hock to the ground … should be at exact right angles to the ground – not stretched out back, nor sickle underneath. …
"If that dog drops it's hock correctly, then it is standing absolutely correct on it's feet and you're less likely to have foot trouble.
"… If you've got your angulation right and your level back, you've got a balanced dog standing on it's feet correctly with it's weight very, very slightly on it's hocks … and it should stand in a position … that it could jump in any direction immediately. It can either jump forward or backwards or to either side because it's slightly on it's hocks.
"Any horseman will know that you must not turn a horse on its forehand… if they stand just in that balanced position, so that they could take off in any direction, you're much less likely to have joint trouble in later life and you won't have foot trouble. You won't have toe trouble.
"Those, to me, are the salient points of a Labrador's conformation.
"You must have the coat. You must be coated right over, even the testicles and inside of the thighs … with the same coat all over. And it must be dense.
"You want the nice balanced dog with a correct backline, very particularly the correct shoulder and then you will get the correct hindquarters.
"Standing correctly on it's feet. And then you get a Labrador which can do absolutely any job. …
"And besides that, …it has to have a tender mouth and the ability to retrieve, the ability to mark and a thousand other things that you have in field trials and it's like trying to get your football pools right. You'll never do it, but we try."
Would you like to learn more? She wrote two books – and although they can be hard to find – they are worth the effort.
Advanced Labrador Breeding (aka Reaching for the Stars)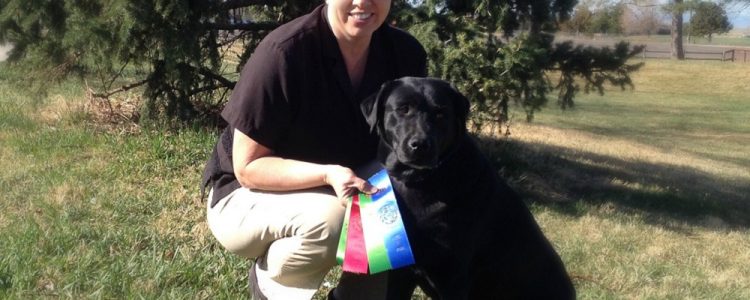 We had a great weekend! Jazzy finished her CD obedience title with a second place on Saturday and a first place on Sunday.
Jazzy had great scores and on Sunday it was even good enough to have us in the lead for High in Trial for a couple of hours – until a dog in Utility B turned in a blazing performance and knocked us out by a few points. Oh well! She did enjoy her special hamburger!
The CD, or 'Companion Dog', obedience title involves a lot of walking with the dog at heel, both on and off-leash. There is also a recall where the dog has to stay sitting as the handler walks across the ring and calls the dog and a stand for examination where the dog must stand still, off-leash, and not move while the judge touches the dog. And finally the long sit and long down exercises where all the dogs line up along one side of the ring and must stay put as the handler walks across the ring. This is done off-leash, first sitting for one minute and then staying down for three minutes.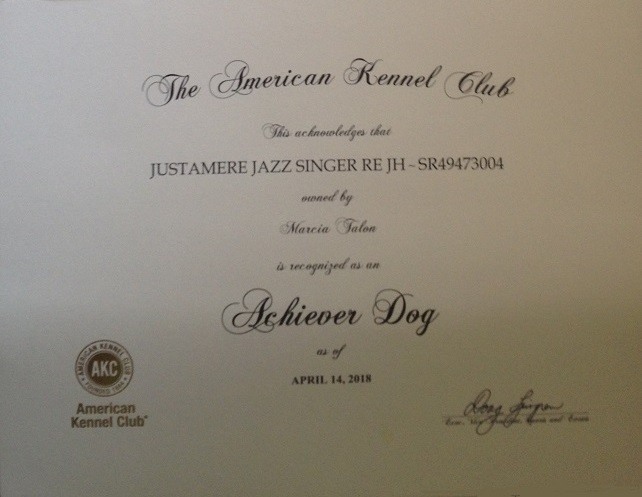 According to AKC, "The Achiever Dog certificate program is designed to recognize those exhibitors and dogs who participate in multiple sports. A dog will receive an AKC Achiever Dog certificate when they have been awarded a placement or earned a qualifying score in three different sports."
Jazzy earned titles in obedience, Rally and hunt tests.
I came across a great article about a first-timer's experience at a dog show. He was asked to come out and experience a dog show and then talk with the club members about the threats they were facing from the Humane Society and the rest of the animal rights movement.
The author made some great observations and some suggestions. I guess some people don't realize yet that the main purpose of the HSUS and PETA is to destroy our right to love and be loved by our pets.
Here's the link: "What I Learned at the Dog Show"
What a trooper! Boomer competed in the puppy class at his first dogs show and took all the noise and dogs and even a pigeon in the ring in stride.
Watch for Boomer and his sister, Ouija, in more dog shows soon.
(Updated Apr 4, 2020) English Labs, American, field-type, show dog – how can there be so many different styles of dogs and all be considered Labradors? My guess is that the breed is just too popular – for 28 years now (since 1991) Labs have been the #1 breed in America per the American Kennel Club (AKC). Distinctive styles have evolved to suit everyone's varying tastes, and I'm not saying that's a good thing, it just is.
At one end of the continuum are the show dogs – often called "English Labs." They tend to have heavy bodies, blocky heads and short legs. I think they're a product of the more is better syndrome – the standard calls for a broad head, so let's make it massive, etc. They're also a product of what wins – a dog wins Best of Breed at a prestigious show and people sign up in droves to breed to him in hopes of duplicating him and his wins. Unfortunately some of these dogs have become caricatures of the original Labs who were bred to be field dogs. A 100-pound, 22″ dog with profuse coat wouldn't be my first choice to chase wild ringnecks in South Dakota. That said, I am seeing a shift to a more moderate dog in the show ring, except for the Labrador-only specialty shows where structure is generally excellent, but more-is-better still reigns.
At the other end are the field dogs – often called "American Labs." They tend to be tall and slender with whip-like tails, skinny heads and lots of energy. These dogs can spend all day hunting or running multiple marks at tremendous distances and still want more. They too are products of the more is better and the whatever-wins syndromes. These dogs are generally bred for their abilities rather than their looks – trainability, marking ability, and intelligence. These breedings are all about trying to produce field trial winners with less regard for the dog's structure or appearance. However there are some field-bred dogs who still look like a classic Labrador – dogs from early in the breed's history up until the breed really started to diverge in the 1960s.
I've seen an adult female Lab who had the height, bone structure and even head shape of a Whippet. I've also seen an adult male Lab who had heavy bone, massive head, thick coat and, except for the height difference, could have been mistaken for a Newfoundland. Some also have a short muzzle and very deep stop (where the tops of the skull and muzzle meet) that reminds me of a Neanderthal. No joke!
To be fair, dogs from both ends of the continuum fill particular needs and are loved and cherished by their owners. Plus there are many dogs that fall somewhere between the two extremes. However the extremes are quite different from the classic Lab – a medium sized dog who loved to retrieve.
I imagine owners of both styles are asked, "What breed of dog is that?" If that's the case then those dogs are not "typy." Type equals that which makes a Lab distinguishable from a Golden Retriever or a Rottweiler or a German Shepherd or any other breed. According to the Labrador standard, the "most distinguishing characteristics of the Labrador Retriever are its short, dense, weather resistant coat; an 'otter' tail; a clean-cut head with broad back skull and moderate stop; powerful jaws; and its 'kind' friendly eyes, expressing character, intelligence and good temperament."
Here are a couple of classic Labs:
First, is Dual CH-NFC-AFC-Can CH Shed of Arden, (the black dog) a great Lab of the past. He not only earned a show championship in two countries, but was also a three-time National Field Champion! Shed was not so tall and lanky as many of the field dogs of today, nor was he so blocky as most of the current show dogs.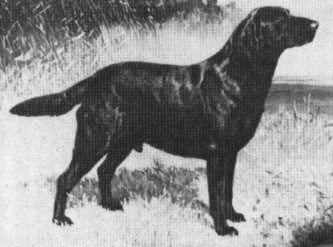 Another great from the past was CH Shamrock Acres Light Brigade. "Briggs was an outstanding show dog and sire. He produced 93 AKC Champions and won 12 Best in Show awards and 75 Sporting Group placements." Compared to show dogs today he had way more leg and less substance, but look at those shoulders and the balance! I'd bet he moved exceptionally well.
By the way, most of my dogs have both of these famous boys in their pedigree!
I am happy to see some progress – or at least interest – in returning to the moderate Lab, one not overdone or underdone in body style and that still has the desire to retrieve. We call these dogs Dual-Purpose Labradors.
A well-respected, long-time show breeder told me recently that the dog can be pretty, but MUST have the desire to retrieve to be a true Lab.