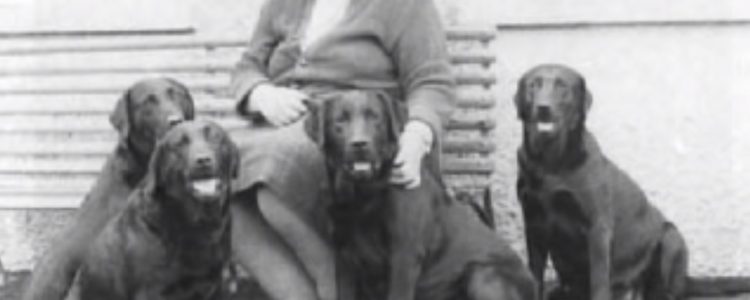 Mary Roslin Williams of Mansergh Gundogs
She bred Labs, she hunted over Labs, she competed with Labs and she taught about Labs. She had 7 generations of champions, and 15 or so dogs who won field trial awards.
In the early days, she lived in Mansergh Parish, just south of the Lake District, in England.
Mary Roslin Williams taught from practical experience and common sense.
Although she's no longer with us, she left behind knowledge that she shared. Take a half hour to listen.
"It was with great sadness to me, that when they named the Labrador they didn't call it the 'Labrador Water Retriever' ... because we forget that the dog is a water dog. It's job was water work.
"It's job still is water work and we've adopted it and adapted it for different works... We ought to remember that, both when we breed and when we judge....
"Now here is a difficult thing because this is type and however much you have a standard, one thing it cannot describe is type. You've got to have type in your head. ...
"My criteria for Labrador type is a very simple one. It must look like a Labrador. ...
"... a Labrador's job is not to hunt in front of you, flushing rabbits, flushing pheasants, however good.
"It is not to be a guide dog for the blind.
"It is not to be a dog for finding drugs or any of these useful things [like] finding ... a dead body... That's not it's job.
"It's very nice of it to do it... but it is not it's job.
"It's job is to sit or walk at heel until told to go. And it's only told to go either at the end of the drive or when the bird comes down if you're in ... a duck blind and you want it to go.
"It shouldn't run in, you should say "Right, I see that goose is going to escape. Right, go."
"But it's very easy to sit here and say it and very difficult to do, but that is it's job.
"Then when the bird is down, the dog is supposed to go out and to get the scent - not 300 yards away like a Pointer, not groveling like a Spaniel with it's elbows out - it's supposed to get the best high scent from a reasonable distance and then be able to put it's head down, follow the scent without difficulty ... and then it picks it's bird up. And it may have a very heavy thing to pick. And it's supposed to have the lift and the shoulders to take it.
"And for that you need a dog bred on exactly classical lines. And a classical line is a level back, not a rake. A level back. Any retrieving dog that has to also mark should have a level back. ...
"It should have a longer back to its neck than to it's throatline. ... It should have an 11" back to its neck and a 4" throatline, not an 11" throatline and 4" back.
"If it was a horse it would be putting it's ear in your mouth...
"It's very dangerous for a Labrador to have that enormous exposed windpipe... And then when they pick their bird, it stands to reason that... the long line is on the top and the short line is underneath.
"Now the shoulders should be laid back and this is very important too.
"In a pointing setter, they have a laid back shoulder. Fair enough. But they don't have the classical right angle at the point of the shoulder. They are over angulated... We want the right angle or thereabouts give or take a few degrees.
"If you have a laid back shoulder, a right angle there and a level back ... the foreleg comes back under the girth. It's not under their ear and neither is it straight under the point of the shoulder. It is back and the elbow is under the girth.
"So there you have the exact angulation that the dog can easily mark the bird when he's walking because it's easy for him to have his head up. He can get a scent within a reasonable distance... and then put his head down. And he can get his head down perfectly easily without having to put his elbow out like a Foxhound does. So therefore you have a perfect mechanism there.
"And he must have that long line on the top of his neck to pick his bird. He then picks his bird - which takes a lot of strength - and gets it back onto the layback of his shoulders easily carrying it on the layback of his shoulders.
"So if you have the classical front, that is exactly right for a Labrador, a Golden, a Flatcoat, a Curly, a Ches, but it isn't right for a Pointer and Setter. And it isn't right for a Foxhound. They have their own fronts, slightly open.
"Now we come to the Spaniels. The Spaniels job is to grovel about on the ground.
"He has to quest with his nose down and so therefore he is over angulated. His shoulder is slight constantined so that he has less than a right angle at the point of the shoulder and he has a more open angle at the elbow. And that is so he can grovel and get down and shovel about.
"And he has to pick up a thing that is very, very much heavier in proportion to his weight, particular a Cocker... and they do it because they can get their heads underneath.
"They don't pick them up like a show Cocker does and this is why the show Cocker is very useless for work. They are over their legs and they are not angulated properly for a working Cocker.
"They more or less got a Labrador's angulation. And when they try to put their heads down they're trying to lift a very heavy weight ... and they can't do it. It's too heavy for them.
"And so with that working angulation ... they come under their bird... and before you can say Jack Robinson, the hare is across their shoulders and they've got the weight back on their shoulder blade.
"So the angulation is the most important thing and if anybody says to you a shoulder is just one of those things, it isn't. It is absolutely important in a working dog... You must breed your shoulder to suit your work. ...
"Being able to get down as easily as up and being able to up as easily as down, you need to have a level back.
"And if you have a level back, it very nearly stands to reason that your angulation will be right behind. And if your angulation isn't right behind, then you can be jolly sure the shoulder is wrong.
"... if you have an over angulated shoulder with open angles, like a Pointer - I'm citing one of my own dogs now.
"I had a lovely dog name Tarmac ... and a very good worker. But I can cite him because he was wrongly made.
"He had a marvelously erect shoulder. He then had a raked back. And the consequence was that he was over angulated behind so that he had too much stifle and too much hock - too long a hock - and it was too far behind him. And that is what happens when you get a raked back.
"Now that was the most rightful inconvenience to him when he was swimming because he swam like a Pointer.
"He was all right once he got the bird in his mouth, but when he didn't have a bird in his mouth the fact that he didn't have a level back and that he had an over angulated hind legs because of the fact that the rake pressed them down, he had difficulty in the water work. So I know from experience that is not a good thing. ...
"At one time because we had a craze for very, very short backs - which they were mistaken for short coupling because a short back is not short coupled, the word 'short-coupled' means the loin - and because they thought they must have very short backs, they were absolutely cramming dogs so close together that they had no where to put their feet when they ran because they were crabbing and they had a very short line ... from the point of the hip to the point of the buttock, they had no rumps whatsoever.
"And I am quite certain for work - particularly swimming - you must have a decent balanced length from the point of the hip to the point of the buttock. ...
"Now if you've got your backline right, then you're going to have your angulation just about right.
"And it's well to remember - again - that a Labrador is not meant to stand with it's legs out behind it like a Pointer or a Setter. They're meant to stand more or less under the point of the buttock.
"In other words the dog is standing slightly over his leg and he mustn't stand sickle-hocked with his feet too far forward.
"He mustn't stand like a Pointer or Setter with ... a rakish backline which means he's over angulated.
"And a very important point, ... for a perfectly balanced dog ... from the hock to the ground ... should be at exact right angles to the ground - not stretched out back, nor sickle underneath. ...
"If that dog drops it's hock correctly, then it is standing absolutely correct on it's feet and you're less likely to have foot trouble.
"... If you've got your angulation right and your level back, you've got a balanced dog standing on it's feet correctly with it's weight very, very slightly on it's hocks ... and it should stand in a position ... that it could jump in any direction immediately. It can either jump forward or backwards or to either side because it's slightly on it's hocks.
"Any horseman will know that you must not turn a horse on its forehand... if they stand just in that balanced position, so that they could take off in any direction, you're much less likely to have joint trouble in later life and you won't have foot trouble. You won't have toe trouble.
"Those, to me, are the salient points of a Labrador's conformation.
"You must have the coat. You must be coated right over, even the testicles and inside of the thighs ... with the same coat all over. And it must be dense.
"You want the nice balanced dog with a correct backline, very particularly the correct shoulder and then you will get the correct hindquarters.
"Standing correctly on it's feet. And then you get a Labrador which can do absolutely any job. ...
"And besides that, ...it has to have a tender mouth and the ability to retrieve, the ability to mark and a thousand other things that you have in field trials and it's like trying to get your football pools right. You'll never do it, but we try."
Would you like to learn more? She wrote two books - and although they can be hard to find - they are worth the effort.
Advanced Labrador Breeding (aka Reaching for the Stars)