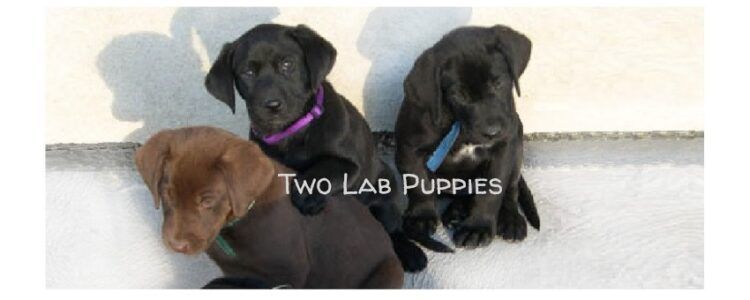 Seventeen years ago I put in an order for a chocolate girl out of Dee, my Way-Da-Go Rocky daughter.
The first four puppies came out every 30 minutes like they were on a timer – boy – boy – boy – boy.
Then we waited. And waited. An hour went by. Two hours. Three hours.
It was so long since the last puppy and there were no more signs of contractions. Dee must have finished whelping. I started putting away all the whelping supplies. I was so sad not to get my chocolate girl.
A HAPPY SURPRISE
Then four hours after the last puppy was born, she had another puppy.
A boy. Jeez Louise!
Shortly after that she had two more puppies – a black girl and a chocolate girl!
MEETING MY HEART DOG
The story doesn't end there though. I was so happy to get my wish, but every time I cleaned the whelping pen or interacted with the puppies the black girl paid attention to me. She had fabulous eye contact! The more I got to know her, the more I fell in love.
ANOTHER HEART DOG
There's still more to the story though. The first boy born became my husband's favorite. I think he liked him for the white spot on his chest.
He promised he would train him and take him to work with him. Didn't happen, of course. So I put the puppy up for sale and got several good offers for him, but I couldn't do it. I'd fallen in love with him too.
CONSTANT COMPANIONS
These two puppies and their dad, Chip, became my Musketeers, my constant companions and my teachers. Anything I asked, they tried.
Happy angel birthday to:
HRCH UH Justamere Arwen CD SH RE RATN CGC CC
HR UH Justamere Aviator CD SH RAE CGC CC
and all of their littermates!
Sire:
HRCH Justamere Chocolate Chip CD TDX SH RAE CGC
Dam:
Knight's Tail Dehlia JH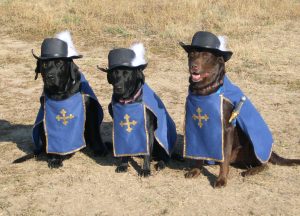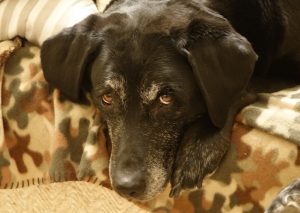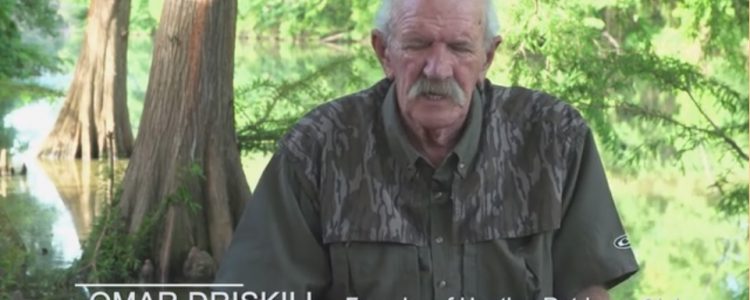 People have relied on their dogs for help retrieving game for many years. Probably many, many, many years.
As often happens when people get together, they're compelled to see which dog is better. Thus the birth of competitive field trials.
Not everyone has the time, money or desire to compete in field trials, but they sure do like to show off what their huntin' dawgs can do! Thus the birth of the Hunting Retriever Club.
"Conceived by Hunters for Hunters" became the motto of the HRC. Judges strive to set up realistic hunting scenarios with duck calls and camo, real birds and handlers shooting shotguns (albeit with blanks).
Omar Driskill, Richard Walters and Bill Tarrant are some of the men instrumental in the founding of retriever hunt tests and the HRC.
I was lucky to be able to run my first HRC test under Omar and still have the ribbon he awarded my dog!
Watch the video to learn some history of retriever sports in general and the beginning of the Hunting Retriever Club in particular. I especially like the comment someone made about misnaming the Started stake. See if you can catch what he thought Started should have been called!
(video courtesy of the Hunting Retriever Club Inc.)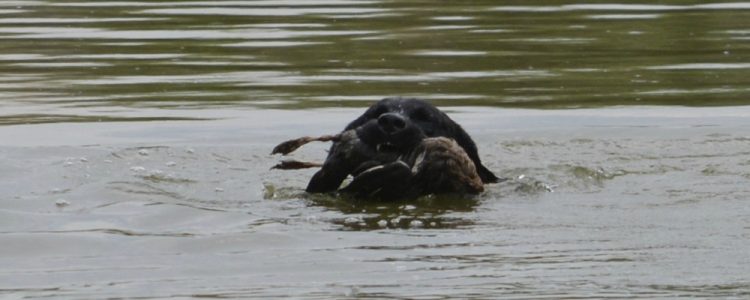 Wynk got to play on new grounds on Sunday where she earned her WC!
The Working Certificate test was hosted by the Labrador Retriever Club of Greater Denver.
Near Franktown, the property was nicely set up for retriever training and lots of people and dogs turned out for fresh air and some rather 'moist' skies!
The WC is a very basic retrieving test.
The judges have you bring your dog up, on leash, and then hold them by the collar while someone throws a duck. Release your dog and he brings the bird back to you.
Easy-peasy! Then you do the same thing on water, twice.
The test was originally designed for show dogs to prove they have the retrieving instinct, even if they never get to hunt.
For Wynk it was just another fun day because she's already proven herself in the field.
She started off with one mark on land – near the top of a little hill – no problem. But there was something new, something she'd never seen before. A blind (camo fabric) out in the field, hiding people. 'What's that?,' she asked. So she had to go take a peek and say hello to the bird boys. Then remembered she had to get her bird back to mom! Scooped it up as she ran back and delivered to hand. Land portion completed!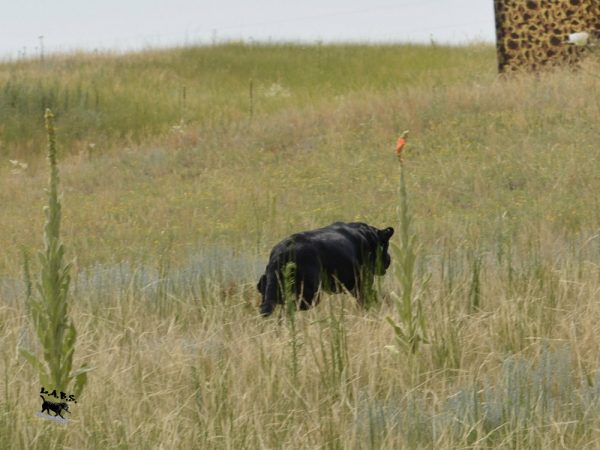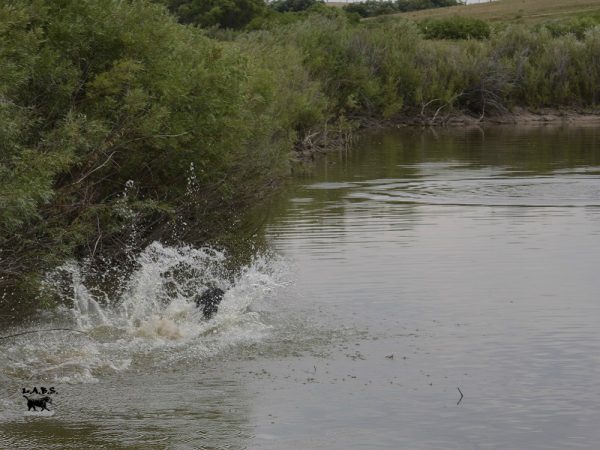 After a bit, we worked the water portion – back to back retrieves in a pond enclosed by tall reeds and other vegetation.
Another new experience for Wynk.
Out and back, delivered to hand for each mark, with her signature squeal as she left the line. Quite proud of my little Lab!
Thanks to Linda Alexander for the great photos!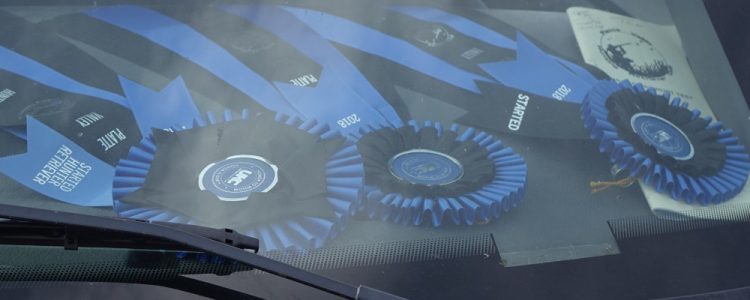 We ran in the hunt test at Indian Meadows in Snyder, CO on May 5-6, 2018. Thanks to Platte Valley HRC for hosting the event!
Tisket only needed two passes to complete her Started Hunting Retriever (SHR) title, so she was entered both days.
The first land mark on Saturday was in fairly heavy cover and a bit shorter than what we'd practiced. Many dogs, including Tisket, overran the mark and had to work their way back, while honoring their noses. Tisket ran back and forth in the area where she thought the bird had dropped, in an effort to pick up the scent. You could tell when she did catch the scent because her nose looked like it had been snagged by a fish hook.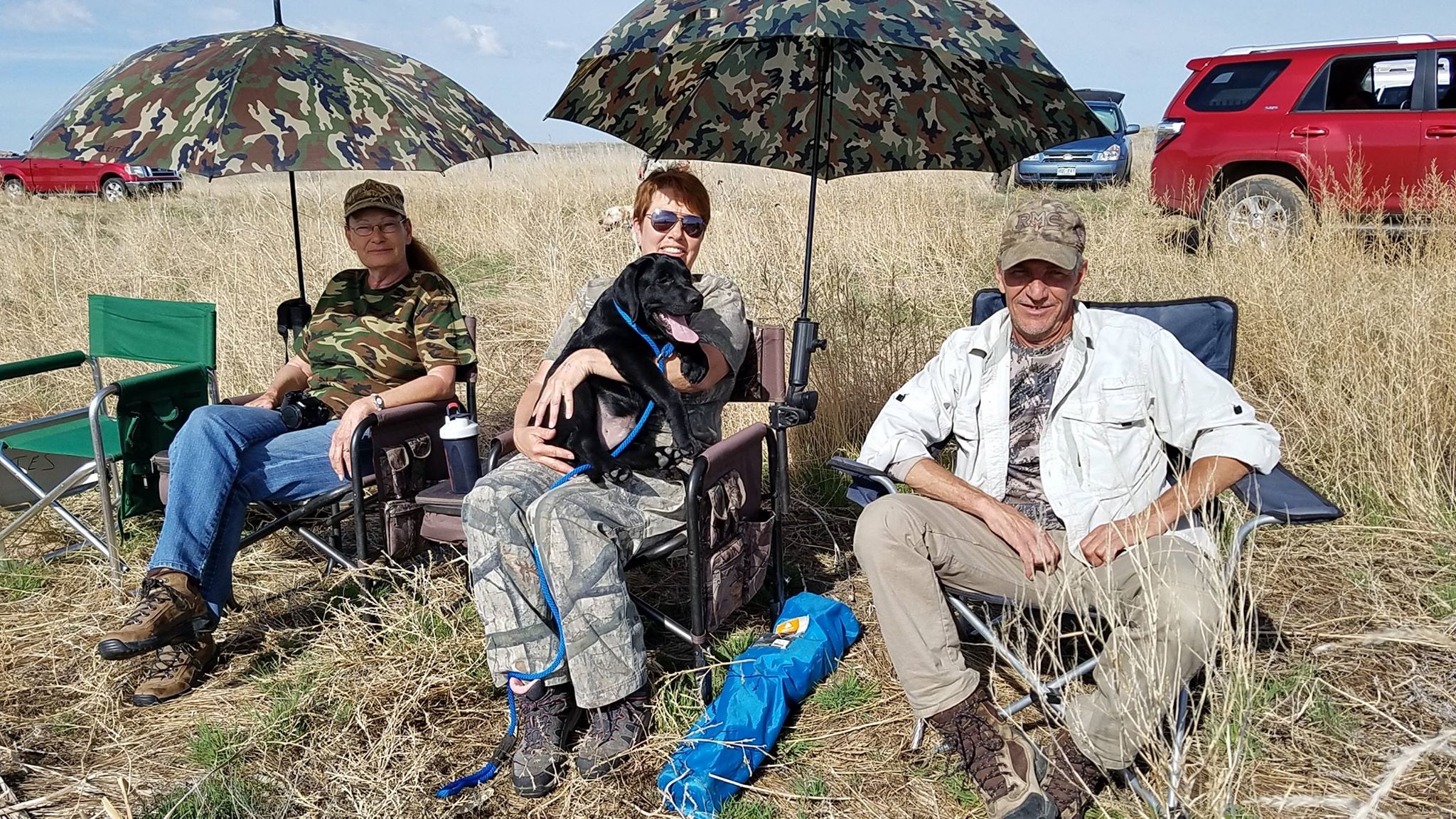 She ran straight to the second mark – "stepped on it" – and brought the bird back to me. The land marks were done, next up were the water marks!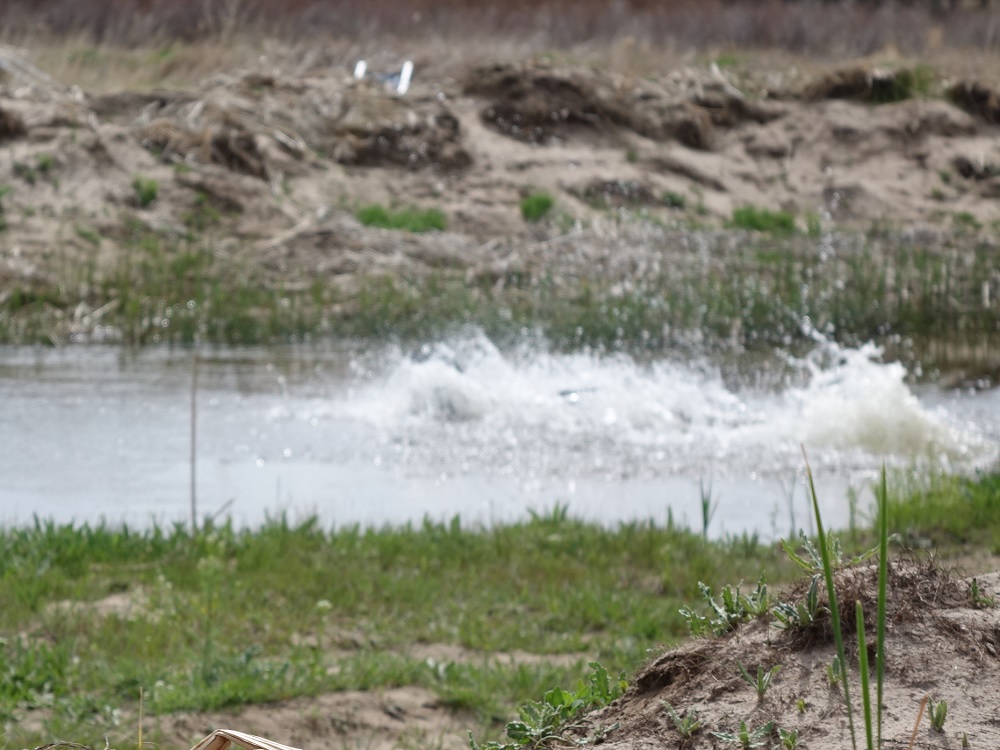 The water marks were set up at the end of a spit of land. The first mark was to the right and across a channel into a marshy area to give a slight splash when the birds landed. The second mark was to the left in open water on a good-sized pond.
Tisket did great on the first mark, except she had to check the decoys on the way back. She never dropped her bird, but had to bump each decoy with her nose to make sure it wasn't real.
The open water swim was out and back, despite the slight chop due to the wind.
Another pass for Tisket!
On Sunday we started with the water marks and Tisket's daughter, Wynk, got to run her first hunt test.
Both marks were across a channel – wider than yesterday's location – and onto a sandy bank with sparse grass.
Tisket was out and back quickly on both birds. Very nice retrieves.
Wynk came out raring to go! There wasn't room for a running start, but she leaped into the water with a big entry and picked up each bird in turn. No time wasted hunting around – she knew exactly where her birds were.
On to the land marks for both girls!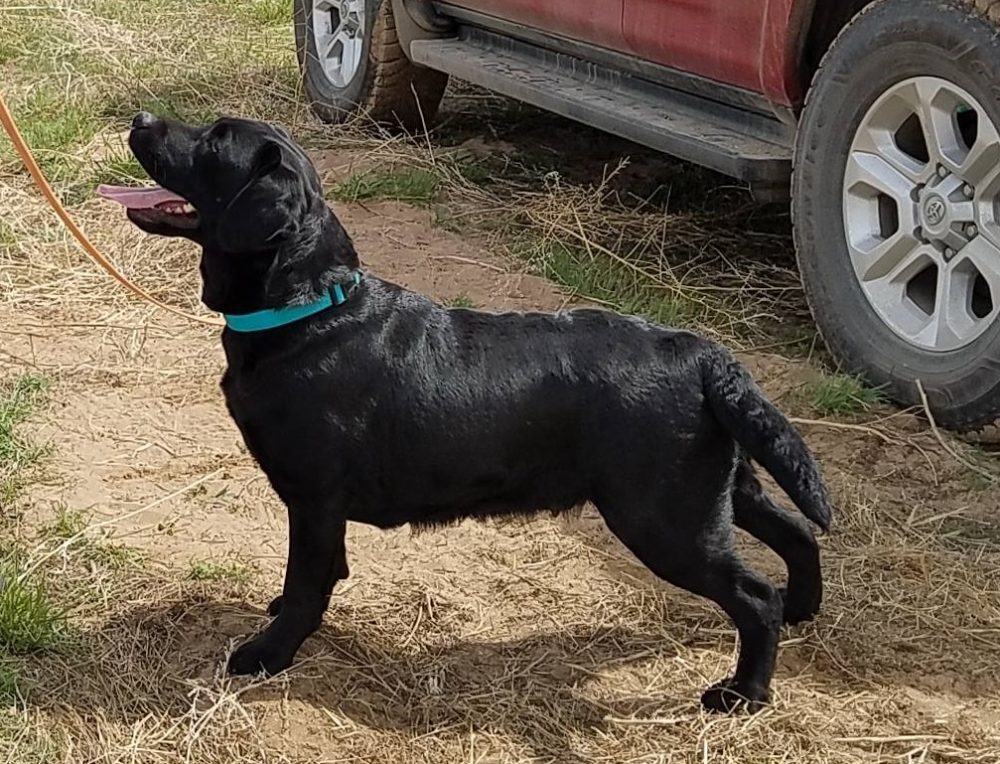 It was hot and starting to get muggy with a thunderstorm brewing to the west by the time we got the land series set up. Didn't bother either girl in the least.
Tisket ran first again. Out, scoop up the bird and back in no time. The second bird landed in a little swale and she overran it by a yard or two, but turned quickly, scooped it up and back to me. No question that she picked up another pass and that was enough for her title!
Wynk came out raring to go again. Good, because I was wilting with the heat and humidity. Although she's not very tall, she motored her way to each mark and surprised a few people with her speed. Out and back quickly on the first mark. Slide and turn as she tried to pick up the second bird without stopping. No question; she likes this game!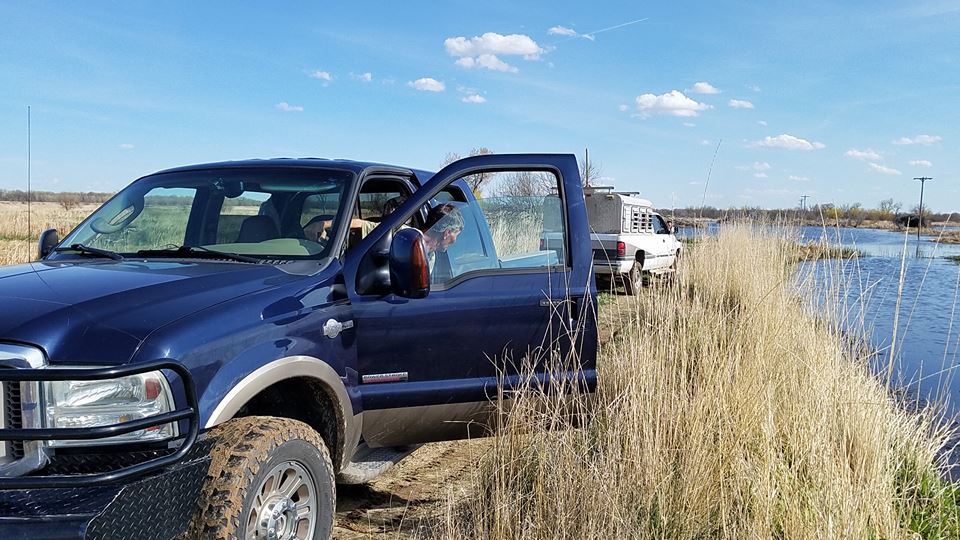 Overall, great weekend.
Tisket finished her title, Wynk got her first pass and my truck didn't stay stuck for long!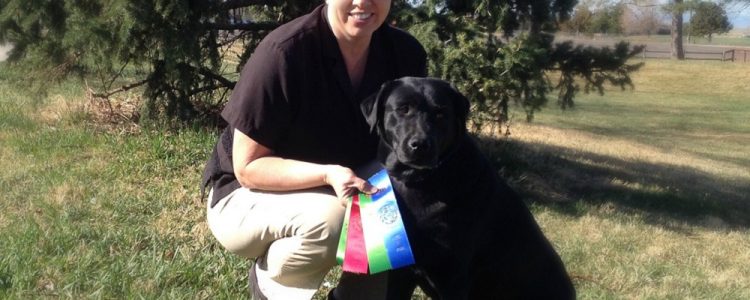 We had a great weekend! Jazzy finished her CD obedience title with a second place on Saturday and a first place on Sunday.
Jazzy had great scores and on Sunday it was even good enough to have us in the lead for High in Trial for a couple of hours – until a dog in Utility B turned in a blazing performance and knocked us out by a few points. Oh well! She did enjoy her special hamburger!
The CD, or 'Companion Dog', obedience title involves a lot of walking with the dog at heel, both on and off-leash. There is also a recall where the dog has to stay sitting as the handler walks across the ring and calls the dog and a stand for examination where the dog must stand still, off-leash, and not move while the judge touches the dog. And finally the long sit and long down exercises where all the dogs line up along one side of the ring and must stay put as the handler walks across the ring. This is done off-leash, first sitting for one minute and then staying down for three minutes.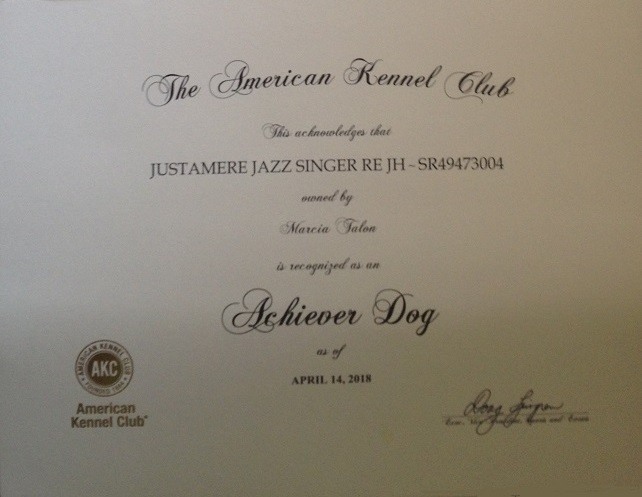 According to AKC, "The Achiever Dog certificate program is designed to recognize those exhibitors and dogs who participate in multiple sports. A dog will receive an AKC Achiever Dog certificate when they have been awarded a placement or earned a qualifying score in three different sports."
Jazzy earned titles in obedience, Rally and hunt tests.
Enjoyed dove opening day with my friend, Tom Osborne! And of course we had Arwen and Woody with us doing all the work.
Arwen, at 10-1/2, still has what it takes. She not only handled her main duty of fetching the birds we shot, but also worked as a "traffic cop." In the beginning, the birds seemed to know where we were and took a detour. So, homo sapiens decided to send canis familiaris about 50 yards away to direct the birds our way.
It worked! Arwen took my cast and went up on a ridge where her shiny, black coat gave the birds the idea they should fly somewhere else. hee hee
It turned out to be a gorgeous evening with lots of birds flying!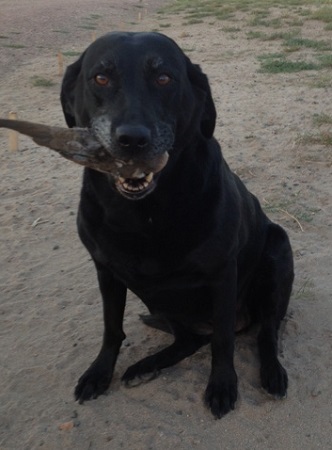 I was cleaning house – having to move ribbons around to dust – and got reminiscing about everything Arwen has accomplished. I'm so proud of my girl! In between having three litters of beautiful puppies, she finished her Companion Dog obedience title; Junior and Senior Hunter field titles; Hunting Retriever and Hunting Retriever Champion field titles; Rally Novice, Rally Advanced, and Rally Excellent titles; a Canine Good Citizen Award and a Conformation Certificate.
Yes, we still have more to do – finish her Master Hunter title, earn at least one Tracking title, and she's even dabbling in Agility. But even more important than all the initials around her name – she's a champion snuggler!
We had a great weekend – despite the heat and wind near Boone, CO. Arwen passed a tough Finished test, Tory passed his 3rd Seasoned test, and Jazzy got to run two Started tests and passed both!
The Finished test started with a wide-open triple "dove" hunt and a diversion as the dog was coming in with the last bird. Then a blind retrieve with lots of suction to the dike and old falls. Arwen did fabulously! I, on the other hand, "missed" every bird I shot at.
Afterward we decided to try for ducks. This series was a mind-bender of trying to remember which bird is shot at by which handler and which dog gets to retrieve.
It started off with a buddy on the honor bucket with his dog as Arwen and I walked down the muddy path to the pond. On the way, a duck comes sailin' in from the left. Both handlers take a shot at it, but remembering not to shoot in the direction of the other handler! The honor dog picked up that bird while the working dog had to watch.
Once we got settled on a bucket, a duck came in from over our right shoulder and quickly thereafter another duck came in from the left. Both handlers shot at the birds. Arwen picked up the left bird after a long swim and then rooted the right bird out of the reeds.
Somehow with all that "shooting" we put down another bird way off to the left. The line to the blind was just off the beach with suction to the shore and to the old fall. Couple whistles and Arwen picked up that bird.
Time for a new "buddy." As he came down the path with his dog, we moved to the honor bucket. But this dog was amped! When he came into sight Arwen must have figured she'd need a headstart to beat him to HER birds and took a few steps toward the water during the double, but luckily decided not to go any further! Good dog!
I had an interesting experience a couple of years ago. I was at a dog show and noticed a booth for an animal communicator. I pooh-poohed it at first, but then thought 'what the heck.'
At first her 'communications' were pretty generic – things like Chip (my dog) wanting to know how long Labs live, that he was glad that I take good care of him, that he wants his granddaughter to take his place after he's gone, etc.
Did I really believe she was talking to my dog? Not at first, but something she said turned me into a believer on the way home. She told me that Chip was my self-appointed protector and he wanted me to get a new truck so I could see out of it. It didn't make much sense at the time. On the way home, though, Chip was in the front seat with me and he was sitting on the passenger seat when I wanted to change lanes. I glanced over and told him, "Lay down, I can't SEE." When I realized how often I say that, I became a believer.