Posts Categorised:

Puppies
Bringing your new puppy home is such an exciting time, but are you ready? Puppies need care and a lot of attention. It's up to you to provide a safe environment. Check your house and buy your supplies before you bring your puppy home.
Here's a checklist to help you get started!
PREPARATION
Schedule an appointment with your veterinarian for a day or so after you're scheduled to pick up your puppy.
Identify an emergency veterinarian as not all vets are available at night or on weekends.
If needed, find a reputable day care, puppy class and/or trainer.
Determine where the puppy will sleep, preferably in a crate to start.
Determine who will be primarily responsible for feeding and caring for the puppy. As the puppy starts to learn commands, be sure everyone uses the same command to not confuse the puppy.
GETTING YOUR HOUSE AND GARAGE READY
Safety first! Get down at your puppy's level and search for everything that could be potentially dangerous and for anything you don't want chewed. Also be aware of anything your puppy could jump or climb on to reach higher.
Check every room in your house plus the yard, garage and any other buildings your puppy might be able to access.
In the house:
Check behind any furniture where your puppy could hide and block it off. Block access to under beds.
Protect electrical cords, TV and computer cables and electrical outlets. It's very common for puppies to chew on wires, but it can be deadly. Don't forget about remote controls.
Keep shoes and clothing picked up or behind closed closet doors.
Place all medication and supplements inside a cupboard well out of reach of your puppy's best efforts. Those bottles might be "child proof", but they won't last long against puppy teeth.
Store all cleaning supplies in a cabinet secured with a cable or in a high cabinet that the puppy can't climb. Don't forget to put bars of soap, bottles of shampoo, makeup, razors, cotton balls, tissues, aftershave, perfume, etc out of reach.
Secure all trash containers with a puppy-proof lid or inside a cabinet.
Store decorations, candles, plug-in scented sprays out of reach or in a secured cabinet.
Store office supplies such as rubber bands, staples and paperclips in drawers or a secure cupboard.
Keep cigarettes, cigars and loose tobacco out of reach of puppies.
Check for toxic plants inside – and outside – of the house. Move them safely out of the puppy's reach. Check for plants are poisonous for dogs.
If you have cats or other pets, move the litter box where the puppy can't get to it.
Don't forget to check every closet or cubbyhole.
If there is an area that just can't be puppy proofed, use a quality baby gate and/or an exercise pen to keep him out.
Be vigilant about keeping everything put away, out of puppy's reach.
Garage and yard:
Check for holes in or under your fencing and anything your puppy could climb in, on or under.
If you have a deck, place a barrier so the puppy can't fall off or down the stairs.
Move all paint, pesticides, rodent poisons, cleaners, chemicals, bug spray, fertilizers, etc out of puppy's reach – at least five feet off the floor – or in a secured cabinet.
Store tools and power equipment out of puppy's reach.
Do the same with antifreeze, fuel and other car fluids. These may taste sweet to a puppy, but they are deadly.
If any trash cans don't have a secure lid, place the can in a secure cupboard or out of puppy's reach.
Check for plants that could be potentially toxic to your puppy using the link above. These items are also toxic:
pit fruits such as apricots, cherries, peaches, plums and avocados
garlic, onion and chives
grapes and currants
chili peppers
lemons, limes, oranges and grapefruit
potatoes and tomatoes
rhubarb
tobacco
coffee grounds and tea bags
Move or place a puppy-proof barrier around any toxic plants.
Check everything a second time a day or so before you welcome your puppy home.
SAFETY PRODUCTS
Now that you've found potential trouble spots, here are some products that might help.
Electrical:
For some reason, puppies are attracted to power cords. They're small enough to fit in their mouths, easy to chew and potentially deadly.
Clear Electrical Wire Protector (Total 30 Feet)
Wire Loom Tubing To Protect Wires from Pets
Outlet Covers 38-Pack White Child Proof Electrical Plug Covers
Electrical Outlet Cover Box Childproof Large Plug Cover (Transparent)
Dual Fit Outlet Plug Cover White 2 Count
Securing cabinets and other areas:
Child Safety Strap Locks (10 Pack) White/Gray
Under Bed Couch Blocker for Pets 8 Pack 4.7″ High 126″ Long
Mom's Choice Award – Metal Baby Gate, 29-48″ Extra Wide Pressure Mounted
Banister Guard Child Safety Net – 15ft x 3ft tall (white)
Outdoor Deck Rail Safety Net – 16ft x 38″ tall (black)
PUPPY SUPPLIES
Now that your house is safe, what do you need for puppy?
Health:
Pet Thermometer Waterproof Fast and Accurate Measurements
Disposable Probe Covers for Thermometer, 50 Count
Pet Infrared Ear Thermometer for Dogs and Cats, Rechargeable ℃/℉
Collars and leashes:
If you must add tags to your puppy's collar, tape them flat to the collar. Dangling tags can be caught in heat/AC vents, openings in crates and many other narrow openings. When that happens dogs will often fight against it and may twist to the point of strangulation.
Also, if you have more than one dog and they like to play – especially if they grab each other by the neck – remove the collars. Too many dogs have died of strangulation when they caught their lower jaw in another dog's collar. Both will struggle and twist. And it happens fast. I had it happen. Both dogs wore quick-release collars, but one twist and one dog was choking while the other dog fought to get free. Had I not been 15 feet away when it happened, at least one dog would probably have died. My dogs no longer wear collars except when competing, however they are all microchipped.
Unless you have a short nose dog like a Pug or a dog with a slender head like a Greyhound, avoid using a harness. Harnesses can be hard to fit and a poorly-fitted harness can cause chafing or allow the dog to slip out. It should also be taken off when the dog doesn't need to be on leash.
Reflective Multi-Colored Stripe Adjustable Dog Collar, Violet and River Blue, Medium, Neck 14.5″-20″
Avoid retractable leashes – "flexi-leads" – especially for puppies. More accidents seem to happen with these leashes. Even a small dog running toward an attraction can hit the end of the cord and snap the clasp or collar. When that happens the cord will quickly retract and possibly hit you or bystanders causing "broken teeth, due to the collar or metal clasp breaking and swinging back into your face." Grabbing the cord or having it wrap around a hand or leg can lead to deep cuts and even amputation.
Reflective Multi-Colored Stripe Dog Leash with Soft & Comfortable Handle, 5 ft x 3/4″, Violet & River Blue
This is a better option than a flexi-lead. It adjusts to 3 lengths: 4, 5 and 7-1/2 feet. Clip it around your chest, waist or shoulder to free your hands. It's available in a variety of colors.
Adjustable Dog Training Leash | Secure & Non-Slip Rubberized Nylon Grip Hands Free Dog Leash (Black)
Bowls:
I have some of these bowls. They're almost indestructible, dishwasher safe and don't move around like regular stainless steel bowls.
Deep Stainless Steel Anti-Slip Dog Bowls, Set of 2, Each Holds Up to 6 Cups
Another option if you have a fast eater is this slow feeder bowl. There are several design, color and size choices.
Outward Hound Fun Feeder Slo Bowl, Slow Feeder Dog Bowl, Medium/Mini, Orange
Beds:
Reasonably priced washable dog beds, sized to fit in crates. Medium for puppies and smaller Labs 30x20x3″. Large for an adult Lab 36x24x3″. Extra Large for a big, adult male Lab 48x24x3″.
Waterproof Dog Bed, Reversible, Removable Washable Cover & Waterproof Inner Lining – Medium
Probably best to wait on introducing a quality dog bed until your puppy is house-trained and past the teething stage. Otherwise these are outstanding dog beds.
Best Friends by Sheri The Original Calming Donut Cat and Dog Bed in Shag Fur Taupe, Extra Large 45×45 – big enough for adult dog
Grooming:
This is my go-to brush for Labs. It's great for removing dirt and dead hair and the dogs love the attention.
Zoom Groom Dog Brush, Groom and Massage While Removing Loose Hair and Dead Skin – Blue
If your dog grows a thicker coat than the Zoom Groom can get through, this rake can go deeper to remove dead hair. Just use it gently.
Ergonomic Undercoat Pets Rake, Dog Dematting Brush
For young puppies you can use fingernail clippers to just cut the sharp hook off the end of each nail. Remember to do this every couple of weeks. Be careful of cutting too deep and making the nail bleed. As your puppy matures, switch to a dog nail clipper.
Dog Nail Clippers Safety Guard and Nail File
For some dogs who have learned to fear nail trimming, here is a smooth and quiet clipper.
Dog Nail Trimmer for Anxiety Sensitive Dog, Quiet Sharpest Smoothest Dog Nail Clippers
4 Pack Dog Toothbrush for Dog Teeth Cleaning Dog Finger Toothbrush
The cleanest teeth I've ever seen belonged to dogs fed a raw meat and bones diet. This is likely due to the chewing involved, but also because of the enzymes in the meat. Another option is brushing their teeth with an enzymatic toothpaste.
Enzymatic Toothpaste for Dogs and Cats (Poultry)
Burt's Bees for Puppies Natural Tearless 2 in 1 Shampoo and Conditioner
Containment:
Don't skip crate training! It makes house training easier and will help in an emergency, such as a fire, tornado or flooding especially if you have to transport your dog or place him in a boarding kennel.
For a puppy, set up a wire crate with the divider panel positioned so he can stand up, lie down, turn around, and stretch. Don't make it any bigger because he will likely potty in one end and sleep in the other. Gradually move the divider to give the puppy more space as he grows.
To help with crate training, place the crate close enough so the puppy can see you, but not in a busy area. Watch for when he's starting to tire and place him in the crate so there's less resistance. Add a puppy blanket and a toy in the crate with him.
Double Door Dog Crate, Includes 2 Doors, Leak-Proof Pan, Floor Protecting Feet and Divider Panel – 36″
You can get a plastic airline-type crate instead, but they don't generally have a divider. Instead you will have to block off part of a bigger crate or buy a few crates in different sizes. There are generally used ones for sale on Craigslist and Facebook Marketplace, just be sure to clean a used crate well.
For people who cannot take their new puppy out to potty every 2-3 hours, you can set up an area with access to the outside or to a litter box or doggy lawn. Surround the area with an exercise pen and clip it to a crate to help keep it from moving around. Or use a baby gate to partition a room.
This is an excellent exercise pen for occasional use such as while traveling or attending competitions. However it's probably not suitable for a puppy without supervision as it can be tipped over. It folds to about 24 x 30 x 3″
Foldable Metal Dog Exercise Pen / Pet Playpen, 24″W x 30″H
After a bit of training, this pen could be used for a puppy left alone for awhile. It is made of heavier construction with additional features:
automatic gravity lock design ensures you can open and close the door smoothly and reduce the chance of your dog unlocking it
Muffler Tube installed on the rings can minimize any noise caused by the rattling of the rods or panels
Anti-slip silicone pads installed on the stakes and the bottom of the panels provide friction to reduce the possibility of the pen being pushed down and can prevent the stakes from scratching your floors
HomePlus Playpen Designed for Indoor Use 32″H 8 panels
Here's a waterproof tarp for under an exercise pen – indoors or outdoors.
Heavy Duty Poly Tarp – 8′ x 10′ – 10 Mil Thick Waterproof
Puppies seem to like these grass mats more than pee pads, however they require cleaning while the pee pads can be thrown away.
Grass Mat with Tray, Complete Potty System for Indoor/Outdoor Puppy Training, Reusable Pet Litter Box 23×19″
Puppy Pad Holder Tray – Silicone, 24 x 24″
Super Absorbent Pee Pads for Dogs, Leak-Proof
Clean up:
Time-tested style of pooper scooper. Metal. Requires two hands – one to hold the tray and one to use the scraper or rake.
Pooper Scooper, Extra Large with Long Handle, Metal Poop Tray and Rake Set
Newer style with one-handed operation and spring-loaded clam shell pickup. Handle folds in half.
Pet Pooper Scooper for Dogs and Cats with Long Handle
Zero Odor – Pet Odor Eliminator – Permanently Eliminate Air & Surface Odors
Go Here Attractant Indoor and Outdoor Dog Training Spray
Amazon Basics Unscented Standard Dog Poop Bags with Dispenser and Leash Clip, 13 x 9 Inches, Black – 20 Rolls (300 Bags)
TREATS & TOYS
First off, here are several treats and toys to avoid:
Rope toys can be dangerous – if they're too small, the dog might swallow it whole, ropes labeled as indestructible or cotton-blend likely contain indigestible nylon and/or polyester and, unlike other things puppies might swallow, long strands of rope can get tangled in your dog's stomach or intestines.
Toys small enough to get stuck in their throat are a choking hazard.
Rawhide treats are not digestible and, if your dog swallows a large piece whole it could cause choking or an obstruction. Also they are often coated with toxic chemicals.
Cooked bones are usually very hard and brittle. They can cause a broken tooth, cuts or obstructions in the dog's mouth, throat and digestive system, and round bones can get stuck around the lower jaw.
Although some people swear by Greenies, they do pose a risk of intestinal blockage and possible death despite the claim of being "highly digestible." Instead you might try a single-ingredient chew such as pig, cow or lamb ears, duck or chicken feet, beef trachea or tendon or bullysticks. Because of their natural origins, you may want to give them as outdoor treats.
Avoid tennis balls as the fuzz will wear down teeth, they can get stuck in your dog's throat and strong chewers may swallow the fuzz and/or parts of a split ball which can lead to an obstruction. It's better to give your dog a ball specifically designed for dogs and big enough to prevent a choking hazard.
Here are a few treats and chews we like:
N-Bone Puppy Teething Rings Chicken Flavor Dog Treat, 6 count bag, 7.2-oz
SPOFLY Puppy Teething Chew Toys, Freezable Puppy Teething Toy, 1 Teething Ring 1 Teething Bone Freezable Dog Chew Toys Set (Blue)
KONG – Puppy Toy Natural Teething Rubber – Fun to Chew, Chase and Fetch – for Medium Puppies – Pink
Best Pet Supplies Crinkle Dog Toy for Small, Medium, and Large Breeds, Cute No Stuffing Duck with Soft Squeaker
Multipet Plush Dog Toy, Lambchop, 10″, White/Tan, Small
iHeartDogs Heartbeat Puppy Toy – Comfort Cuddler Pillow – Dog Anxiety Toy
HOUNDGAMES Puppy Toy Mat with Teething Chew Toys (20" x 20") Ropes, Squeaker, Plush Foam Bed, Durable
BoniVet Bully Stick Holder for Dogs, Chew Holder, Prevent Choking Safety Device
FOOD
Several years ago, factories in China added wheat gluten adulterated with melamine to pet food and treats as a cheap way to boost the protein percent. Many animals died after eating these foods. Since then other products from China, including milk, ice cream and canned coffee drinks, have tested positive for melamine. It's probably best to avoid any food products made in China.
For other things to avoid, check out People Foods Dogs Shouldn't Eat.
We feed Dynamite Super Premium dog food.
From their website at DynamiteSpecialty.com:
"A superior kibble free of the common allergens corn and wheat is made with fresh, hand-trimmed USDA chicken. It also contains chicken cartilage that is rich in natural glucosamine. On top of that our Super Premium contains prebiotics and probiotics to aid digestion.
"Made with minimal processing to help preserve the natural goodness of the ingredients, our small-batch recipe is not baked. Instead, we use state-of-the-art technology that utilizes a low-temperature, high-moisture extrusion. This method assures all starch is cooked and minimal damage occurs to the proteins."
We also give DynaPro:
"Canine health depends on a thriving population of beneficial gut microbes. Factors such as stress, diet changes, chemical wormers, vaccinations, and antibiotics will cause a dog's gut to become an unfriendly environment and will force microbes to go dormant. Dyna Pro is designed to create the ideal conditions for good microbes to come out of dormancy, multiply, and thrive so your dog gets optimal utilization of food and supplements, resulting in a vibrant animal!"
An alternative food is Purina Pro Plan High Protein Puppy Food.
SECURITY
Kasa Indoor Pan/Tilt Smart Security Camera, 1080p HD Dog Camera 2.4GHz with Night Vision, Motion Detection for Baby and Pet Monitor, Cloud & SD Card Storage, Works with Alexa & Google Home (EC70)
Petcube Cam Indoor Wi-Fi Pet and Security Camera with Phone App, Pet Monitor with 2-Way Audio and Video, Night Vision, 1080p HD Video and Smart Alerts for Ultimate Home Security
BRINGING PUPPY HOME
Take a towel or a small blanket to wrap puppy in for the drive home. Also a roll of paper towels, a plastic bag and a spray cleaner for any accidents on the way.
Take puppy's new collar and leash. Buy them before going to pick up your puppy. You shouldn't be taking him into any stores or to any parks or other public places until he has at least his second set of vaccines. Check with the breeder for correct size.
Put out a fresh bowl of water. Feed your puppy three times a day for the first couple of months. Pick up the food bowl after 15 minutes, whether he's finished eating or not. Allowing your puppy to nibble any time of day will start a bad habit. One cup of food at each meal should be about the right amount for a Labrador or similar size dog. Check with your breeder if you have questions.
Keep the toilet lid closed if you use any cleaners.
Don't use a flea collar, sprays or any other pesticides except on your veterinarian's advice and preferably not until your puppy is at least four months old.
Don't have other dogs over to meet your puppy until his vaccinations are completed.
Lastly, be sure to have your veterinarian's phone number posted by the phone!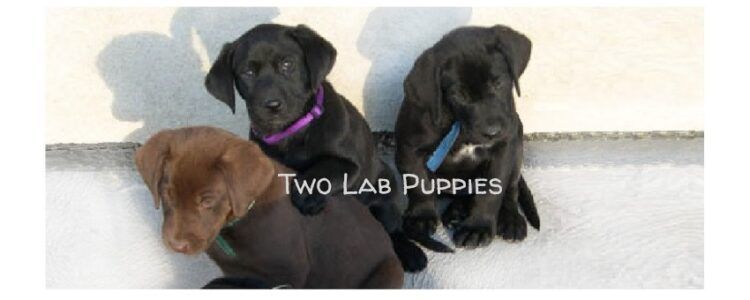 Seventeen years ago I put in an order for a chocolate girl out of Dee, my Way-Da-Go Rocky daughter.
The first four puppies came out every 30 minutes like they were on a timer – boy – boy – boy – boy.
Then we waited. And waited. An hour went by. Two hours. Three hours.
It was so long since the last puppy and there were no more signs of contractions. Dee must have finished whelping. I started putting away all the whelping supplies. I was so sad not to get my chocolate girl.
A HAPPY SURPRISE
Then four hours after the last puppy was born, she had another puppy.
A boy. Jeez Louise!
Shortly after that she had two more puppies – a black girl and a chocolate girl!
MEETING MY HEART DOG
The story doesn't end there though. I was so happy to get my wish, but every time I cleaned the whelping pen or interacted with the puppies the black girl paid attention to me. She had fabulous eye contact! The more I got to know her, the more I fell in love.
ANOTHER HEART DOG
There's still more to the story though. The first boy born became my husband's favorite. I think he liked him for the white spot on his chest.
He promised he would train him and take him to work with him. Didn't happen, of course. So I put the puppy up for sale and got several good offers for him, but I couldn't do it. I'd fallen in love with him too.
CONSTANT COMPANIONS
These two puppies and their dad, Chip, became my Musketeers, my constant companions and my teachers. Anything I asked, they tried.
Happy angel birthday to:
HRCH UH Justamere Arwen CD SH RE RATN CGC CC
HR UH Justamere Aviator CD SH RAE CGC CC
and all of their littermates!
Sire:
HRCH Justamere Chocolate Chip CD TDX SH RAE CGC
Dam:
Knight's Tail Dehlia JH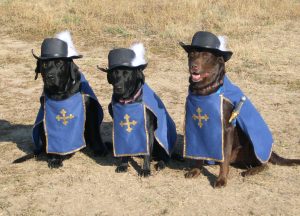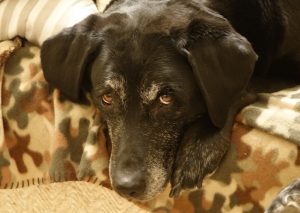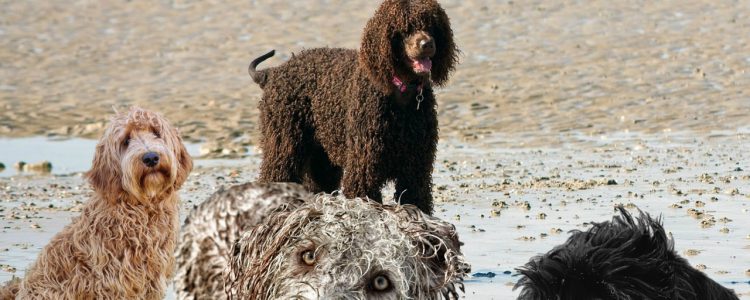 Despite what some people might say, a LabraDoodle is a mutt. They're not purebred. They're not special.
It's a marketing ploy. They slap a cute name on something (like "LabraDoodle", "Puggle" or "Poochon") and charge a high price to make you think it's special or a "designer" breed.
What they are is a cross between a Poodle and some other breed, such as the Labrador Retriever.
Unfortunately when you cross two different breeds, you get a mish-mash of genes.
They don't come out the same way each time. It's unpredictable – looks, coat, behavior and health.
You might get a puppy that looks like a Lab, but acts like a Poodle. You might get a tall one or a short one.
It could have a coat that's wiry or soft, or curly, wavy, or straight. Many doodles do shed and some need to be shaved every 6-8 weeks.
Owners are often surprised to find they are allergic to their dogs.
You may also get a puppy that inherited the genetic problems or diseases from BOTH breeds.
Or you might get poor temperament despite the docile Lab temperament that is often advertised.
Some LabraDoodles are high-strung (like Poodles can be) and may not be good with children.
They can also be needy and crave attention which makes them a poor choice if there is no one home during the day.
After paying 2-4 times the cost of a purebred Lab or Poodle, owners sometimes dump them at shelters. Too often it's due to aggression towards children.
Because of the high price people are willing to pay, Doodles are the "breed" of choice for many puppy mills.
The man credited with creating them said he regrets introducing this mix-bred dog to the world. He was trying to breed a guide dog that was also hypoallergenic, but he failed over and over.
"I opened a Pandora's box, that's what I did. I released a Frankenstein. So many people are just breeding for the money. So many of these dogs have physical problems, and a lot of them are just crazy."
https://www.psychologytoday.com/us/blog/canine-corner/201404/designer-dog-maker-regrets-his-creation
If you still want a LabraDoodle, do your homework. Meet the breeder and the parents of the puppy you're considering buying. Check temperament and trainability. Check for health certifications. When your puppy is old enough, enroll him in a Puppy Kindergarten class. It's good for basic training and socialization.
We don't breed LabraDoodles or any mix-bred dog. Nor will we sell a puppy to someone who wants to breed Doodles or any other mix-bred dog.
I love my little puppy; she makes my house a home.
She is my very sweetest little friend; I never feel alone.
She makes me smile; she makes me laugh; she fills my heart with love.
Did someone breed her, or did she fall from above?
I've never been a breeder, never seen life through their eyes;
I hold my little puppy and just sit and criticize.
I've never known their anguish; I've never felt their pain,
The caring of their charges, through snow or wind or rain.
I've never waited the whole night through for babies to be born,
The stress and trepidation when they're still not there by morn.
The weight of responsibility for this body in my hands,
This darling little baby, who weighs but 60 grams.
Should you do that instead of this … or maybe that was wrong?
Alone you fight and hope, one day, he'll grow up proud and strong.
You pray he'll live to bring great joy to someone else's home.
You know it's all just up to you; you'll fight this fight alone.
Formula, bottles, heating pads, you've got to get this right,
Two-hour feedings for this tiny guy, throughout the day and night.
Within your heart you dread that you will surely lose this fight,
To save this little baby, but God willing … you just MIGHT.
Day one, he's in there fighting; you say a silent prayer.
Day two & three, he's doing well, with lots of love and care.
Day four & five … he's still alive; your hopes soar to the heavens.
Day six, he slips away again, dies in your hands, day seven.
You take this tiny angel, and bury him alone.
With aching heart and burning tears, and an exhausted groan,
You ask yourself, "Why do this? … Why suffer through this pain?"
Yet watch the joy your puppies bring, and everything's explained.
So, when you think of breeders and label them with "Greed,"
Think of all that they endure to fill another's need.
For when you buy your puppy, with your precious dollars part,
You only pay with money … while they pay with all their heart.
— Author Unknown
(Reprinted from The Labrador Retriever Quarterly News. Please let me know if you are the author or know who wrote it. We'd like to give credit, where credit is due.)