Posts Categorised:

Hunt tests
We ran in the hunt test at Indian Meadows in Snyder, CO on May 5-6, 2018. Thanks to Platte Valley HRC for hosting the event!
Tisket only needed two passes to complete her Started Hunting Retriever (SHR) title, so she was entered both days.
The first land mark on Saturday was in fairly heavy cover and a bit shorter than what we'd practiced. Many dogs, including Tisket, overran the mark and had to work their way back, while honoring their noses. Tisket ran back and forth in the area where she thought the bird had dropped, in an effort to pick up the scent. You could tell when she did catch the scent because her nose looked like it had been snagged by a fish hook.
She ran straight to the second mark – "stepped on it" – and brought the bird back to me. The land marks were done, next up were the water marks!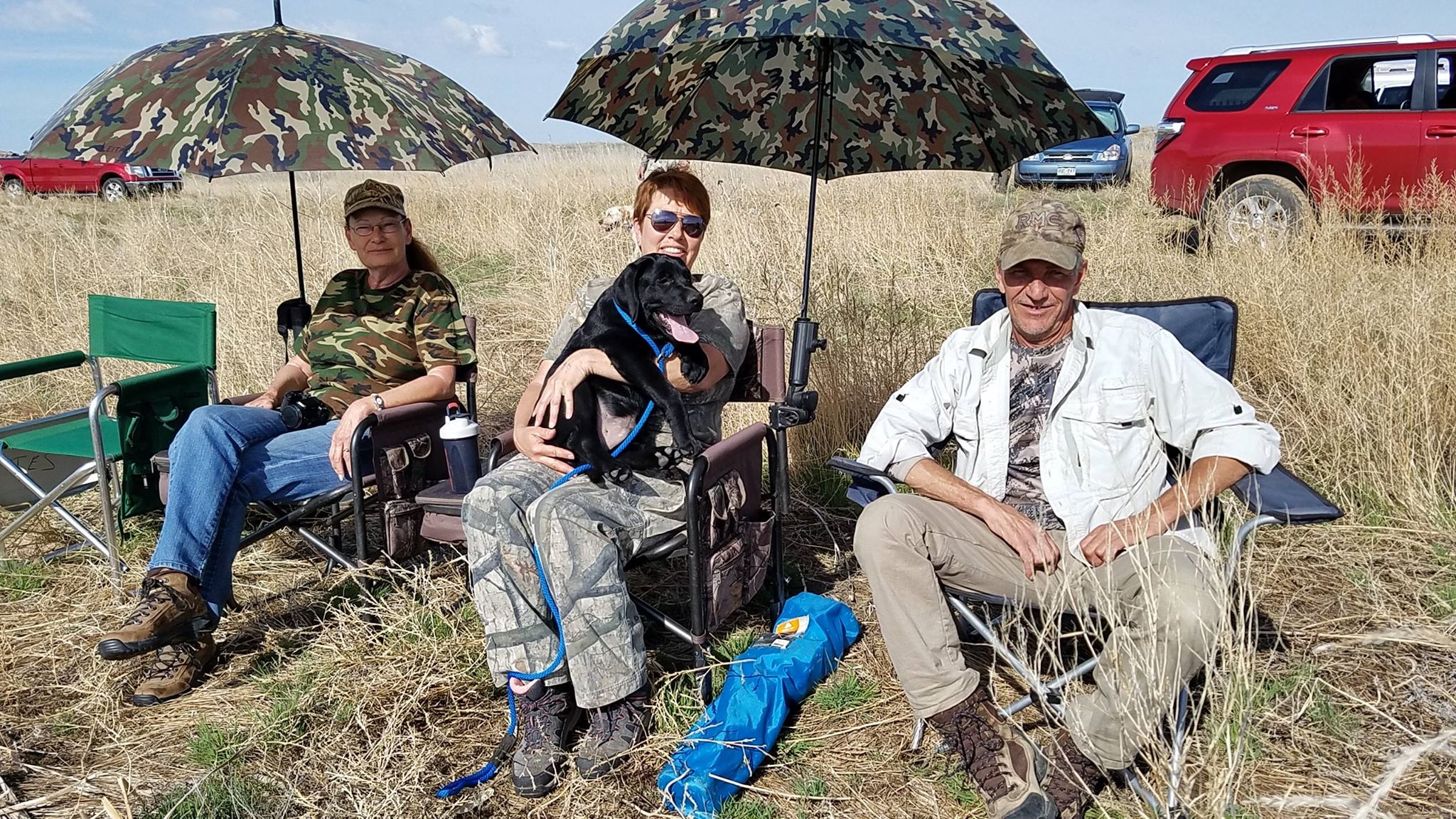 The water marks were set up at the end of a spit of land. The first mark was to the right and across a channel into a marshy area to give a slight splash when the birds landed. The second mark was to the left in open water on a good-sized pond.
Tisket did great on the first mark, except she had to check the decoys on the way back. She never dropped her bird, but had to bump each decoy with her nose to make sure it wasn't real.
The open water swim was out and back, despite the slight chop due to the wind.
Another pass for Tisket!
On Sunday we started with the water marks and Tisket's daughter, Wynk, got to run her first hunt test.
Both marks were across a channel – wider than yesterday's location – and onto a sandy bank with sparse grass.
Tisket was out and back quickly on both birds. Very nice retrieves.
Wynk came out raring to go! There wasn't room for a running start, but she leaped into the water with a big entry and picked up each bird in turn. No time wasted hunting around – she knew exactly where her birds were.
On to the land marks for both girls!
It was hot and starting to get muggy with a thunderstorm brewing to the west by the time we got the land series set up. Didn't bother either girl in the least.
Tisket ran first again. Out, scoop up the bird and back in no time. The second bird landed in a little swale and she overran it by a yard or two, but turned quickly, scooped it up and back to me. No question that she picked up another pass and that was enough for her title!
Wynk came out raring to go again. Good, because I was wilting with the heat and humidity. Although she's not very tall, she motored her way to each mark and surprised a few people with her speed. Out and back quickly on the first mark. Slide and turn as she tried to pick up the second bird without stopping. No question; she likes this game!
Overall, great weekend.
Tisket finished her title, Wynk got her first pass and my truck didn't stay stuck for long!
We had a great weekend – despite the heat and wind near Boone, CO. Arwen passed a tough Finished test, Tory passed his 3rd Seasoned test, and Jazzy got to run two Started tests and passed both!
The Finished test started with a wide-open triple "dove" hunt and a diversion as the dog was coming in with the last bird. Then a blind retrieve with lots of suction to the dike and old falls. Arwen did fabulously! I, on the other hand, "missed" every bird I shot at.
Afterward we decided to try for ducks. This series was a mind-bender of trying to remember which bird is shot at by which handler and which dog gets to retrieve.
It started off with a buddy on the honor bucket with his dog as Arwen and I walked down the muddy path to the pond. On the way, a duck comes sailin' in from the left. Both handlers take a shot at it, but remembering not to shoot in the direction of the other handler! The honor dog picked up that bird while the working dog had to watch.
Once we got settled on a bucket, a duck came in from over our right shoulder and quickly thereafter another duck came in from the left. Both handlers shot at the birds. Arwen picked up the left bird after a long swim and then rooted the right bird out of the reeds.
Somehow with all that "shooting" we put down another bird way off to the left. The line to the blind was just off the beach with suction to the shore and to the old fall. Couple whistles and Arwen picked up that bird.
Time for a new "buddy." As he came down the path with his dog, we moved to the honor bucket. But this dog was amped! When he came into sight Arwen must have figured she'd need a headstart to beat him to HER birds and took a few steps toward the water during the double, but luckily decided not to go any further! Good dog!
Although a little belated, I want to give Chip a pat on the head via the Internet for completing 12 titles – obedience, rally, tracking and field.
He's also working on some basic agility – I just need to work on keeping up with him.
Way to go Chip!
HRCH Justamere Chocolate Chip CD TDX SH RAE CGC
I'm "just a mere" dog trainer! Hmmm – it's hard to write about yourself. Let's see, I love to train my dogs and we mostly do field work in preparation for hunting and hunt tests. I love when a Lab's natural instincts kick in for the first time!
But I also train in obedience and rally and tracking and have dabbled in agility and even the show ring. In that regard I'm more like owners of Golden Retrievers. Although Labrador Retrievers are multi-talented, most Lab owners tend to train for only one or maybe two venues. I like to train my dogs for anything they might enjoy.
I also like raising puppies. Because Labs have been the most popular breed in America for over a decade, there is a lot of variety. I believe in trying to retain their essence – Hunting Labs with Classic Looks. My dogs tend to be somewhat in between the tall, slender field Lab and the shorter, stocky show Lab.
As they say, "Life's too short to hunt with an ugly dog."