3xNFC CFC DUAL CH Shed of Arden is probably one of the best known Labradors in history, but what do we know about him and his family?
He was born in 1939 and bred by William A. Harriman who was a US Ambassador to the UK, Governor of NY and Secretary of State under President Johnson.
There's a story that Shed's siblings were all named for types of fish and that he was supposed to be Shad of Arden, but due to a clerical error he became Shed instead.
He was owned by Paul Bakewell III of St. Louis. During his career, Shed earned both US and Canadian Field Championships and a US show championship which qualified him as a DUAL champion. He also ran in five national field championships – winning three times and finishing as a finalist the other two times. At one point his owner turned down an offer to buy him for $10,000 (equivalent of about $150,000 today).
SHED OF ARDEN pedigree:
CH Raffles of Earlsmoor
Eng CCW Thatch of Whitmore
Eng DUAL CH Titus of Whitmore
Tee of Whitmore
Eng CCW Task of Whitmore
Eng FTW Toi of Whitmore
Eng CH Teazle of Whitmore
FC Decoy of Arden
Eng FTW Odds On
Eng FTW The Favorite
Jest
Eng FTW Peggy of Shipton
Ronald of Candahar
Gehta of Sigeforda
Some of Shed's full siblings included CH Earlsmoor Moor of Arden, CH Earlsmoor Marlin of Arden, Gorse of Arden and Braes of Arden. Half siblings included FC Gun of Arden (grandsire of 2xNFC Spirit Lake Duke and great grandsire of DUAL CH CFC Ridgewood Playboy and CH Whygin Gentle Julia Of Avec) and Marvadel Cinders (dam of Can DUAL CH Coastal Charger of Deer Creek and NFC AFC Marvadel Black Gum).
His uncle, FC Blind of Arden (Eng FTW Odds On x Eng FTW Peggy of Shipton), won what was called the "No. 1 U.S. retriever stake of the year" in November 1938. The following month he was featured on the cover of Life magazine.
Shed also had a cousin, DUAL CH CFC Little Pierre of Deer Creek, who shared a maternal grandmother, Eng FTW Peggy of Shipton.
LITTLE PIERRE OF DEER CREEK pedigree:
Eng FTCH Am FC Hiwood Mike
Eng FTW Pettistree Dan
Eng DUAL CH Banchory Painter
Eng FTCH Quest of Wilbury
Pettistree Poppet
Eng Ftw Cedars Michael
Cransford Flapper
NFC Tar of Arden
Hiwood Risk
Hiwood D'Arcy
Eng FTCH Hiwood Chance
Eng FTW Peggy of Shipton
Ronald of Candahar
Gehta of Sigeforda
Little Pierre was bred and owned by Paul Bakewell III. Like Shed, Little Pierre earned both a field and a show championship which qualified him as a DUAL champion. He also earned a Canadian field championship and qualified for five national field championships and was a finalist in 1946 and 1948. Unfortunately he died young after being poisoned.
He left behind quite a legacy as the sire (and grandsire) of DUAL CH AFC Matchmaker for Deer Creek and sire of Can DUAL CH Coastal Charger of Deer Creek, FC Mary-Go-Round Deer Creek and CH St Jones Blackie QAA (just a few points short of AFC).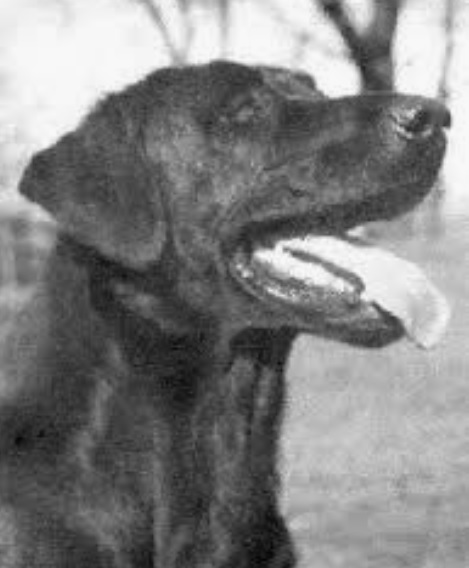 You might be wondering where these dogs show up in modern pedigrees. Let's take a look at FC 2xNAFC 3xCNFC River Oaks Corky.
RIVER OAKS CORKY pedigree:
Click for extended pedigree. There's also a link to a 5-generation pedigree on that page.
If you check the pedigree for Roy's Rowdy (below), you'll find both Shed and Little Pierre, plus Marvadel Cinders who was a half sister to Shed (both sired by Raffles of Earlsmoor) and Shed's DUAL CH son, Grangemead Precocious.
ROY'S ROWDY pedigree:
NFC AFC CFC Cork of Oakwood Lane
Can DUAL CH Coastal Charger of Deer Creek
DUAL CH CFC Little Pierre of Deer Creek
Marvadel Cinders
Akona Liza Jane of Kingdale
NFC DUAL CH CFC Bracken Sweep
Kingdale's Belle
Beautywood's Creole Jane
DUAL CH Grangemead Precocious
3xNFC CFC DUAL CH Shed of Arden
Huron's Lady
FC Gilmore's Peggy
Montahome Don of Arden
Betty of Blake
Roy's Rowdy was bred to Pierre's Kit of Garfield who was a great granddaughter of Shed on her father's side and a great granddaughter of Little Pierre on her mother's side.
So Rowdy's son, Royal of Garfield, has 2 crosses each to Shed and Little Pierre, plus a cross to Shed's half sister.
So far:
Shed of Arden = 2 crosses
Little Pierre of Deer Creek = 2 crosses
Shed's half sister = 1 cross
Royal of Garfield was bred to Martens Black Badger, a daughter of Cork of Oakwood Lane. And guess what? Cork brings in another cross to Little Pierre through Coastal Charger of Deer Creek, plus a cross to Shed's half sister, Marvadel Cinders.
CORK OF OAKWOOD LANE pedigree:
Can DUAL CH Coastal Charger of Deer Creek
DUAL CH CFC Little Pierre of Deer Creek
FC Hiwood Mike
FC Tar of Arden
Marvadel Cinders
CH Raffles of Earlsmoor
Marvadel Topsey
Anoka Liza Jane of Kingsdale
DUAL CH Bracken's Sweep
Glenhead Sweep
CFC Bracken of Timbertown
Kingdale's Belle
Tar of York
Jet of Runymeade
Cork of Oakwood Lane was bred to Martens Little Bullet who was a great granddaughter of Little Pierre on her father's side and a great granddaughter of Shed on her mother's side.
Keeping track so far, Royal of Garfield, has two crosses each to Shed and Little Pierre, plus a cross to Shed's half sister (Marvadel Cinders). Martens Black Badger has one cross each to Little Pierre and to Shed.
So far (Royal of Garfield PLUS Martens Black Badger):
Shed of Arden = 3 crosses
Little Pierre of Deer Creek = 3 crosses
Shed's half sister = 1 cross
Now let's look at River Oaks Corky's mother's pedigree.
Don's Ginny Soo's paternal grandfather, Black Gum Gus, had two crosses to Little Pierre (through Stonegate's Captain and Comay Classey Chassis) plus a cross to Shed's half sister (Marvadel Cinders) through Marvadel Black Gum. And her paternal grandmother, Don-Els Tor Chee, was a granddaughter of Cork of Oakwood Lane (who had both Little Pierre and Shed's half sister in his pedigree) and she was a granddaughter of Shed's half brother, FC Gun of Arden.
DON-EL'S DOO LEE pedigree:
Black Gum Gus
Stonegate's Captain
DUAL CH CFC Little Pierre of Deer Creek
Stonegate's Wasp
Little Peggy Black Gum
NFC AFC Marvadel Black Gum
Comay Classey Chassis
Don-Els Tor Chee
Smudge of Prairie Creek Farm
FC Gun of Arden
Blackhawk Queen Susan
Del-Tone Bambi
NFC AFC CFC CORK OF OAKWOOD LANE
Del-Tone Bridget
So Corky's maternal grandfather, Don-El's Doo Lee, had three crosses to Little Pierre plus two crosses to Shed's half sister, Marvadel Cinders, and one cross to Shed's half brother, Gun of Arden.
So far (Royal of Garfield PLUS Martens Black Badger PLUS Don-El's Doo Lee):
Shed of Arden = 3 crosses
Little Pierre of Deer Creek = 6 crosses
Shed's half sister = 3 crosses
Shed's half brother = 1 cross
One more grandparent to check and I'll bet you know what we'll find!
Beautywood's Creole Jane was sired by Shed's son, Dual CH Grangemead Precocious. Her mother, Gilmore's Peggy, was a granddaughter of Shed and a granddaughter of Shed's brother, Earlsmoor Moor of Arden.
BEAUTYWOOD'S CREOLE JANE pedigree:
DUAL CH Grangemead Precocious
3xNFC CFC DUAL CH Shed of Arden
CH Raffles of Earlsmoor
FC Decoy of Arden
Huron's Lady
Am Eng CH Banchory Trump of Wingan
CH Bancstone Lorna of Wingan
FC Gilmore's Peggy
Montahome Don of Arden
3xNFC CFC DUAL CH Shed of Arden
Nell of Barrington
Betty of Blake
CH Earlsmoor Moor of Arden
Bright of Blake
So Corky's mother, Don's Ginny Soo, had three crosses to Little Pierre, plus two crosses to Shed's half siblings through her father Don-El's Doo Lee. Ginny Soo also had two crosses to Shed and one cross to Shed's full brother, Earlsmoor Moor of Arden, through Beautywood's Creole Jane.
All four of River Oaks Corky's grandparents descended from Shed and/or Little Pierre plus Shed's siblings.
Final count (Royal of Garfield PLUS Martens Black Badger PLUS Don-El's Doo Lee PLUS Beautywood's Creole Jane):
Shed of Arden = 5 crosses
Little Pierre of Deer Creek = 6 crosses
Shed's half sister = 3 crosses
Shed's half brother = 2 crosses
Granted these crosses to Shed and Little Pierre are back a bit even in Corky's bloodline, but when you stack a pedigree with quality dogs who are related you're apt to see those same qualities continue through generations.
If you'd like to learn more about how breeders can structure pedigrees to keep the genetics of great dogs, you should read Patricia Trotter's book, Born to Win Breed to Succeed. Although she's best known for her success with Norwegian Elkhounds, her knowledge of structuring pedigrees can be applied to any breed.
River Oaks Corky's Descendants
To give you an idea of the strength in these pedigrees, here are some of Corky's descendants. Imagine the list if we took it a few generations farther or started with Shed or Little Pierre.
DUAL AFC Hiwood Shadow
NAFC FC River Oaks Rascal
NFC NAFC Candlewood's Super Tanker
NFC AFC CFC PP'S Lucky Super Toby
AFC Black Gold's Candlewood Kate
FC AFC Wilderness Harley To Go
FC AFC MD Candlewoods Houston
FC AFC Black Gold's Kates Rascal
FC AFC Les Coup de Grace TD
FC AFC CFC CAFC Candlewoods Mad Mouse
FC AFC Canis Major's River Bear
FC AFC River Oaks Way-Da-Go Rocky
Candlewoods Nifty Nick QAA
FC AFC Mon Tour de Force
FC AFC Big Lost River Mike
FC AFC Corky's Ramblin Riley
FC AFC Shot Gun Willie VII
FC AFC Chica Chica Boom Boom
FC AFC CFC Rascal's Medicine Man
FC AFC CFC Express Charger
FC AFC CFC Hillock's Spice
AFC Wineglass Kuku Koko
FC AFC Toby of Southern Comfort
FC AFC Star Lab's Lucky Strike
FC AFC Candlwood's Zackley Right
FC AFC Candlewoods Travelin' Man
AFC Sumac's Corinne E
FC AFC Sumac's Alyce Rae
FC AFC Sumac's Elvira
FC AFC Jigger of Glenfiddich
FC AFC River Oaks Black Bingo
FC AFC River Oaks Di Di
FC AFC River Oaks Twiggy Tou
FC AFC Penny Oaks Flint
FC AFC Ripple River
AFC Suncrest Super Streak
FC AFC Bry-Bry's Charger
FC AFC Utopian High Plains Drifter
FC Blackguard's Magician
FC AFC SAS
FC AFC Burgundys' Super Rookie
FC AFC Rookie's RBI MH
AFC My Angus
FC AFC Brush Creek's Jessie
Lakenheath's Zero Gravity
FC AFC Gandalf The Golden
FC AFC Rocky Mountain Star II
FC AFC Moon's Carolina Cajun
FC AFC CFC Rascal's Medicine Man
FC Candlewoods Bad Company
FC AFC Krugerrand
AFC REO Speedwaggin
FC AFC Candlewoods Flash Back
FC AFC Donnybrook's St Jude
FC AFC Trumarc's Monster Malone
AFC Kizzie of Southern Comfort
AFC CAFC Minnie Mouse
BJ's Crystal Light Brigade
FC AFC Hellda Dolly
AFC Sasse-Ville Sambo
FC Lakeview's Magic Marker
FC AFC Sasse-ville Toro
FC AFC Shamrock Acres Whiskey Jake
FC AFC CFC CAFC Ironwood Peggy
FC AFC River Oaks Black Bingo
AFC River Oaks Roscoe
AFC Hilltop's Blackjack
AFC Streak of Sunkist
AFC Powder Keg Meg
FC Sierra Vistas Con Mucho Gusto
FC Lone Hickorys Last Chance
FC Starlab's She's Areal Dandy-SAS
Out of curiosity, I looked into the pedigree of 2xNAFC 2xCNAFC FC CFC Ebonstar Lean Mac who was probably the most influential field Lab in recent history.
So who does he descend from?
Here's his 3-generation pedigree:
CNFC CNAFC Waldorf's High Tech
CFC Rascal's Super Spud
NAFC FC Ray's Rascal
Sirion's Super Snooper
Itch's Flying Tiger
FC AFC Itchin' To Go
Thor's Tiger Lillie
Ebonaceae Princess WCX QAA
Trieven El Conquistador
FC AFC CFC Trieven Thunderhead
Trieven High Speed
Skookum's Sky Raider
CFC CAFC Virdon's Tuktoyaktuk
Wilkie's Cinderella Liberty
It's when you go back further that you find ancestors some people might find surprising –
3xNFC CFC DUAL CH Shed of Arden (19)
DUAL CH Matchmaker for Deer Creek (4) – and his sire and grandsire:
DUAL CH CFC Little Pierre of Deer Creek (15)
Am Eng CH Banchory Trump of Wingan (4)
DUAL CH Cherokee Buck (6) – and his sire:
DUAL CH Grangemead Precocious (12)
Can DUAL CH Coastal Charger of Deer Creek (16) (another son of Little Pierre)
NFC DUAL CH CFC Bracken Sweep (8)
CH Whygin Poppitt (3)
Can DUAL CH Dart of Netley Creek (3)
FTCH CAN DUAL CH Treveilyr Swift (1)
Eng Can CH Sandylands Jilly (1)
DUAL CH CFC Ridgewood Playboy (1)
DUAL CH AFC Hello Joe of Rocheltree (1)
CNFC CAN DUAL CH AFC Stormy Of Spirit Lake Gal (1)
ENG DUAL CH Staindrop Saighdear (1)
CAN DUAL CH CAFC Netley Creek's Black Drake (1)
(The numbers following the names are the number of times that dog shows up in his 10 generation pedigree. Going back another generation or two would probably increase the numbers significantly.)
There are also numerous FC, AFC, NFC and NAFC dogs, such as NFC 2xNAFC Super Chief, NAFC FC CFC Guy's Bitterroot Lucky, NFC AFC Massie's Sassy Boots, Eng IGL CH FTCH Glenhead Zuider, NFC AFC CFC Cork of Oakwood Lane, NAFC FC Ray's Rascal, NFC AFC Marvadel Black Gum.
I had two of Maxx's granddaughters, including Clubmead's Dark Crystal,  and many of my current dogs descend from her. While her pedigree has several American and Canadian FC and AFCs, plus a healthy dose of National Field Champions, if you follow her maternal line you'll find some show dogs in her pedigree too. One top dog – AM CAN CH Shamrock Acres Light Brigade – shows up three times. By the way, CH Whygin Poppitt who shows up in Maxx's pedigree is also the grandsire of Light Brigade.
It wasn't that long ago Labradors came from one gene pool. There weren't "American / field" Labs or "English / show" Labs, they were all just Labrador Retrievers.
Does that make you stop and think about recent breeding choices?
British field trials began in 1899 and consisted mostly of Flatcoats and Curlies. In 1903 Munden Single became the first Labrador to win a Challenge Certificate (similar to 'winning the points' in AKC show competition). The following year she became the first Labrador to run in a field trial.
"It is improbable that Labradors will be as popular as the Flat-coated Retrievers; they are essentially a working breed and do not lend themselves to popularity. However, if one can take the numbers registered at the Kennel Club as some sort of a guide, the breed is becoming more widely known and appreciated, but it is hoped that they will never be kept for the purpose of showing only."
The Labrador Retriever – A complete Anthology of the Dog
Quoting Maurice Portal, circa 1912
Courtesy: Google Books
And just who was Maurice Portal?
"The next item of importance that took place in 1907, was the 2nd All-Aged Stake held by the [English] Kennel Club on November 26th & 27th. In a field of 20 runners there were fifteen Flat Coats, three Labradors, and two others. The Labradors were Mr. Portal's Flapper, The Duchess of Hamilton's Dungavel Juno, and Holland-Hibbert's Munden Single. So foul was the weather on the morning of the first day that a vote was taken of handlers and guns whether to continue after lunch – a situation known to many hardened field triallers. Fortunately, they voted to continue, which gave an historic result. Flapper was first, Juno was second and M. Single gained the fourth prize. The Labrador had arrived on the field trial scene with a vengeance. Flapper, who became a FT Champion, was handled by Maurice Portal, a man who, as Vice Chairman, was to play a major role in the direction of the Labrador Club in its formative years. This was the first time a Labrador had won a major stake. Flapper was 5 years old when he won this trial and was to continue to win further honours. He was to become a powerful stud force siring many litters. It was Flapper more than any dog to date, whose brilliant accomplishments made an enormous impression on the shooting public. More than any other dog he convinced the public of the superiority of the Labrador over the previously ubiquitous Flat Coats."
Field Trials – Past Achievements (Part I to 1914) – George Jenken on
http://www.thelabradorretrieverclub.com/news-articles
Another famous dog of the era was Eng FTCH Peter of Faskally. He was a great grandson of Munden Single. In 1911 he won the International Gundog League's Championship Stake for retrievers when his handler adapted whistle and hand signals from working sheepdogs to guide Peter to unseen birds. Many great dogs descend from him through his sons Eng FTCH Patron of Faskally, Eng FTCH Peter of Whitmore and his grandson Eng Dual CH Banchory Bolo.
So began the history of field trials. First in England and later in the United States. It's interesting to note that Labradors weren't accepted for registration with the American Kennel Club until 1917 and only 23 were registered in 1927. The Labrador Retriever Club, Inc. was formed in October 1931 as the national parent club of the Labrador Retriever and affiliated with the AKC.
In the early years in America, field trials were the sport of wealthy families and they were a closed group. Sometimes trials were held on Mondays so few working people could attend.
Often the dogs were trained by British experts who had been enticed to America to manage the kennels. And because the kennel men who trained Arden Labs were so good, there was a rule change in 1936. The new Amateur Open class required the owner, Averell Harriman, to handle his own dogs or admit defeat. Although he had never been to a trail nor had he ever handled his own dogs, he had to try.
The first two of his dogs didn't do well, but Blind of Arden became one of three finalists and he was the last to run after the other dogs failed to find the bird. Harriman stepped up and chose to send Blind well downwind of where he thought the bird had landed for the best chance of scenting it. But Blind continued past the spot and Harriman watched helplessly because he couldn't whistle Blind back to the area of the fall. Good thing! The bird was probably a runner, but Blind followed his trail and brought him back.
He won the field trail and even graced the cover of Life magazine.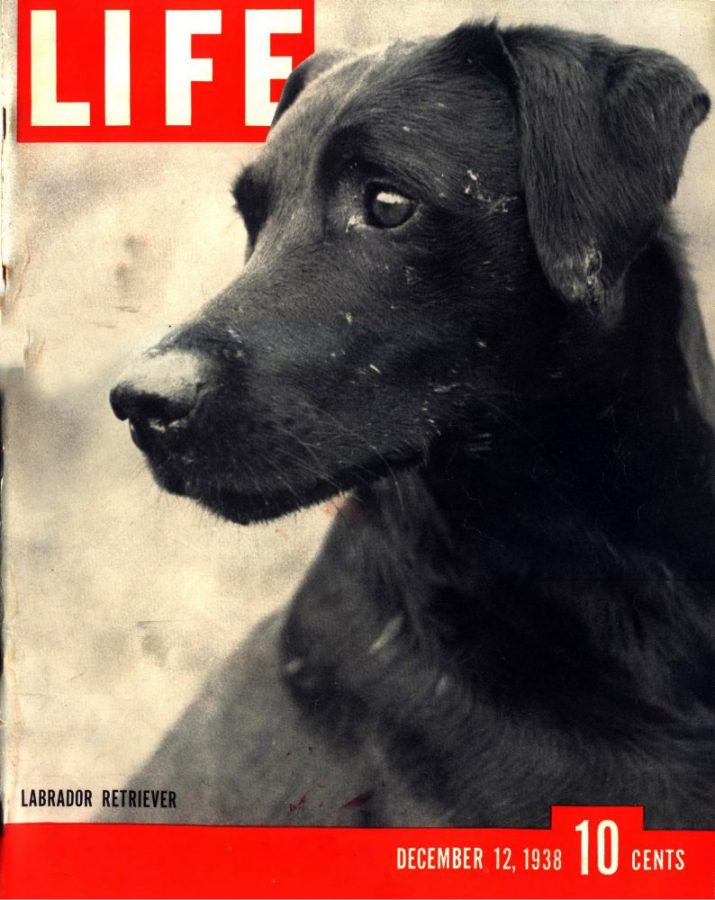 It's interesting to note the depth of quality that came from Harriman's Arden kennel. His breeding program started with importing Peggy of Shipton and breeding her to another import FC Odds On to produce Blind and his sister, Decoy of Arden. They were the first AKC field champions. Decoy was bred in 1937 to CH Raffles of Earlsmoor and produced the top show dog CH Earlsmoor Moor of Arden. A repeat breeding produced 3x NFC CFC DUAL CH Shed of Arden.
Mary Roslin Williams of Mansergh Gundogs
She bred Labs, she hunted over Labs, she competed with Labs and she taught about Labs. She had 7 generations of champions, and 15 or so dogs who won field trial awards. In the early days, she lived in Mansergh Parish, just south of the Lake District, in England.
M R-W taught from practical experience and common sense. Although she's no longer with us, she left behind knowledge that she shared. Take a half hour to listen (although it's a video, the image doesn't change).
"It was with great sadness to me, that when they named the Labrador they didn't call it the 'Labrador Water Retriever' … because we forget that the dog is a water dog. It's job was water work. It's job still is water work and we've adopted it and adapted it for different works… We ought to remember that, both when we breed and when we judge….
"Now here is a difficult thing because this is type and however much you have a standard, one thing it cannot describe is type. You've got to have type in your head. … My criteria for Labrador type is a very simple one. It must look like a Labrador. …
"… a Labrador's job is not to hunt in front of you, flushing rabbits, flushing pheasants, however good. It is not to be a guide dog for the blind. It is not to be a dog for finding drugs or any of these useful things [like] finding … a dead body… That's not it's job. It's very nice of it to do it… but it is not it's job.
"It's job is to sit or walk at heel until told to go. And it's only told to go either at the end of the drive or when the bird comes down if you're in … a duck blind and you want it to go. It shouldn't run in, you should say "Right, I see that goose is going to escape. Right, go." But it's very easy to sit here and say it and very difficult to do, but that is it's job.
"Then when the bird is down, the dog is supposed to go out and to get the scent – not 300 yards away like a Pointer, not groveling like a Spaniel with it's elbows out – it's supposed to get the best high scent from a reasonable distance and then be able to put it's head down, follow the scent without difficulty … and then it picks it's bird up. And it may have a very heavy thing to pick. And it's supposed to have the lift and the shoulders to take it.
"And for that you need a dog bred on exactly classical lines. And a classical line is a level back, not a rake. A level back. Any retrieving dog that has to also mark should have a level back. …
"It should have a longer back to its neck than to it's throatline. … It should have an 11″ back to its neck and a 4″ throatline, not an 11″ throatline and 4" back. If it was a horse it would be putting it's ear in your mouth… It's very dangerous for a Labrador to have that enormous exposed windpipe… And then when they pick their bird, it stands to reason that… the long line is on the top and the short line is underneath.
"Now the shoulders should be laid back and this is very important too. In a pointing setter, they have a laid back shoulder. Fair enough. But they don't have the classical right angle at the point of the shoulder. They are over angulated… We want the right angle or thereabouts give or take a few degrees.
"If you have a laid back shoulder, a right angle there and a level back … the foreleg comes back under the girth. It's not under their ear and neither is it straight under the point of the shoulder. It is back and the elbow is under the girth.
"So there you have the exact angulation that the dog can easily mark the bird when he's walking because it's easy for him to have his head up. He can get a scent within a reasonable distance… and then put his head down. And he can get his head down perfectly easily without having to put his elbow out like a Foxhound does. So therefore you have a perfect mechanism there.
"And he must have that long line on the top of his neck to pick his bird. He then picks his bird – which takes a lot of strength – and gets it back onto the layback of his shoulders easily carrying it on the layback of his shoulders.
"So if you have the classical front, that is exactly right for a Labrador, a Golden, a Flatcoat, a Curly, a Ches, but it isn't right for a Pointer and Setter. And it isn't right for a Foxhound. They have their own fronts, slightly open.
"Now we come to the Spaniels. The Spaniels job is to grovel about on the ground. He has to quest with his nose down and so therefore he is over angulated. His shoulder is slight constantined so that he has less than a right angle at the point of the shoulder and he has a more open angle at the elbow. And that is so he can grovel and get down and shovel about. And he has to pick up a thing that is very, very much heavier in proportion to his weight, particular a Cocker… and they do it because they can get their heads underneath. They don't pick them up like a show Cocker does and this is why the show Cocker is very useless for work. They are over their legs and they are not angulated properly for a working Cocker. They more or less got a Labrador's angulation. And when they try to put their heads down they're trying to lift a very heavy weight … and they can't do it. It's too heavy for them. And so with that working angulation … they come under their bird… and before you can say Jack Robinson, the hare is across their shoulders and they've got the weight back on their shoulder blade.
"So the angulation is the most important thing and if anybody says to you a shoulder is just one of those things, it isn't. It is absolutely important in a working dog… You must breed your shoulder to suit your work. …
"Being able to get down as easily as up and being able to up as easily as down, you need to have a level back. And if you have a level back, it very nearly stands to reason that your angulation will be right behind. And if your angulation isn't right behind, then you can be jolly sure the shoulder is wrong.
"… if you have an over angulated shoulder with open angles, like a Pointer – I'm citing one of my own dogs now – I had a lovely dog name Tarmac … and a very good worker. But I can cite him because he was wrongly made. He had a marvelously erect shoulder. He then had a raked back. And the consequence was that he was over angulated behind so that he had too much stifle and too much hock – too long a hock – and it was too far behind him. And that is what happens when you get a raked back. Now that was the most rightful inconvenience to him when he was swimming because he swam like a Pointer. He was all right once he got the bird in his mouth, but when he didn't have a bird in his mouth the fact that he didn't have a level back and that he had an over angulated hind legs because of the fact that the rake pressed them down, he had difficulty in the water work. So I know from experience that is not a good thing. …
"At one time because we had a craze for very, very short backs – which they were mistaken for short coupling because a short back is not short coupled, the word 'short-coupled' means the loin – and because they thought they must have very short backs, they were absolutely cramming dogs so close together that they had no where to put their feet when they ran because they were crabbing and they had a very short line … from the point of the hip to the point of the buttock, they had no rumps whatsoever. And I am quite certain for work – particularly swimming – you must have a decent balanced length from the point of the hip to the point of the buttock. …
"Now if you've got your backline right, then you're going to have your angulation just about right. And it's well to remember – again – that a Labrador is not meant to stand with it's legs out behind it like a Pointer or a Setter. They're meant to stand more or less under the point of the buttock. In other words the dog is standing slightly over his leg and he mustn't stand sickle-hocked with his feet too far forward. He mustn't stand like a Pointer or Setter with … a rakish backline which means he's over angulated. And a very important point, … for a perfectly balanced dog … from the hock to the ground … should be at exact right angles to the ground – not stretched out back, nor sickle underneath. … If that dog drops it's hock correctly, then it is standing absolutely correct on it's feet and you're less likely to have foot trouble.
"… If you've got your angulation right and your level back, you've got a balanced dog standing on it's feet correctly with it's weight very, very slightly on it's hocks … and it should stand in a position … that it could jump in any direction immediately. It can either jump forward or backwards or to either side because it's slightly on it's hocks. Any horseman will know that you must not turn a horse on its forehand… if they stand just in that balanced position, so that they could take off in any direction, you're much less likely to have joint trouble in later life and you won't have foot trouble. You won't have toe trouble.
"Those, to me, are the salient points of a Labrador's conformation. You must have the coat. You must be coated right over, even the testicles and inside of the thighs … with the same coat all over. And it must be dense. You want the nice balanced dog with a correct backline, very particularly the correct shoulder and then you will get the correct hindquarters. Standing correctly on it's feet. And then you get a Labrador which can do absolutely any job. … And besides that, …it has to have a tender mouth and the ability to retrieve, the ability to mark and a thousand other things that you have in field trials and it's like trying to get your football pools right. You'll never do it, but we try."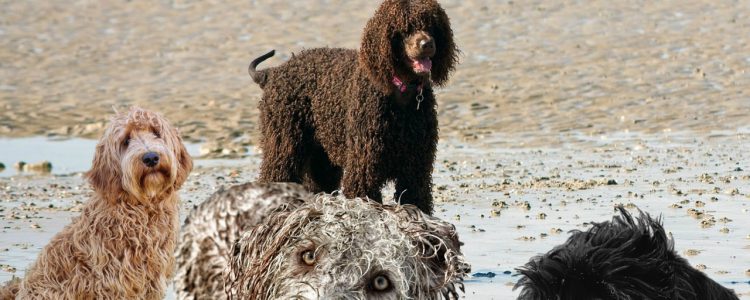 Despite what some people might say, a LabraDoodle is a mutt. They're not purebred. They're not special.
It's a marketing ploy. They slap a cute name on something (like "LabraDoodle", "Puggle" or "Poochon") and charge a high price to make you think it's special or a "designer" breed. What they are is a cross between a Poodle and some other breed, such as the Labrador Retriever.
Unfortunately when you cross two different breeds, you get a mish-mash of genes. They don't come out the same way each time. It's unpredictable – looks, coat, behavior and health. You might get a puppy that looks like a Lab, but acts like a Poodle. You might get a tall one or a short one. It could have a coat that's wiry or soft, or curly, wavy, or straight. Many doodles do shed and some need to be shaved every 6-8 weeks. Owners are often surprised to find they are allergic to their dogs.
You may also get a puppy that inherited the genetic problems or diseases from BOTH breeds.
Or you might get poor temperament despite the docile Lab temperament that is often advertised. Some LabraDoodles are high-strung (like Poodles can be) and may not be good with children. They can also be needy and crave attention which makes them a poor choice if there is no one home during the day.
After paying 2-4 times the cost of a purebred Lab or Poodle, owners sometimes dump them at shelters. Too often it's due to aggression towards children.
Because of the high price people are willing to pay, Doodles are the "breed" of choice for many puppy mills.
The man credited with creating them said he regrets introducing this mix-bred dog to the world. He was trying to breed a guide dog that was also hypoallergenic, but he failed over and over.
"I opened a Pandora's box, that's what I did. I released a Frankenstein. So many people are just breeding for the money. So many of these dogs have physical problems, and a lot of them are just crazy."
https://www.psychologytoday.com/us/blog/canine-corner/201404/designer-dog-maker-regrets-his-creation
If you still want a LabraDoodle, do your homework. Meet the breeder and the parents of the puppy you're considering buying. Check temperament and trainability. Check for health certifications. When your puppy is old enough, enroll him in a Puppy Kindergarten class. It's good for basic training and socialization.
We don't breed LabraDoodles or any mix-bred dog. Nor will we sell a puppy to someone who wants to breed Doodles or any other mix-bred dog.
Pretty litter of blacks and chocolates with lots of retrieving desire throughout their pedigree.
The father is Justamere Chocolate Chip and the mother is Justamere Liberty Bell.
I was cleaning house – having to move ribbons around to dust – and got reminiscing about everything Arwen has accomplished. I'm so proud of my girl! In between having three litters of beautiful puppies, she finished her Companion Dog obedience title; Junior and Senior Hunter field titles; Hunting Retriever and Hunting Retriever Champion field titles; Rally Novice, Rally Advanced, and Rally Excellent titles; a Canine Good Citizen Award and a Conformation Certificate.
Yes, we still have more to do – finish her Master Hunter title, earn at least one Tracking title, and she's even dabbling in Agility. But even more important than all the initials around her name – she's a champion snuggler!
Cat and Axle (Justamere Catalyst RA CGC CC and CH Skyfire's Oughta Be Haulin' RN CGC WC) announce the birth of quadruplets!
Two boys and two girls – all blacks – joined the Justamere Ranch Labrador Retriever family. Bloodlines include:
GMHR Am/Mex/Int'l CH Cook's Midnight Bandit MH
FC-AFC-CFC-CAFC DB's Cracker of Clubmead
2x NAFC-FC-2xCNAFC Ebonstar Lean Mac
Am/Can CH Skyfire's Oughta Be A Law CD JH WC
BISS Am/Can CH Nipntuck Arncha Bold CD JH WC
CH Tabatha's Drifter at Dickendall JH
CH Naiken Indian Temple MH
CH Guidelines Master Card
Stay tuned for more information!
English Labs, American, field-type, show dog – how can there be so many different styles of dogs and all be considered Labradors? My guess is that the breed is just too popular – what is it, 15 years now that they've been the #1 breed in America per the AKC? Distinctive styles have evolved to suit everyone's varying tastes, and I'm not saying that's a good thing, it just is.
The English Labs tend to have heavy bodies, blocky heads and short legs. This is where most of the current show dogs come from. I think they're a product of the more is better syndrome – the standard calls for a broad head, so let's make it massive, etc. They're also a product of what wins – a dog wins Best of Breed at a prestigious show and people sign up in droves to breed to him in hopes of duplicating him and his wins. Unfortunately some of these dogs have become caricatures of the original Labs who were bred to be field dogs. A 120 pound, 22″ dog with profuse coat wouldn't be my first choice to chase wild ringnecks in South Dakota.
On the other hand, American Labs tend to be tall and slender with whip-like tails and lots of energy. These are the field dogs who can spend all day hunting or running multiple marks at tremendous distances and still want more. They too are products of the more is better and the whatever wins syndromes. These dogs are generally bred for their abilities rather than their looks – trainability, marking ability, and intelligence. These breedings are all about trying to produce field trial winners with less regard for the dog's structure or appearance.
I've seen an adult female Lab who had the height, bone structure and even head shape of a Whippet. I've also seen a huge adult male Lab who had heavy bone, massive head, thick coat and, except for the height difference, could have been mistaken for a Newfoundland.
To be fair, dogs from both ends of the spectrum fill particular needs and are loved and cherished by their owners. Plus there are many dogs that fall somewhere between the two extremes. However the extremes are quite different from the classic Lab – a medium sized dog who loved to retrieve.
I imagine owners of both styles are asked, "What breed of dog is that?" If that's the case then those dogs are not "typy." Type equals that which makes a Lab distinguishable from a Golden or a Rottie or a German Shepherd. According to the Labrador standard, the "most distinguishing characteristics of the Labrador Retriever are its short, dense, weather resistant coat; an 'otter' tail; a clean-cut head with broad back skull and moderate stop; powerful jaws; and its 'kind' friendly eyes, expressing character, intelligence and good temperament."
Here are a couple of classic Labs:
First, is Dual CH-NFC-AFC-Can CH Shed of Arden, (the black dog) a great Lab of the past. He not only earned a show championship in two countries, but was also a three-time National Field Champion! Shed was not so tall and lanky as many of the field dogs of today, nor was he so blocky as most of the current show dogs.
Another great from the past was CH Shamrock Acres Light Brigade. "Briggs was an outstanding show dog and sire. He produced 93 AKC Champions and won 12 Best in Show awards and 75 Sporting Group placements." Compared to show dogs today he had way more leg and less substance, but look at those shoulders and the balance! I'd bet he moved exceptionally well.
By the way, most of my dogs have both of these famous boys in their pedigree!
I am happy to see some progress – or at least interest – in returning to the moderate Lab, one not overdone or underdone in body style and that still has the desire to retrieve.
A well-respected, long-time show breeder told me recently that the dog can be pretty, but MUST have the desire to retrieve to be a true Lab.
I'm "just a mere" dog trainer! Hmmm – it's hard to write about yourself. Let's see, I love to train my dogs and we mostly do field work in preparation for hunting and hunt tests. I love when a Lab's natural instincts kick in for the first time!
But I also train in obedience and rally and tracking and have dabbled in agility and even the show ring. In that regard I'm more like owners of Golden Retrievers. Although Labrador Retrievers are multi-talented, most Lab owners tend to train for only one or maybe two venues. I like to train my dogs for anything they might enjoy.
I also like raising puppies. Because Labs have been the most popular breed in America for over a decade, there is a lot of variety. I believe in trying to retain their essence – Hunting Labs with Classic Looks. My dogs tend to be somewhat in between the tall, slender field Lab and the shorter, stocky show Lab.
As they say, "Life's too short to hunt with an ugly dog."